Merry Christmas! My second best Christmas gift ever was Operation Moon Base in 1963. I was 10.
Of course, the best gift was our first son who was born 3 days before Christmas 1983. I was 30.
Thank you, Lord.
ITEM 1
:
The Washington Times reported
, "The FBI informant assigned to spy on Trump associates came up empty, according to the Justice Department's inspector general report, which for first time discloses snippets of secretly recorded conversations.
"The report discloses that the FBI dispatched against Trump allies multiple unnamed FBI informants known as confidential human sources (CHS). The most publicized was Stefan Halper, a longtime Washington national security figure and Cambridge University professor. He ingratiated himself to George Papadopoulos and Carter Page, while also attempting to engage with a senior Trump campaign official in New York.
"Inspector General Michael E. Horowitz's Dec. 9 report says that rather than hearing incriminating statements, Mr. Halper (whom he did not identify) recorded conversations that could be seen as exculpatory."
Obama planted spies on the campaigns of political opponents. Mitt Romney should demand a review of the FISA files from 2012.
I never want to hear about Watergate again.
Ever.
ITEM 2
:
Christian News Minute reported
, "President Trump's nominations to the federal courts have flipped three circuits making them majority Republican-appointed, lowered the age of GOP-appointed judges by 14 years, and reshaped the judiciary for decades to come, according to a series of new reports.
"When Trump took office in January 2017, only four of the 13 U.S. appeals courts had a majority of Republican-appointed judges. Today, seven of the 13 appeals courts do.
"This year alone, the Second, Third and 11th U.S. Circuit Court of Appeals have flipped from majority Democratic-nominated to majority Republican-nominated, according to Law.com."
The Ninth Circuit Court is the next to be flipped.
Now for the really good news.
The story said, "During Trump's first term, the average age of Democratic-appointed judges has increased from 61 to 63 years old, while the average age of Republican-appointed judges has decreased from 71 to 57 years old."
Bringing the courts in line with the Constitution is a tribute to Mitch McConnell, who blocked Obama's nominees for 2 years.
ITEM 3
: The Wall Street Journal reported, "Stocks and bonds are staging an extraordinary run, on track for their biggest simultaneous gains in more than two decades."
Best rally since 1998?
What did we do in 1998 that we did in 2019?
We impeached the president!
If we did that every year, the Dow would be at 100,000 in no time. Right?
ITEM 4
:
Zero Hedge reported
, "House Democrats may conduct a second impeachment of President Trump, according to lawyers for the Judiciary Committee.
"In a Monday court filing reported by Politico, House Counsel Douglas Letter argued that they still need testimony from former White House counsel Don McGahn, which may uncover new, impeachable evidence that Trump attempted to obstruct the Russiagate investigation (of a crime he didn't commit).
"'If McGahn's testimony produces new evidence supporting the conclusion that President Trump committed impeachable offenses that are not covered by the Articles approved by the House, the Committee will proceed accordingly — including, if necessary, by considering whether to recommend new articles of impeachment,' reads Letter's filing."
They must want him to take all 50 states.
ITEM 5
:
The New York Post reported
, "Recovering crack addict Hunter Biden owns a home in one of the swankiest neighborhoods in America, it was revealed Monday.
"The son of former Vice President Joe Biden shares a ZIP code in the Hollywood Hills with celebrities such as Ben Affleck, Christina Aguilera and Halle Berry, according to documents filed in Hunter's Arkansas paternity case.
"The three-bedroom, three-bathroom mid-century home is valued at $2.5 million. It sits at the end of a private gated drive and includes a pool."
There goes the neighborhood.
A crackhead moved in down the street.
Breitbart News reported
, "Lunden Roberts, the Arkansan mother of a love child apparently sired by Hunter Biden, filed court documents alleging that his company — with an address in the Hollywood Hills — paid her sometime in the last five years."
In dollars, Ukrainian Hryvnia, or Chinese Yuan?
T
he Daily Mail reported
, "Hunter Biden is linked to multiple criminal probes involving fraud, money laundering and counterfeiting, and owns stunning Hollywood Hills home, paternity court case documents claim."
Why are Democrats hellbent on an impeachment that brings attention to his father's corruption which made all this wealth possible?
ITEM 6
:
Bloomberg News reported
, "Holiday shopping set records over the weekend, with Super Saturday sales reaching $34.4 billion, the biggest single day in U.S. retail history, according to Customer Growth Partners."
All the American stock indices posted record highs on Monday.
It is beginning to look a lot like prosperity.
The president is guilty of use of office, and obstruction of recession.
ITEM 7
: A reader wrote, "Here's what that $170 billion Obama sent Iran is financing as well."
The Jerusalem Post reported
, "As Iran suppressed protests that spread throughout the country, Radio Farda reported that the Islamic Republic has been spending $24.5 million per day to crush dissent and suppress protests throughout the year.
"Protests affected over 100 cities since November, with security forces using violent measures against the demonstrators, including lethal force.
"According to the report, Iran has spent $9 billion on various sectors of the security service this fiscal year, which includes the intelligence ministry, police, Iranian Revolutionary Guard Corps and paramilitary Basij, the latter often used to crush popular dissent.
"The report also detailed the recent growth of the Iranian security forces budget, rising from $3.1 billion since the start of Hassan Rouhani's presidency in 2013, to $5.7 billion by the sixth year of his term."
Obama knew this would happen.
He did not care.
ITEM 8
:
Campus Reform reported
, "A Mississippi community college is defending itself against allegations from the DOJ and Betsy DeVos that it positions itself as a "police state" and threatens the free speech rights of its students.
"In September, the Foundation for Individual Rights in Education filed a lawsuit against Jones College after the school threatened to arrest student members of Young Americans for Liberty for their efforts to initiate a conversation about marijuana legalization on campus. The campus police stopped the YAL members from tabling to raise awareness about this issue. FIRE sued the school on behalf of YAL and student Michael Brown.
"Now the Department of Justice is weighing in on the matter, releasing a statement insisting that 'college campuses should not be mini police states.'
"'The United States of America is not a police state,' said assistant attorney general for the Civil Rights Division Eric Dreiband, adding, 'Repressive speech codes are the indecent hallmark of despotic, totalitarian regimes. They have absolutely no place in our country.'"
Maybe taxpayers should stop financing these fascists. Cutting off student loans to a few universities would get the attention of every administrator.
Colleges need to protect free speech, due process, and every other inalienable right.
ITEM 9
:
The South China Morning Post asked
, Red "China clearly wants good relations with the US, but is the feeling mutual?"
Always keep them guessing.
The conclusion of the editorial was, "Beijing understands that US resentments are wide-based and won't go away with a change of president. The reality is that the phase two negotiation will be long and complex and may take years. Slow progress should not be read as lack of willingness in Beijing."
President Donald John Trump has made it impossible for the next president to hop in bed with Red China, unlike Obama who allowed his vice president's 49-year-old, cocaine-addled son to accept a $1.5 billion bribe, er, "investment" from Red China.
ITEM 10
:
The Daily Caller reported
, "Democrats in Virginia may override local zoning to bring high-density housing, including public housing, to every neighborhood statewide — whether residents want it or not.
"The measure could quickly transform the suburban lifestyle enjoyed by millions, permitting duplexes to be built on suburban lots in neighborhoods previously consisting of quiet streets and open green spaces. Proponents of 'upzoning' say the changes are necessary because suburbs are bastions of segregation and elitism, as well as bad for the environment."
The man behind this Stalinization of suburbia is Democrat Ibraheem Samirah, a dentist and a son of Palestinian refugees. He supports the anti-Semitic BDS movement.
His stereotyping suburbia as bastions of rich white supremacists is loony. His district is in Fairfield and Loudoun counties. Loudoun is the richest county in America while Fairfax ranks No. 3. Loudoun is 68.7% white, while Fairfax is only 62.7% white.
This is a reminder that Democrats want to destroy anything and everything that is good in America, usually in the name of fighting racism or some other high-sounding cause.
Sane Virginia should do what West (Best) Virginia did and secede. They want your guns and your 'burbs.
ITEM 11
: An assistant district attorney in Los Angeles assured people the benevolent government will not kill you of you refuse to give up your guns.
I did not find that re-assuring. Did you?
ITEM 12
: Zero examples?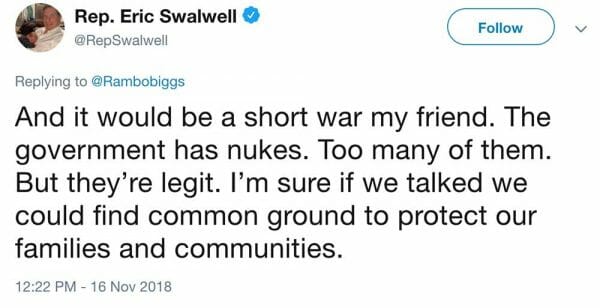 I like Swalwell's argument: if you do not agree with his plan to protect families and communities, he will nuke them.
Has Patterico ever won a case?
ITEM 13
:
NRA-ILA reported
, "The 3.5 million residents of the United States' largest territory will soon be able to better exercise their Second Amendment rights. On December 11, Puerto Rico Gov. Wanda Vazquez Garced signed the Puerto Rico Weapons Act of 2020. The legislation overhauled the territory's gun laws in a manner that will make it easier for the island's residents and visitors to exercise their constitutional right to keep and bear arms.
"The legislation's most important provisions pertain to the territory's firearms licensing procedure. Prior to the enactment of the Weapons Act, Puerto Ricans could apply for a possession license, or a much harder to obtain carry license. The Weapons Act combines the two licenses into a single license.
"Moreover, this single license will be shall-issue. Previously, Puerto Ricans were required to petition a court for the approval of a carry permit. The legislation also puts in place a flat $200 initial licensing fee, and a $100 renewal fee. This is a significant improvement over the old regime, where firearm licensing fees could range wildly.
"Americans on the mainland are also set to benefit from Puerto Rico's new gun laws. The legislation sets forth that Puerto Rico will recognize Right-to-Carry permits issued in the rest of the U.S.
"Puerto Rico's Weapons Act is an important step forward for law-abiding gun owners in the island territory. While the island's gun laws are still stricter than the vast majority of the U.S., there are a handful of mainland jurisdictions that could learn from Puerto Rico's example and work to similarly streamline outdated and onerous gun control laws."
Will Democrats now nuke Puerto Rico?
ITEM 14
:
Business Insider reported
, "In October and November, Insider conducted a survey of more than 2,000 American adults, asking them to choose the five rudest cities in the US from a list of the 50 biggest cities.
"The rudest city in America, according to the survey, is New York City. It was rated rude by 34.3% of respondents, which was almost twice as much as the next highest city on the list."
That is part of its charm.
ITEM 15
:
Bloomberg News reported
, "France is taking aim at SUVs by raising a tax on heavier and more polluting vehicles, a measure that comes on top of tough new European rules being phased in next year to lower car emissions.
"Under a law adopted by parliament this week, cars emitting carbon dioxide above a certain threshold will be subject to a 20,000 euros ($22,240) penalty in 2020, higher than the existing 12,500 euros. At the same time, the government is considering reducing cash incentives for the purchase of electric cars."
Meanwhile, in Red China,
they will add 15 million SUVs to their roads by 2022
.
France has a total of 32 million cars of all types. This is a futility tax.
ITEM 16
:
The New York Post reported
, "The details were chilling. On Friday, the Suffolk County district ­attorney's office handed down charges against 96 members and associates of the MS-13 gang. The allegations included brutal murders using machetes, assaults, rapes, a large-scale drug-selling operation and widespread intimidation of immigrants on Long Island.
"The indictments represent a significant step forward in bringing this group of transnational thugs to heel. They will also go some way toward stopping MS-13's push to expand its efforts to the East Coast from its home bases in El Salvador and California.
"Kudos to the federal, state and local law-enforcement personnel who teamed up to deliver justice to the gang members. But there is someone else who, while not necessarily deserving a share of the glory involved in this prosecution, certainly deserves an apology from pundits who have been opining about the right way to think and talk about MS-13: namely, President Trump."
The press vilified Donald John Trump for saying illegal aliens rape and murder.
The victims and their families knew better. He got 29% of the Hispanic vote despite the false and libelous label of racism.
ITEM 17
:
LifeSiteNews reported
, "Controversy continues over J.K. Rowling's defense of a researcher who lost her job due to tweets critical of transgender theory, with the Harry Potter author so far refusing to give in."
Good for her.
Everyone should be glad to see a liberal stand up to these snooty fascists.
ITEM 18
:
The Christian Post reported
, "The Christian celebration of Christmas is ancient, but many of our most treasured traditions surrounding the holidays are not. Gift-giving and Christmas trees weren't the norm until the 1800s. And it wasn't until 1870 that President Grant proclaimed Christmas a federal holiday.
"Why, you may wonder, did it take so long? Christmas is one of the most important days of the year, and in a Christian nation, it seems astounding that it took almost a century for the White House to recognize this most holy day.
"As it turns out, President Grant's decision was a strategic one. Elected in 1868 and assuming office in 1869, his main task as president was to unite a country that had been rent in two by the Civil War – no easy task. Washington, D.C., and the White House sit in the middle between the North and the South, a reflection of Grant's role as mediator between two regions that viewed one another with deep distrust, even hatred."
Only the man who had conquered the South had the credibility to get the North to bend a little and unite the nation.
ITEM 19
:
The Washington Free Beacon reported
, "Rep. Ilhan Omar (D., Minn.) sent out dueling press releases on Tuesday: one celebrating the House passage of legislation that included debt relief for her native Somalia — and a second explaining her decision to vote against that legislation."
Congratulations to Omar, the recipient of the 2019 John Kerry Award for Trying to Paint Both Sides of the Fence. The awards board actually voted against her until it voted for her.
ITEM 20
: I view impeachment as a badge of honor.
— Leslie Eastman (@Mutnodjmet) December 24, 2019
And a good omen for re-election.
ITEM 21
: Others view it as an opportunity.
The Israelis just announced that they've struck Iranian positions and depots in Syria over 1000 times since Trump became president.

And they did it with virtually no screeching outrage from the press.

Major combat operations in Yemen are over.

The Saudis won.

— Carlos Osweda (@COsweda) December 24, 2019
We shall see.
@@@
I want to thank readers for their support once again this year. Have a great Christmas today no matter what your religion.