December 19, 2019
Donald John Trump is still our president.
ITEM 1
:
The Washington Times reported
, "An Iowa man who was found guilty of lighting a local church's LGBTQ flag on fire was sentenced to more than 16 years in prison Wednesday.
"Adolfo Martinez, 30, was found guilty last month of a hate crime, third-degree harassment and reckless use of fire after admitting to police in June that he stole a pride banner hanging outside the Ames United Church of Christ and set it on fire using lighter fluid about two blocks away outside the Dangerous Curves Gentleman's Club, The Des Moines Register reported."
The story also said, "Mr. Martinez was sentenced to 15 years for the hate crime charge, one year for reckless use of fire and 30 days for harassment, all of which will be served consecutively, the Associated Press reported."
We live in a country where you cannot jail someone for burning the American flag, but you can give someone 15 years for burning a gay one.
ITEM 2
:
Brian Stelter reported
, "The Washington Post says that a photo of its reporters unwinding after a long day of impeachment proceedings is being misconstrued by Trump White House officials and allies."
Washington Post editor Marty Baron told CNN, "What they were doing is that they were celebrating being able to go off the clock after a long day of covering impeachment. And that's what that's what she intended to convey. It's unfortunate that this has been distorted into celebrating impeachment."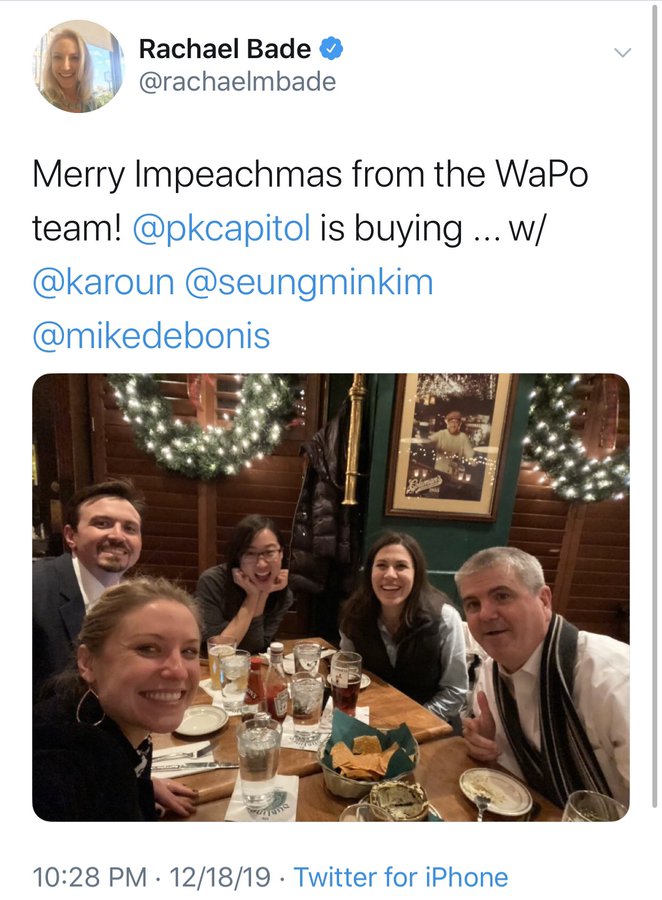 The tweet was a last minute addition to Item 19 yesterday.
Thanks to Marty Baron's lie, the story gets a second day. He should have just said she made a mistake, apologized, and moved on. But no. He had to attack the Orange Man.
ITEM 3
:
The Daily Caller reported
, "One reason airports are happy to retain CNN is the cash it's willing to shell out. Public documents indicate CNN offered the Miami-Dade International Airport $150,000 annually for its most recent contract, which will expire in 2024.
"Documents obtained by The Atlanta Journal-Constitution indicated CNN is paying $225,000 each year for rights to the airport in Atlanta, where CNN is headquartered. It also provides LCD monitors, as well as the equipment to install them. At more than $100,000 per contract, it's safe to estimate CNN is shelling out well over $6 million annually to retain its 58-airport presence.
"That's before accounting for the number of staff members needed to produce CNN Airport Network, the specialized operation responsible for ensuring airport viewers only see 'appropriate' content. If an air-travel accident takes place, for instance, the network promises to scrub the incident from airport televisions to avoid unsettling travelers."
Pretty sad when after nearly 30 years you still have to pay people to watch your station.
ITEM 4
:
The Daily Caller reported
, "The House of Representatives overwhelmingly passed a trade deal with Mexico and Canada on Thursday, just one day after it voted to impeach President Donald Trump.
"The U.S.-Mexico-Canada Agreement (USMCA), which places rules for moving products between the countries, passed with a vote of 385-41. The Senate will be able to vote to ratify the deal in 2020.
"House Democrats and the White House reportedly reached a deal on the USMCA earlier in December, and Democrats touted Trump's agreement as being "infinitely better" than what was first proposed. The bipartisan vote passed Thursday even after Congress's party-line impeachment vote of the president Wednesday."
I praise Nancy Pelosi for passing the USMCA. Paul Ryan failed to.
Cocaine Mitch is on the clock. Git R Done.
ITEM 5
:
Fox 32 in Chicago reported
, "A mother in a Texas domestic violence shelter found her son's heartbreaking letter to Santa Claus, showing how the boy is struggling with his family's situation during the holidays.
"The 7-year-old boy, identified only as Blake, is living with his mom at one of several emergency shelters operated by Safe Haven of Tarrant County, which helps domestic violence victims in the Fort Worth area."
Kleenex Alert.
The boy wrote, "Dear Santa,
"We had to leave our house. Dad was mad. We had to do all the chores. Dad got everything he wanted. Mom said it was time to leave and she would take us to a safer place where we don't have to be scared.
"I'm still nervous. I don't want to talk to the other kids. Are you going to come this Christmas? We don't have any of our stuff here. Can you bring some chapter books, a dictionary, and a compass and a watch? I also want a very, very, very good dad. Can you do that, too?
"Love, Blake"
Pray for Blake. Pray for his mom. Pray for his dad.
ITEM 6
:
Victor Skinner reported
, "House Intelligence Committee Chairman Adam Schiff was getting coffee Wednesday when a Trump-supporting heckler decided to read him his Miranda rights."
There is a video.
The right to remain silent is the last one Schiff will use.
ITEM 7
:
The Chicago Tribune reported
, "A new commercial play about House Speaker Nancy Pelosi is readying a world premiere in Chicago, just as its subject is at the center of the news and playing a central role in the impeachment of President Donald J. Trump."
I thought they already made a movie about her and Schiff, Dumb and Dumber.
ITEM 8
:
Time magazine reported
, "Widowed congresswoman Debbie Dingell on Thursday responded to comments by President Trump at a rally about her late husband, Rep. John Dingell, whom the President implied is 'looking up' from hell and said her family 'are still hurting' from the loss of her husband."
On behalf of so many of my fellow veterans:

Please take two running jumps and go to hell, Mr. Trump.

https://t.co/71EXxOcYnC

— John Dingell (@JohnDingell) October 12, 2016
Dingell wrote the rules. President Trump just plays by them.
ITEM 9
:
Paul Joseph Watson reported
, "A Muslim police officer in the United Kingdom who was hired to promote diversity ended up being part of a grooming gang that sex trafficked children.
"West Yorkshire PC Amjad Ditta, also known as Amjad Hussain, was charged with sex offences against children aged between 13 and 16.
"Ditta was appointed in 2016 as a diversity officer 'to boost numbers of Black and Minority Ethnic (BME) people applying to join the force' after then Prime Minister Theresa May said the number of black and Asian officers in the UK was 'simply not good enough.'"
Diversity is not our strength.
Unity is.
ITEM 10
:
Fox News reported
, "Democrat presidential candidate Andrew Yang threw cold water on the media's obsession with impeachment during Thursday night's primary debate, telling attendees that Americans become frustrated 'the more we act like Donald Trump is the cause of all our problems.'
"'If you turned on cable network news today, you would think Trump's our president because of some combination of Russia, racism, Facebook, Hillary Clinton and emails all mixed together,' Yang said. 'But Americans around the country know different. We blasted away 4 million manufacturing jobs that were primarily based in Ohio, Michigan, Pennsylvania, Wisconsin, Missouri.'
"He added, to applause: 'What we have to do, is we have to stop being obsessed over impeachment ... and start actually digging in and solving the problems that got Donald Trump elected in the first place.'"
But if Democrats did that, they would have to admit that taxing and regulating industries to death harms the American workers they pretend to champion.
So just impeach, baby, impeach.
ITEM 11
:
The Daily Mail reported
, "Democrat Congresswoman Ilhan Omar was called an adulteress in divorce court Thursday by her lover's former wife as the couple formally ended their marriage.
"Beth Jordan said she wanted to 'make a statement' about her husband Tim Mynett having an affair with the radical Democrat, during the 16-minute hearing in Washington D.C.
"Mynett left the court after the hearing grinning and clapping his hands in glee. He said he was happy with the proceedings but would not comment further.
"The hearing ended abruptly shortly after Jordan, 55, spoke publicly of 37-year-old Omar's affair with Mynett, 38.
DailyMail.com
first revealed the affair in July, a week after revealing that Omar had split from her husband.
"Beth asked for her maiden name Beth Jordan to be restored. When asked why, she replied: 'I no longer want to have Mr. Mynett's name attached to me.'
"'I have a statement to make,' Jordan said, saying that her husband 'had an affair with Ilhan Omar.'
"Judge Darlene Soltys cut her off and called both attorneys for a sidebar."
Yes, how dare someone speak the truth in a court of law.
Obama judge -- surprise, surprise.
ITEM 12
:
Politico reported
, "In December 2014, Clinton's team began worrying that Warren was reconsidering a presidential run and arranged a meeting between the two principals at Clinton's home in Washington."
The story also said, "The list, recompiled by Politico based on the accounts of those involved, included a hodgepodge of sometimes obscure liberal academics and economists including MIT's Simon Johnson, UConn's James Kwak, Columbia's Joseph Stiglitz, Vanderbilt's Ganesh Sitaraman (policy director for Warren's 2012 campaign), University of Chicago's Amir Sufi, U.C. Irvine's Katie Porter and Vermont Law School's Jennifer Taub. The progressive think-tank types included Demos' Heather McGhee; public servants who had clashed with the Obama administration included former Federal Deposit Insurance Corp. Chair Sheila Bair and longtime Senate aide Elise Bean. AFL-CIO policy director Damon Silvers represented unions."
Who needs an Equal Rights Amendment. Women already are just as sleazy as men.
ITEM 13
:
Breitbart News reported
, "Sen. Elizabeth Warren's (D-MA) campaign this week saw hundreds of endorsements from former Obama administration officials and campaign staffers in an effort led by former senior Obama aides, Sara El-Amine and Jon Carson, but admitted it made a mistake by including alleged serial sex predator and Democrat megadonor Ed Buck."
She was OK with Ed Buck killing a couple of black men, but then when civil rights groups began demanding an investigation and he was arrested, Warren cut him loose.
ITEM 14
:
KJCT-TV reported
, "Florida man pays 36 families' utility bills."
Well, Florida man has to redeem himself somehow.
According to USA Today, so far this year
:
Florida man accused of giving beer to an alligator
Florida man charged with impersonating officer for McDonald's discount
Florida man pleads guilty to killing sawfish by removing extended nose with power saw
Florida man who reportedly bought an $8 million island arrested for alleged Kmart theft
Florida man arrested for burglarizing cars in jail parking lot moments after being released
Florida man brings drugs to a drug bust, gets himself busted
A Florida man called the sheriff's office to report stolen marijuana. The deputy's response: 'Stop calling'
Florida man parks Smart car in kitchen so Hurricane Dorian won't blow it away
Just kidding. Michael Esmond, who owns Gulf Breeze Pools and Spas, is a good guy for paying those bills. He lives in Florida, but he is not the infamous Florida Man.
ITEM 15
:
Agence France-Presse reported
, "Exiled former Pakistan military leader Pervez Musharraf has dismissed the unprecedented treason conviction and death sentence handed to him earlier this week as the result of a personal vendetta."
The death sentence said, "We direct the Law Enforcement Agencies to strive their level best to apprehend the fugitive/convict and to ensure that the punishment is inflicted as per law and if found dead, his corpse be dragged to... Islamabad, Pakistan and be hanged for 3 days."
Oh great. Now they have given Jim Clyburn an idea on how to handle The Donald.
ITEM 16
:
Laura He reported
, "Beijing is stepping up the battle to stop money flowing out of China as the country contends with economic woes and trade war tensions that have eased but show no sign of ending altogether.
"Money was leaving the country at a record clip earlier this year through unauthorized channels, according to analysts. That's bad news for China, which needs to keep financial reserves high to maintain confidence in its markets.
"Now Chinese officials are trying harder than ever to avoid a repeat of the financial scare four years ago that sapped its money reserves by hundreds of billions of dollars."
Oh?
She wrote, "The threat of fleeing capital stems from concerns about the country's economy, which has been hurt by cooling domestic demand and a prolonged trade war with the United States.
"The People's Bank of China also allowed the yuan to weaken, a way to help the country to counter the impact of higher US tariffs on its exports. Since the trade war began last year, the currency has depreciated by around 12% against the US dollar.
"A weaker currency, though, raises the risk that people will try to move money out of the country, which in turn threatens to drive the yuan's value even lower."
Red China does not seem to be weathering this trade war very well.
Meanwhile, the USA enjoys its best economy in 50 years.
ITEM 17
:
The Wall Street Journal reported
, "Congress passed the most significant changes to the nation's retirement system in more than a decade, a move designed to help Americans save more."
Blah, blah, blah.
Buried in the story is the only paragraph I care about, "The legislation paves the way for the growing number of Americans staying on the job into their 70s and beyond to continue saving in individual retirement accounts. Starting Jan. 1, it removes the age cap for contributing to traditional IRAs, currently 70 ½, for individuals with wage income. And it allows people with tax-deferred accounts to delay, until after turning 72, the minimum withdrawals the law currently requires starting after turning 70 ½. (The change applies to people who turn 70 ½ after Dec. 31, 2019.)"
72!
That's better than 70 1/2, but why should the government force me to draw down my life savings?