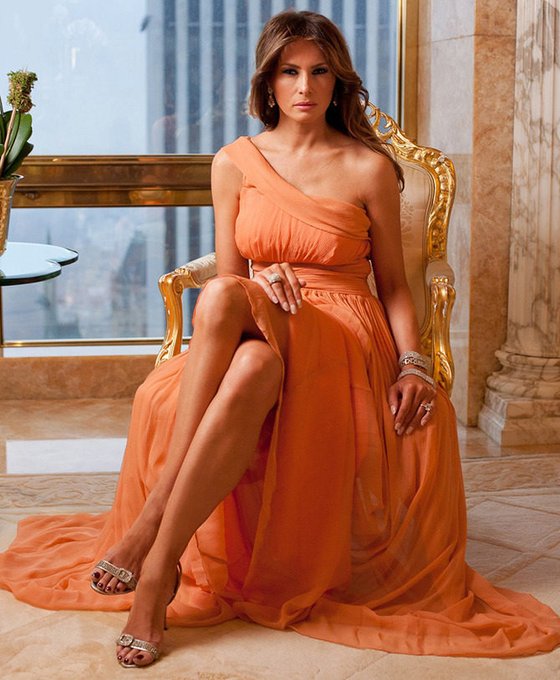 Melania Knauss Trump is still the First Lady of the United States.
ITEM 1
: Let us start the week with some stuffed Trumpenfreude left over from Thanksgiving.
The Washington Examiner reported
, "The Newsweek reporter who wrote an inaccurate story about President Trump's Thanksgiving Day plans has been fired. The outlet's original story claimed the president only planned on tweeting and golfing during his holiday break, neglecting to mention his trip to Afghanistan.
"Newsweek's Jessica Kwong, whose Twitter handle identifies her as a political reporter 'covering Trump administration and family,' initially published the article Thursday morning, before the president's trip to Afghanistan was announced publicly. The story's initial headline was, 'How is Trump spending Thanksgiving? Tweeting, golfing and more.'"
Her Twitter feed is anti-President Donald John Trump.
But then, so is Newsweek.
And there is another side to the story. The Examiner also reported, "Kwong told the Washington Examiner that she was assigned to write a story about what the president was doing on Thanksgiving a week in advance and filed it to her editors on Wednesday. Then, she explained that she sent a message to the editor on duty with the president's latest actions and the editor published the piece. That editor decided to have a reporter write a new story on Trump's surprise trip to Afghanistan, and neglected to update Kwong's original piece in a timely manner."
According to her, she did her job. Newsweek didn't.
ITEM 2
:
Breitbart News reported
, "Prime Minister Boris Johnson has called for an end to early prisoner release after members of the public had to tackle a rampaging jihadist armed with nothing but a fire extinguisher and a narwhal tusk."
President Donald John Trump is America's narwhal tusk.
Mike Pence is the fire extinguisher.
ITEM 3
:
Fox News reported
, "A Honduran construction worker who attempted to warn about unsafe conditions prior to last month's deadly partial collapse of the Hard Rock Hotel in New Orleans was deported by U.S. immigration authorities on Friday, his lawyers confirmed.
Delmer Joel Ramirez Palma was arrested by immigration officials two days after the 18-story hotel fell onto a busy downtown intersection on October 12, killing three people and injuring dozens.
He managed to survive the collapse after falling from the ninth to the sixth floor by swinging from a rope, according to The Guardian."
That was a horrific incident that points out how companies exploit illegal aliens by putting them in harm's way.
However, was he a whistleblower? We only have his lawyer saying this. Buried in the story was the fact that ICE ordered Palma deported 3 years ago when Obama was president. I doubt seriously that he would risk deportation by blowing a whistle.
ITEM 4
:
Bloomberg News reported
, "The U.S. solidified its status as an energy producer by posting the first full month as a net exporter of crude and petroleum products since government records began in 1949.
"The nation exported 89,000 barrels a day more than it imported in September, according to data from the Energy Information Administration Friday. While the U.S. has previously reported net exports on a weekly basis, today's figures mark a key milestone that few would have predicted just a decade ago, before the onset of the shale boom.
"President Donald Trump has touted American energy independence, saying that the nation is moving away from relying on foreign oil. While the net exports show decreasing reliance on imports, the U.S. still continues to buy heavy crude oil from other nations to meet the needs of its refineries. It also buys refined products when they are available for a lower cost from foreign suppliers."
To understand the importance of this to the best economy in 50 years, one must consider what did in that previous economy. OPEC.
The dictators who had filled the gap between production and consumption oil shut the spigot. Oil prices rose. Inflation followed. To be sure, OPEC was just one of the reasons for the downturn, but it was a factor nevertheless.
It took 70 years, but we are rid of this risk to our prosperity.
ITEM 5
: File this under you cannot bribe an honest man.
UPDATE: The former president of Poland and a prominent member of Burisma's board, Aleksander Kwasniewski, said Friday that Hunter Biden was asked to join the company because of his father's political influence.

https://t.co/ge6mm7WdYe

— Breitbart News (@BreitbartNews) November 30, 2019
When dealing with banana republics, you buy off the local officials somehow.
Obama did not have a smidgen of corruption, he had tons of it. No one should be surprised. Elected to the Senate meant his wife got a $300,000-a-year no-show part-time job at University of Chicago's hospital.
ABC reported on January 10, 2008
, "In sharp contrast to his tough talk about ethics reform in government, Sen. Barack Obama, D-Ill., approached a well-known Illinois political fixer under active federal investigation, Antoin 'Tony' Rezko, for 'advice' as he sought to find a way to buy a house shortly after being elected to the United States Senate."
By advice he meant having Rezko's wife buy part of the property, which dropped the price to something a senator could afford. She paid $625,000 for the land. She sold it back to the Obamas for $104,500.
A jury later convicted Rezko of six counts of wire fraud, six counts of mail fraud, two counts of corrupt solicitation, and two counts of money laundering. This corruption was related to Democrat Governor Rod Blagojevich's corruption, not Obama's.
I am not saying Obama is nothing more than a cheap politician who by virtue of his color became an incompetent president. I try not to state the obvious.
Remember that one time when Susan Rice got on the Board of Netflix and the Obamas got tens of millions of dollars from Netflix because they are all experts in the digital media space? That was awesome.

— Matthew J. Peterson (@docMJP) December 1, 2019
As for Joe Biden, he makes Spiro Agnew look clean.
ITEM 6
: The Washington Post reported, "NATO nations are increasing spending on defense, with 9 of the alliance's 29 members now meeting guidelines, NATO Secretary General Jens Stoltenberg said Friday, ahead of a summit next week where President Donald Trump is expected to urge leaders yet again to increase military expenditures.
"The top-tier spending club — with at least 2% of annual gross domestic allocated for defense — expanded by one country and now includes Bulgaria, according to figures released by the military alliance."
2% is the minimum they agreed to when they signed the treaty.
So much for the Fake News about President Donald John Trump alienating allies. He forced them to pony up and defend themselves.
I do not link pay sites.
ITEM 7
:
The South China Morning Post reported
, "Global trade conflicts and the increasing trend towards unilateral trade agreements have raised alarm bells in Beijing about how China can continue to feed its 1.4 billion people.
''Last month the State Council, the country's cabinet, published a policy paper on food security – the first in 23 years. It said that while the current food supply situation was 'very sound' it also flagged concerns about potential disruptions due to trade friction with the US. Climate change is another worry for future food production.
"China's devastating experiences with hunger and famine mean that the prospect of food shortages touches a raw nerve."
Chairman Xi is sailing toward the Iceberg we call Trumpenfreude. My advice is to cut the deal sooner rather than later.
ITEM 8
: In a story billed as "Trump's Intervention in SEALs Case Tests Pentagon's Tolerance," Carlos Slim's New York Times quoted Peter D. Feaver, which it described as "a specialist on civilian-military relations at Duke University and former aide to President George W. Bush."
Feaver said, "Trump's interfering with the chain of command, which is trying to police its own ranks. They're trying to clean up their act and in the middle of it the president parachutes in — and not from information from his own commanders but from news talking heads who are clearly gaming the system."
As president, Donald John Trump is the chain of command.
So much for Feaver's expertise.
If -- as the Carlos Slim subsidized Times alleged -- the case tests the Pentagon's tolerance, then we need a new Pentagon. One that actually follows the Constitution which mandates that the president is the commander in chief.
I do not link pay sites.
ITEM 9
:
Clarice Feldman wrote
, "It appears that Biden still heads the pack of Democratic would-be nominees even though, as Scott Adams tweeted, 'Trump makes Biden look like pocket lint.'
"This might explain why his Democratic colleagues keep beating the impeachment drum. Next up, Chairman Jerry Nadler, who promises Judiciary Committee hearings this coming week, starting December 4. He promises a review of the basis of impeachment and 'an understanding of terms like high crimes and misdemeanors.' That should provide no end of amusement."
They had one shot.
They took it the instant he became president.
They called it Russian Collusion.
They missed.
Donald Trump will serve the full 8 years. Enjoy. You are in the best 8 years of your life.
ITEM 10
: This is why you should always count your fingers after shaking a politician's hand.
WATCH: Creepy Joe Biden awkwardly bites his wife's finger onstage.

I slowed this video down and zoomed it in. This is some creepy boomer sh*t.

Watch. It's horrifying. Even Jill Biden is noticeably creeped out.

FYI This is at his campaign's "relaunch and fix" Joe's image.

😦

pic.twitter.com/b6k1wwhVAp

— Benny (@bennyjohnson) November 30, 2019
He lived up to his name by Biden her.
Later, he said, "There is no reason in the world we can't fundamentally transform this country, other than Donald Trump in the way."
The best argument for President Donald John Trump ever.
ITEM 11
:
The Washington Times reported
, "The upscale liberal shoppers who frequent Whole Foods Market were plenty crabby after Senate Mitch McConnell was honored as Person of the Year by WholeFoods magazine.
"As it turns out, however, the magazine serving the "natural products industry" has no connection to the supermarket giant known for its organic meats and produce.
"Whole Foods — the market, not the magazine — spent the Thanksgiving holiday weekend explaining the difference on social media to irate consumers steamed by the McConnell honor."
Whole Fools.
We do not have those sort of problems with Poca Food Fair.
ITEM 12
:
Breitbart News reported
, "More than one million Swedes are now taking medication for depression, while a study has found people in Stockholm feel insecure due to surging crime.
"Around one in ten Swedes now take antidepressants, a number that has doubled over the last two decades, becoming one of the countries with the highest use of antidepressant drugs, Swedish broadcaster SVT reports.
"Mikael Tiger, a psychiatrist and researcher, stated that there are several reasons for the rise, including cheaper medication and less stigma attached to those who take the drugs.
"The most significant increase in demand for the drugs has been children aged 10 to 14, but it is individuals over 80 years old who have the highest usage of the medication."
Having Greta Thunberg as your chief export is depressing.
ITEM 13
: Even fans of That Team Up North have to be heartened by this one.
Wow! A

@CFBONFOX

football announcer just shared that the mother of star

@OhioState

player,

@Jkdobbins22

, walked out of an abortion facility & rejected abortion after becoming pregnant at 18.

"The baby turned out to be that young man... who she calls her 'miracle baby.'"

RT!

pic.twitter.com/ShLyHgHw1E

— Live Action (@LiveAction) December 1, 2019
He beat the Wolverines. Mom beat the devil.
ITEM 14
: A little bonus Trumpenfreude courtesy of Michael Wolff, whose books Fire and Fury: Inside the Trump White House, and Siege: Trump Under Fire ended his journalistic career. In the first book, he said the president watched Gorilla TV all day; in the second, he said Mueller had three indictments of President Trump.
In a piece in Britain's Spectator, Wolff complained he cannot get a job. He cited the print industry's troubles, not his loss of credibility.
He wrote, "Alas, I have a four-year-old. So there will have to be some form of exchanging words for dollars in order to provide for the next 20 years of her education. But really I am not sure how, if I were doing gainful work, I would be able to perform all the duties necessary for applying to kindergarten. I have older children, all of whom have been successfully educated, but our daughter is my wife's first and she has cast a wide net among Uptown, Downtown, public, private, traditional and progressive schools."
Maybe he can write for Gorilla TV.
No links to pay sites.
ITEM 15
:
The Palm Beach Post reported
, "The Trumpettes said 'you can't get a hotter name' for an event than Roseanne Barr. Or a more provocative one.
"Controversial comedienne Roseanne Barr will be the honored guest at the next Trumpettes gala, The Palm Beach Post has learned exclusively.
"Trumpettes USA Inc.'s third annual gala, will be held at President Donald Trump's Mar-a-Lago estate on Feb. 1, the evening before the Super Bowl. The choice date — a Saturday evening at the height of the season on a weekend the president is almost certain to be in Palm Beach — reflects the status of the gala as a hot ticket.
"In fact, Trumpettes founder Toni Holt Kramer said the event was sold out even before the group signed on Barr as a featured speaker. But she said she was thrilled to have Barr attend, thanks to fellow Trumpette Daphne Barak."
How Deplorable! How Despicable! How American!
ITEM 16
:
Fox News reported
, "A top aide to Kamala Harris gave a damning assessment of the California senator's struggling campaign in her resignation letter, declaring that she has never seen an organization "treat its staff so poorly" and accused the campaign of encouraging people to move across states -- only to lay them off without notice.
"'This is my third presidential campaign and I have never seen an organization treat its staff so poorly,' Kelly Mehlenbacher, then the state operations director for Harris' campaign, said in the letter obtained by The New York Times. 'While I still believe that Senator Harris is the strongest candidate to win in the General Election in 2020, I no longer have confidence in our campaign or its leadership.'
"She went on to criticize the campaign in blistering terms for pushing staffers to move to Baltimore, only to let them go without notice."
Amy Klobuchar, Hillary, and now this one raise the question of why are female Democrat presidential candidates so dismissive of staff members?
ITEM 17
:
This is a terrific story
.