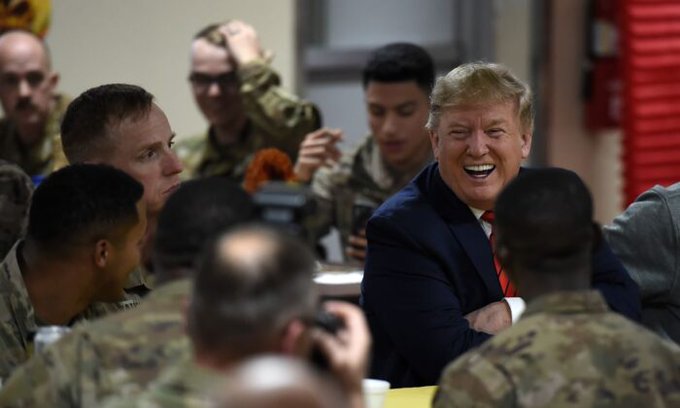 Having fixed the economy, won a trade war battle with Red China, appointed 1/4th of the appellate judges, rolled back regulations, and cut taxes, what is next for President Donald John Trump?
My guess is he will end the Afghanistan War next.
Business Insider reported
, "Months after taking office in 2017 and hoping to get a better understanding of America's longest war, President Donald Trump began taking meetings with enlisted US service members who deployed to Afghanistan.
"'I want to sit down with some enlisted guys that have been there,' Trump told advisers, according to the national security journalist Peter Bergen's latest book, Trump and His Generals: The Cost of Chaos.
"'I don't want any generals in here. I don't want any officers,' Trump added, according to Bergen's book, which was sourced from dozens of interviews with current and former White House officials and military officers. 'I just want enlisted guys.'
"The meetings were intended for candid discussions about the war in Afghanistan, which was nearing its 16th year at the time, with US troops who served on the front lines."
It's Sun Tzu.
He said 2,500 years ago, "Treat your men as you would your own beloved sons. And they will follow you into the deepest valley."
It also is Washington. In eulogizing him, Henry Lighthorse Lee said, "First in war — first in peace — and first in the hearts of his countrymen, he was second to none in the humble and endearing scenes of private life; pious, just, humane, temperate and sincere; uniform, dignified and commanding, his example was as edifying to all around him, as were the effects of that example lasting.
"To his equals he was condescending, to his inferiors kind, and to the dear object of his affections exemplary tender: correct throughout, vice shuddered in his presence, and virtue always felt his fostering hand; the purity of his private character gave effulgence to his public virtues."
To his inferiors kind.
Talking to the troops is the reason I get the feeling this war ends next year.
American Military News reported
, "Trump reportedly compared the opinions of senior military officers to those of a restaurant consultant. Rather than taking the advice of the consultant, who would suggest expanding a kitchen for renovations, Trump argued it would be more prudent and cost effective to ask the advice of the waiters who see the day to day operations and can identify the most basic problems in a restaurant's functions.
"One of the first groups Trump reportedly met with were enlisted Navy SEALs who criticized the war and said the war in Afghanistan is "unwinnable."
"'NATO's a joke. Nobody knows what they're doing,' the SEALs reportedly told Trump. "'We don't fight to win. The morale is terrible. It's totally corrupt.'"
This explains why the brass tried (and failed) to convict the SEALs of war crimes, and why the president pardoned people for lesser charges.
President Trump has their back, which is why the brass hate him.
He tried to end this war earlier this year.
Unbeknownst to almost everyone, the major Taliban leaders and, separately, the President of Afghanistan, were going to secretly meet with me at Camp David on Sunday. They were coming to the United States tonight. Unfortunately, in order to build false leverage, they admitted to..

— Donald J. Trump (@realDonaldTrump) September 7, 2019
....only made it worse! If they cannot agree to a ceasefire during these very important peace talks, and would even kill 12 innocent people, then they probably don't have the power to negotiate a meaningful agreement anyway. How many more decades are they willing to fight?

— Donald J. Trump (@realDonaldTrump) September 7, 2019
But after that setback, he visited Afghanistan over Thanksgiving to talk peace again.
NPR reported
, "During a surprise Thanksgiving Day visit to troops stationed in Afghanistan, President Trump said that his administration has reopened peace talks with the Taliban, nearly three months after he abruptly canceled them. Trump made the announcement at a rally staged at Bagram Airfield outside Kabul, where he exchanged handshakes and posed for photographs with U.S. troops.
"The cancellation followed months of negotiations between U.S. Special Representative Zalmay Khalilzad and Taliban representatives.
"'As you know, for a period of time we've been wanting to make a deal, and so did the Taliban — and we pulled back. We were getting close, and we pulled back because of what they did,' Trump told reporters after a meeting at Bagram with Afghan President Ashraf Ghani, referring to an attack in Kabul that killed a U.S. service member."
Of course, the year began with much hope. David Rohde on January 29 wrote in New Yorker, "On Monday, Trump's Special Representative for Afghanistan Reconciliation, Zalmay Khalilzad, announced that, after six days of negotiations, he had achieved a framework for a peace deal with the Taliban — something that has eluded American diplomats for more than a decade. The Taliban pledged not to allow any organization to carry out an international terrorist attack from the territory of Afghanistan, in exchange for a full withdrawal of foreign troops from the country. The news sparked surprise — and applause — from American diplomats who have tried and failed to negotiate with the Taliban in the past. 'I think this is the beginning of a credible process for the first time in ten years,' Dan Feldman, who served as the Obama Administration's Special Representative for Afghanistan and Pakistan, told me."
In the piece, Rohde wrote, "Trump, in publicly telegraphing his desire to pull out all American troops, Feldman told me, weakens the hands of American negotiators. The Taliban may, in fact, conclude that they could simply wait for U.S. forces to withdraw and then take control of the country. 'The Taliban recognize that the U.S. commitment is waning,'" Feldman said. 'By announcing that precipitously, you take off the table our best leverage.' Young people, women, and city-dwellers in Afghanistan fear that Trump will hastily abandon them and the country's vast, post-2001 improvements in education, health care, and basic human rights."
How ironic that a member of the Obama administration that did the same thing complained. Recall that we had to have a surge (which Obama denounced when we had one in Iraq) to quell the Taliban violence.
Afghanistan is halfway around the world. We went there based on deep state lies. It cost us thousands of our best men and women, as well as trillions of public treasure.
I had hoped 2019 would end North Korea's nuclear program. Negotiations continue -- and they continue in Afghanistan. Patience is a large part of the Art of the Deal.
As well as the Art of War.