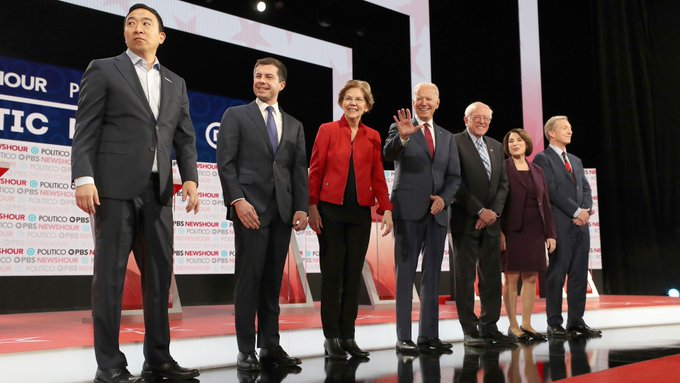 Rolling Stone posted a leader board of the 15 Democrat presidential candidates. I see 15 lumps of coal.
No 1. was Joe Biden.
Rolling Stone said
, "The former vice president offers America a seductive promise — a reboot from the Trump catastrophe and a return to the Obama era. And rather than risk falling in love with a progressive New Hope, many rank-and-file Democrats, particularly older voters and voters of color, seem happy to fall in line behind Biden, 76."
Biden mania saw
98 people attend one of his town halls
.
You have to show up two days early to be 98th in line at a President Donald John Trump rally.
No. 2 was Bernie Sanders.
Rolling Stone said, "Despite a recent heart attack, the 78-year-old Sanders is on a roll — riding a potent combination of people-power and cash. The campaign's focus on grassroots organizing is peerless in the 2020 field. And Sanders raised more than $25 million in the third quarter, recently passing the mark of 4 million donations, a record for this stage in a campaign."
President Trump has raised $80 million from small donors already.
No. 3 was Elizabeth Warren.
Rolling Stone said, "Warren soared to the top of the 2020 Democratic field on the strength of bold, progressive policies. But her detailed proposal to implement Medicare for All without raising income or payroll taxes did not pay off politically, coinciding with a significant polling slump. Warren is targeting Democrats who seek progressive purity from their 2020 champion, including in fundraising. Swearing off fundraisers with big contributors seeking political favors, Warren raised close to $25 million in the third quarter. But unlike Sanders, who embraces the mantle of democratic socialism, the 70-year-old Warren is a capitalist at heart, having spent a career trying to make the system work for working people."
President Trump is a capitalist at heart, mind, body, and soul. He took a multi-million-dollar, local family business and turned it into a multi-billion-dollar, international casino and resort business -- writing best sellers and starring in a hit TV series along the way.
No. 4 was Pete Buttigieg.
Rolling Stone said, "A strong contender in Iowa and New Hampshire, Buttigieg continues to be held back by what we'll politely call a lack of resonance with voters of color — suggesting he could hit a wall in racially-diverse early-voting states like Nevada and particularly South Carolina."
His bigger problem is being the gay Obama: inexperienced but backed by big donors.
What Democrats need is a competent Obama.
No. 5 was Andrew Yang.
Rolling Stone said, "The most unlikely grassroots sensation of 2020, Yang is a businessman who founded Venture for America, working to revitalize struggling urban centers by training and fostering entrepreneurs in cities like Detroit and New Orleans."
Grassroots sensation? He's in the single digits in poll after poll.
Besides, I thought populism was evil because if elected Hitler, or something like that.
No. 6 was Amy Klobuchar
Rolling Stone said, "The Minnesota senator's understated persona stands in contrast to Trump's bluster and bravado, winning her plaudits from conservatives including Washington Post columnist George Will and Republican senators Lindsey Graham and Susan Collins."
Understated is a euphemism for weak. She shows no leadership skills, but apparently she has a good enough arm to throw a binder at an underling.
No. 7 was Cory Booker.
Rolling Stone said, "The former mayor of Newark, New Jersey, Booker is running on a values-heavy message of love, unity, and 'a revival of civic grace.' The 50-year-old had an excellent debate in Detroit, besting Biden in an exchange over mass incarceration and the 1994 crime bill Biden championed. Booker has one of the most liberal voting records in the Senate, and he's changed the conversation around federal cannabis legalization with his proposed Marijuana Justice Act."
He will get the pothead vote, which among Democrats apparently is less than 5% of the vote.
No. 8 was Michael Bloomberg.
Rolling Stone said, "The 77-year-old former mayor of New York surveyed the 2020 Democratic field and decided he's just what's missing. Bloomberg launched his campaign in late November, shocking and awing America with a wildly expensive national ad campaign that branded him as a: 'Jobs Creator. Leader. Problem Solver.' Stranger things have happened, but it's hard to imagine a centrist former Republican who backed George W. Bush in 2004, embraced racist police tactics as mayor, and remains skeptical of progressive economic policy winning the nomination of today's left-leaning Democratic Party. Despite spending $100 million on his national launch, Bloomberg has gained only 2 points in the polls."
I already
explained why he cannot beat President Donald John Trump
.
But let us consider this "backed George W. Bush in 2004" nonsense. If Democrats want to win in 2020 (and I have seen few signs that they do), they will need more than a few Bush voters.
Obama did. He carried Florida, Indiana, North Carolina, Ohio, Virginia and 5 other states Bush 43 carried.
Democrats will need at least 3 states that President Trump carried in order to win.
The question for Democrats is how do we do that? Their answer begins, not with these lumps of coal.