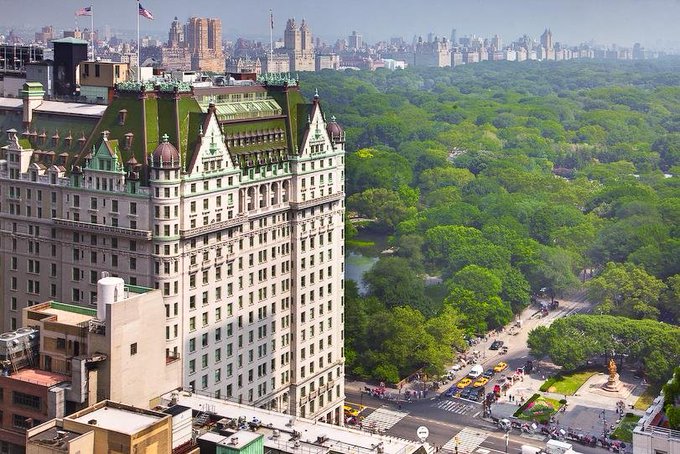 Donald John Trump loved New York City. After 30 years, he is leaving. He will miss the view of Central Park from his penthouse.
He saved Manhattan in the 1980s when it was a "
Taxi Driver
" hellhole.
Other developers had fled. The city was dying. He acquired the Commodore Hotel, a rat-infested roach motel, and transformed it into the Grand Hyatt New York. He took on a skating rink boondoggle in Central Park, and completed it early and under budget.
But now hounded by the political successors of the politicians whose hides he saved, President Donald John Trump is moving from his three-story penthouse apartment overlooking Fifth Avenue to take up permanent residency at Mar-a-Largo.
Florida does not have a usurious state income tax, nor a state attorney general and governor who want to make public his private tax returns. In New York, Democrats are doing this as a warning to any others who might challenge the political cabal in Washington.
According to the New York Times, President Trump is changing his residency to Florida.
Maggie Haberman wrote, "In late September, Mr. Trump changed his primary residence from Manhattan to Palm Beach, Fla., according to documents filed with the Palm Beach County Circuit Court. Melania Trump, the first lady, also changed her residence to Palm Beach in an identical document.
"Each of the Trumps filed a declaration of domicile saying that the Mar-a-Lago Club, Mr. Trump's resort in Palm Beach, will be their permanent residence.
"'If I maintain another place or places of abode in some other state or states, I hereby declare that my above-described residence and abode in the State of Florida constitutes my predominant and principal home, and I intend to continue it permanently as such,' reads the document that Mr. Trump filed.
"'I formerly resided at 721 Fifth Avenue,' the document says, referring to Trump Tower, which has been his primary residence since he moved into the skyscraper off 57th Street in Midtown Manhattan in 1983."
Of course he is leaving.
New York has an estate tax that tops off at 16% as well as an income tax that tops off at 8.82%.
Florida's estate tax is 0% and its income tax is 0%.
The Times reported, "In a statement after The New York Times reported on Mr. Trump's move, Gov. Andrew M. Cuomo of New York said: 'Good riddance. It's not like Mr. Trump paid taxes here anyway. He's all yours, Florida.'"
Gratitude for the man who saved Gotham?
That is only in Batman comics.
The hoity-toity resent that a guy with an office in Coney Island saved their precious city. He's not an Astor.
Of course, the original Astor was a fur trapper and a son of a butcher.
The city will backslide. I think it is the goal of every Democrat to make any city or state they run uninhabitable. New York will have to do so without President Trump's money.