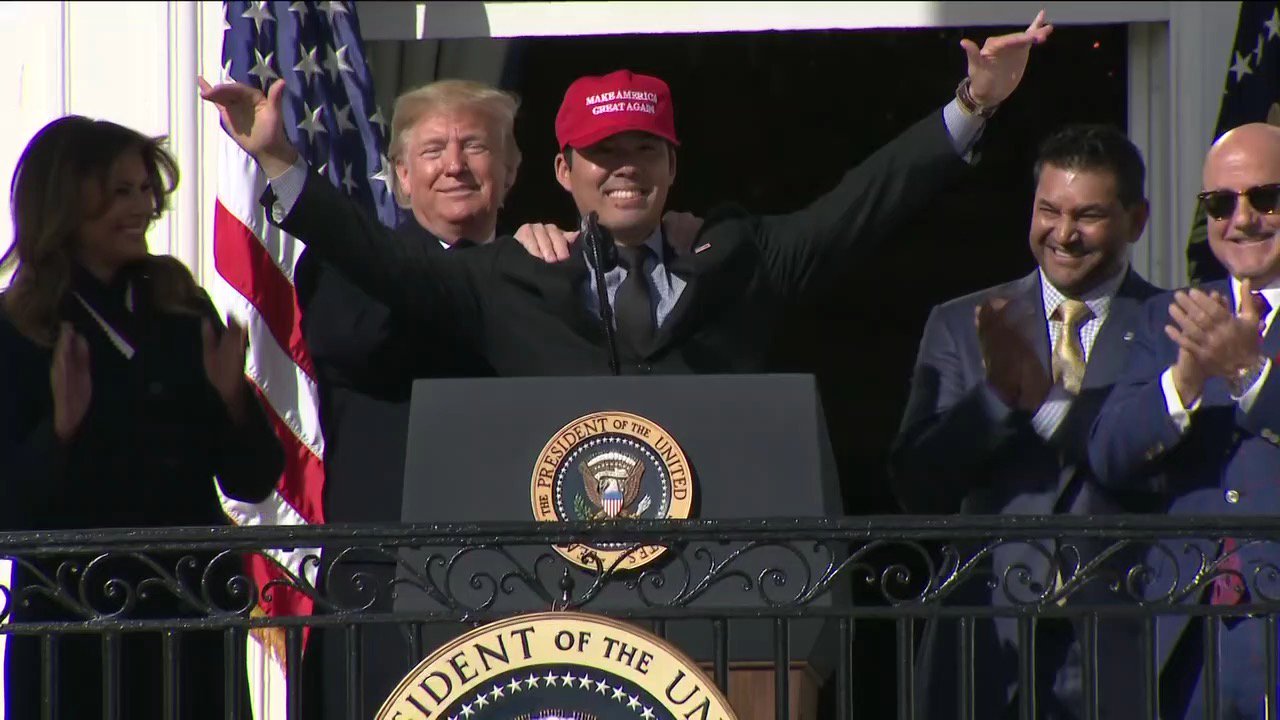 Donald John Trump is still our president.
ITEM 1
:
The Hill reported
, "The Salt Lake Tribune announced Monday it received approval from the Internal Revenue Service to convert to a nonprofit publication."
It is owned by the Huntsman family. The future of newspapers is as tax dodges for oilmen.
By the way, this is a for-profit blog that pays its taxes. It is not a charity; it gives to charities.
ITEM 2
:
Breitbart News reported
, "A National Health Service trust has announced that it will withdraw treatment from patients it deems to be racist or sexist.
"The North Bristol NHS Trust announced that patients will be subject a 'sports-style disciplinary yellow card and then final red card in which treatment would be withdrawn as soon as is safe' on its official website.
"The policy would cover not just 'Threatening and offensive language" but also 'Racist or sexist language, gestures or behaviour' more generally, as well as 'malicious allegations' — a rather troubling caveat, given the NHS has in the past been entangled in large-scale malpractice scandals which hospitals and staff have initially denied."
Be politically correct or die.
UK NHS Patient Asks for Female Nurse for Cervical Smear, Gets Tattooed Trans Man With Stubble

https://t.co/daodtoqRiG

— Breitbart London (@BreitbartLondon) December 31, 2017
Coming to an America near you.
Just kidding. We're going to re-elect President Trump.
ITEM 3
:
CNBC reported
, "The stock market keeps setting new highs in a rally no one saw coming."
Just like that 2016 election the experts missed.
IT'S OFFICIAL! Dow Is Up 50% Since Election Day 2016! ...9,125 Points!... Dow, S&P, and Nasdaq ALL HIT NEW RECORDS! - Thank You President Trump!

https://t.co/5OwSQk7JSe

via

@gatewaypundit

— Bill Mitchell (@mitchellvii) November 4, 2019
ITEM 4
:
Breitbart News reported
, "Washington Nationals player Ryan Zimmerman, who hit the first World Series home run in Nationals franchise history, thanked President Trump for 'continuing to make America the greatest country in the world' at the White House Monday afternoon.
"Before walking away, Zimmerman gave the president a Nats jersey with Trump 45 on the back."
Catcher Kurt Suzuki wore a MAGA hat. That's him in the top photo.
The anti-American jerks usually get the publicity. Not this time.
Liberals dropped the Washington Nationals faster than they forgot about the Kurds.

— Catturd (@catturd2) November 4, 2019
ITEM 5
:
The New York Post reported
, "Gov. Cuomo on Monday claimed he didn't know about the dumb-and-dumber plan to release jailed inmates early under his new bail-reform law and then give them freebies to entice them back to court.
"His office denied any knowledge of the planned early release by the state Office of Court Administration, whose funding is approved by the governor and state legislature and has its chief justice appointed by Cuomo."
The story also said, "Meanwhile, de Blasio is taking things a step further with the freed accused criminals by offering them Mets and movie tickets and gift cards as an incentive to return to court for hearings, sources told The Post."
Sounds like Our President escaped New York in the nick of time.
ITEM 6
:
American Military News reported
, "Fox News host Pete Hegseth said President Trump is expected to make an announcement in the next week about restoring the rank of Navy SEAL Eddie Gallagher.
Hegseth said, "It doesn't have to be a pardon or a commutation. It could be, but pardons and commutations imply guilt, that you've done something wrong and you need to be forgiven for that. The president, as the commander-in-chief, has a lot of latitude under the Uniform Code of Military Justice to dismiss a case or change a sentence. From what I understand, that is likely what will happen here shortly."
The story explained, "Gallagher was acquitted on July 2 of murder, a charge waged against him for the May 2017 death of an ISIS fighter in Mosul, Iraq. The acquittal came after Petty Officer Corey Scott had revealed under oath – and under the protection of immunity that was granted by the government – that he covered the ISIS fighter's breathing tube to suffocate him.
"Gallagher and 10 others from Alpha Platoon, SEAL Team 7 were later photographed near the corpse, however, Gallagher was the only one charged with the act, and it was the only charge he was found guilty of."
Sounds like C-in-C will do right by Chief Gallagher.
ITEM 7
:
The Hill reported
, "President Trump on Monday began the yearlong process of withdrawing the U.S. from the Paris climate accord.
"The official announcement cements a promise Trump made in the White House Rose Garden in 2017 when he first announced his intention to withdraw from the global climate change agreement signed by every other country in the world."
Looks like the Deep State slow-walked the president -- and the American people who elected him -- on this.
Tell you what, strip Civil Service protection for anyone who works in the White House and watch this nonsense end. If it doesn't, remove protections for GS-14 and above.
A reader pointed out this was the earliest we could withdraw. I apologize for not doing my homework.
ITEM 8
:
Reuters reported
, "Two U.S. career diplomats told the Trump impeachment inquiry that they did not feel supported by the State Department under President Donald Trump and that the department was being used for domestic political purposes, according to transcripts of their testimony released on Monday.
"The Democratic-led House of Representatives investigation into the Republican president is focused on a phone call in July in which Trump asked Ukrainian President Volodymyr Zelenskiy to investigate political rival Joe Biden, a former vice president and contender for the Democratic Party nomination to run against him in the November 2020 election."
It is as if they forget that the president is in charge of the executive branch of government.
Give him the authority to fire them for insubordination.
ITEM 9
:
The Daily Mail reported
, "A heavily pregnant woman used an AR-15 to kill a home intruder after two masked men entered her home in Florida, pistol whipped her husband and violently grabbed their daughter.
"Jeremy King, 34, was at his home in Lithia, Florida with his 31-year-old wife when the two armed men stormed in last Wednesday at about 9pm before pointing a gun at his head and demanding money.
"Police say the suspects grabbed the couple's 11-year-old daughter as King tried to explain they didn't have anything that was worth giving them.
"King told Bay News 9 that one of the men then started pistol-whipping him as the other kicked him repeatedly in the head."
The Good Lord made men free. Sam Colt made them equal.
ITEM 10
:
The Christian Post reported
, "The Kentucky Supreme Court dismissed a lawsuit against a Christian business that refused on religious grounds to make T-shirts for a gay pride event.
"In Lexington-Fayette Urban County Human Rights Commission v. Hands on Originals, the state's highest court ruled unanimously last Thursday that the LGBT group suing the business did not have statutory standing to sue the company.
"The court noted that the local anti-discrimination ordinance only allowed for an individual complaint of discrimination to be filed, whereas the Gay and Lesbian Services Organization filed the complaint as a group."
It is a technicality. But a win is a win.
ITEM 11
:
— Wojciech Pawelczyk 🇵🇱🇺🇸 (@PolishPatriotTM) November 4, 2019
He sniffs little girls. His son snorts cocaine.
ITEM 12
:
— Evi L. Bloggerlady (@MsEBL) November 4, 2019
Evi is a hidden treasure on the web.
ITEM 13
:
BREAKING: Hunter Biden's Ukraine Gas Firm Urged Obama Admin To End Corruption Allegations, Report Says

https://t.co/UEvQTeM1Tz

— Arthur Schwartz (@ArthurSchwartz) November 5, 2019
Not a smidgen. Tons.
ITEM 14
:
WOW.. Steve Hilton accuses ex-state dept spox Marie Harf, to her face, of participating in Obama admin Biden coverup.. This is an instant classic 😬

pic.twitter.com/Gg1AiCbTcW

— truthseeker (@Calloutfortruth) November 4, 2019
Fox News conservatives are not taking it any more.
ITEM 15
:
— Rasmussen Reports (@Rasmussen_Poll) November 5, 2019
I worked with Chris at the Daily Mail many years ago. Bright, conservative, and ambitious. Now he is just ambitious.