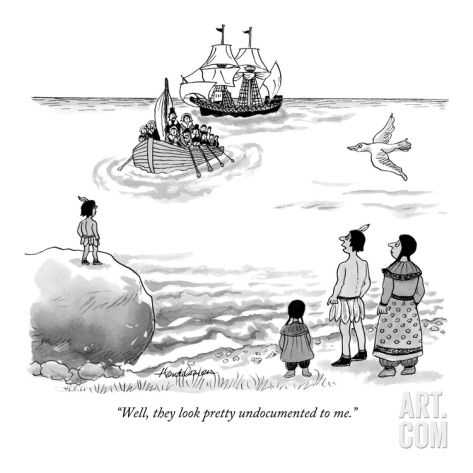 Happy Thanksgiving. Learn from the Indians and build the wall.
ITEM 1
:
The New York Post reported
, "The woman suing Hunter Biden for paternity was a stripper at a Washington, DC, club he frequented around the time he was dating his brother's widow, sources told The Post.
"Biden was repeatedly seen at the Mpire Club in the capital's historic Dupont Circle neighborhood — where Lunden Alexis Roberts, the mother of his alleged love child, worked under the stage name Dallas, the sources said.
"'He was well-known,' a source said of Biden, the son of former Vice President Joe Biden, the Democratic front-runner to challenge President Trump next year.
"Several Mpire workers said they recognized Roberts, 28, who last week filed court papers that say DNA testing proved Hunter, 49, fathered the child she gave birth to in August 2018."
But wait.
There's more.
The New York Post also reported
, "Hunter Biden spent several thousand dollars at a Manhattan strip club during a pair of visits — including one that sent a staffer scrambling to buy a sex toy so strippers could use it on him, sources told The Post on Wednesday."
The Jeff Bezos Washington Post, CNN, and the rest of Washington's over-rated press corps cannot hold the New York Post's sex toy when it comes to journalism. The New York Post went into DC, found the strip joint, and got the story that was right under the noses of the DC press corps.
I'll bet these
incels
have never been to a strip joint.
President Trump cut his teeth on the New York Post and the rest of the New York media. It is no wonder that he plays the DC chumps like Liberace used to play piano.
ITEM 2
:
WPXI reported
, "A local Catholic school has lost tens of thousands of dollars in donations because of an issue with the mail.
"St. Philip Catholic School in Crafton, Pennsylvania, held a fundraiser in May to help buy school supplies and help lower income students with tuition.
"The school just learned the post office had 150 pieces of mail it never delivered. Inside that mail was more $13,000 in donation checks, many of them long expired."
I am pro-Postal Service. I use it to deliver autographed books. I like that it delivers Poca Food Fair ads so I don't have to make a trip each week to get the circular.
But this is plain wrong.
ITEM 3
:
Fox News reported
, "Rep. Meadows slams impeachment 'sham': More subpoenas from Dems than bills passed."
The story said, "North Carolina Republican Congressman Mark Meadows said Wednesday that new evidence surrounding House Democrats' impeachment inquiry into President Trump's July 25 phone call with Ukrainian President Volodymr Zelensky supports the White House's argument that the probe is a sham partisan process.
"The House Judiciary Committee announced the next step in the impeachment process, scheduling the second round of hearings for next week."
This is a good development considering the bills that Democrats have passed.
I don't want Congress to do its job. I want Congress to go home.
ITEM 4
:
Glenn Reynolds reported
, "2020 Rhodes Scholarships heavily favor progressive candidates. Still, this is an improvement. Just a couple of years ago students were demanding that the scholarships be abolished as Rhodes' legacy. Now they're claiming their prestige."
All awards are garbage that eventually are taken over by liberals. Oscars, Emmys, Grammys, Tonys, National Review's WFB Jr. Prize...
ITEM 5
:
A week ago, CNN reported
, "US Ambassador to the European Union Gordon Sondland changed the course of the House impeachment inquiry Wednesday, over the span of several hours in front of the House Intelligence Committee with the television cameras rolling for a global audience."
His testimony did no such thing. Sondland failed to nail The Donald.
Now the left is going after Sondland. Portland Monthly and Pro Publica published allegations of sexual harassment against him. One of the 3 women crying Me Too is the owner of Portland Monthly, Nicole Vogel. Surprise, surprise.
The Daily Mail reported
, "Nicole Vogel decided to come forward with her account the day after Sondland gave his initial impeachment testimony on Capitol Hill last week, where he stood by President Trump but admitted there was quid pro quo between the White House and Ukraine.
"In 2003 Vogel, then 34, was raising money to launch Portland Monthly Magazine and met with Sondland, a prominent figure in Portland, twice for a potential investment, according to the report."
OK, 16 years ago, he made a pass at her. She turned him down. He turned down her request for an investment. Yawn. We would not have heard her complaint if his testimony hurt the president.
After all, Vogel was silent during his confirmation hearings.
ITEM 6
: Politico reported on Obama's view of the 2020 race.
It said
, "Sometimes he offers candid advice about his visitors' strengths and weaknesses. With several lesser-known candidates, according to people who have talked to him or been briefed on his meetings, he was blunt about the challenges of breaking out of a large field. His advice is not always heeded. He told Deval Patrick earlier this year that it was likely 'too late' for him to secure 'money and talent' if he jumped in the race. Occasionally, he can be cutting. With one candidate, he pointed out that during his own 2008 campaign, he had an intimate bond with the electorate, especially in Iowa, that he no longer has. Then he added, 'And you know who really doesn't have it? Joe Biden.'"
What is with recent presidents hating their vice presidents? Bush and Quayle. Clinton and Gore. Bush and Cheney. Now these two. It was not always that way. Eisenhower helped Nixon in 1960. Johnson helped Humphrey in 1968. Carter helped Mondale in 1984. Reagan helped Bush 4 years.
Maybe that "kinder gentler" thing showed presidents their understudies are not their clones.
ITEM 7
:
The Washington Times reported
, "The Drudge Report is still the king of conservative aggregator websites, but its rivals are gaining ground.
"Five right-tilting upstarts — Whatfinger News, Liberty Daily, Rantingly, NewsAmmo and Gab Trends — increased their average monthly traffic and engagement, as measured by average visit duration and average pages per visit, from September-October 2018 to 2019, according to SimilarWeb, which shared its data with The Washington Times.
"At the same time, the marketing-intelligence company found traffic to the Drudge Report during that period declined by 15%. From July to October, Drudge dropped from 96 million total visits to 77 million, prompting recent headlines such as True Pundit's 'Drudge Bleeds Out as Conservatives Flee.'
"The Drudge Report has stoked alarm on the right for appearing to pivot on its support for President Trump, increasingly linking to stories that are critical of the administration and to media websites that are accused of having an anti-Trump bias such as CNN, The New York Times and The Washington Post."
Nice to see what I have noticed make the mainstream because we should encourage conservative sites and shun liberal ones. It is not an echo chamber, just an escape from all the liberal manure we are exposed to elsewhere.
Drudge came in on an impeachment 21 years ago. He will go out with one. He had a good run.
ITEM 8
:
Fox News reported
, "A Texas teacher who lost her job after asking President Trump on Twitter to remove the 'illegal students from Mexico' from her school has won an appeal to get her job back.
"Texas Education Agency Commissioner Mike Morath ruled Monday that the series of offensive tweets sent in May by Georgia Clark — an English teacher at Carter-Riverside High School in Fort Worth — were protected by the First Amendment, the Fort Worth Star-Telegram reports.
"Clark, whose Twitter account has since been deleted, is now entitled to return to the classroom with back pay and employment benefits or district officials can fork over one year's salary."
The board will appeal. As Mark Twain wrote, "In the first place God made idiots. This was for practice. Then he made School Boards."
ITEM 9
:
The Washington Examiner reported
, "A House vote to impeach President Trump could put a critical faction of moderate Democrats at risk in 2020.
"Two weeks of public impeachment hearings have failed to ramp up support for ejecting Trump, polls show, and it has raised questions about the political risks of voting to impeach him.
"'I'll have to see,' Rep. Donna Shalala, who represents a Miami swing district, told the Washington Examiner. 'Whether it will shift their minds one way or the other, I don't know that.'
"Just two Democrats voted against the ongoing impeachment proceeding when the House took up the measure on Oct. 31."
Shalala is faltering? Nancy has to be happy. Surely by now she does not want to serve this diseased turkey to the American people. Voting down impeachment helps Democrats.
ITEM 10
:
Hot Air reported
, "The Democratic Party of Arkansas had selected Joshua Mahony to run against Sen. Tom Cotton in next year's election.
"However, minutes after the filing deadline for candidates had passed, Cotton's campaign released significant oppo research which caused Mahony to withdraw from the race within a matter of hours. In fact, Mahony didn't even talk to the party before announcing on Twitter that he was withdrawing from the race. Monday the Democratic Party announced that, after a failed attempt to find a path forward, it was simply too late to field a replacement candidate."
Well-played, Tom Cotton, well-played.
Democrats showed their competence.
ITEM 11
: From Dave in comments yesterday at 9:23 AM, "I was at the rally last night. I never saw so many happy, well-adjusted people in such a large and DIVERSE crowd. There was a 16 year old Cuban-American girl sitting behind me that cheered her head off at everything Trump said, along with her 16 year old Cuban-American boyfriend and her 9 year old little brother and 30-something mother.
"The most common thing that everyone shared was the freedom they were feeling by being among like-minded people where they could share their support for Trump without fear of approbation. #MAGA/KAG!"
I read comments. I read whatever I can elsewhere. I post what is interesting. It's fun.
Data from Broward Florida rally:

✅ 31,177 voters identified

✅ 19% voted once or less in last 4 elections (8% in zero)

✅ 24% Democrat

✅ 27% Hispanic

Incredible data from a county that is predominantly blue. Put Florida in the win column for 2020!

— Brad Parscale (@parscale) November 27, 2019
ITEM 12
:
Fox News reported
, "President Trump told supporters at a rally held in Sunrise, Florida, Tuesday that he wouldn't allow the radical left to change the name of Thanksgiving."
The president said, "As we gather together for Thanksgiving, you know, some people want to change the name Thanksgiving. They don't want to use the term Thanksgiving. And that was true also with Christmas. But now everybody's using Christmas again. Remember this?"
Marxists want to call it a National Day of Mourning because they hate America.
ITEM 13
:
Politico reported
, "House Democrats have one final shot to drive up public support for impeachment, with a slate of hearings in the House Judiciary Committee beginning next week.
"But even Democratic lawmakers acknowledge public sentiment might be impossible to move in the weeks before an anticipated historic House vote on impeaching President Donald Trump."
Nancy should let them vote it down and move on. It is dog doo on their shoe. Scrape it off.
ITEM 14
:
Breitbart News reported
, "The American economy grew at a faster pace this summer than estimated earlier.
"Gross domestic product grew at a 2.1% annual rate for the third quarter, the Commerce Department said yesterday in its second estimate of economic growth. That is a substantial boost from the 1.9 percent in the earlier estimate.
"While businesses pulled back on investment in the summer, likely because of fears of sluggish global growth and uncertainty over the direction of trade and monetary policies, consumers remained confident and spending high, thanks to rising wages and extremely low unemployment."
The best economy in 50 years continues to roll.
ITEM 15
:
The Daily Mail reported
, "The beleaguered Duke of York has been 'banned' from meeting President Donald Trump when he visits the UK next week. Mr. Trump will be received by the Queen, in an unprecedented second visit in a single year by a U.S. President following his State visit in June.
"But in the wake of his disastrous Newsnight interview, Prince Andrew faces further humiliation after his name was left off the list of figures meeting the President.
"Andrew, who played a leading role in President Trump's state visit to the UK earlier this year, would have joined them had he not stepped back from public life."
By stepped back from public life, the newspaper means the queen disowned him.
ITEM 16
:
BREAKING: Senator Elizabeth Warren has introduced a bill that would revoke Medals of Honor from U.S. soldiers involved in the Wounded Knee Massacre of 1890

— Benny (@bennyjohnson) November 27, 2019
Odd because you would think she would side with the gun confiscators.
Which was what the Army was doing at Wounded Knee.
ITEM 17
: Proof Orange Man Bad.
This story is flying around on Twitter and somehow all of them missed the fact that this operation was planned in late 2015 while Obama was the President and the school was incorporated in January 2016 while... Obama was President.

https://t.co/GtWToxrHVp

— Robby Starbuck (@robbystarbuck) November 27, 2019
Nevermind.
ITEM 18
: Has Obama donated a cent to Harvard or Columbia?
Thirty four years ago, the liberal paper of the University of Pennsylvania was celebrating "the largest single gift ever received by an undergraduate school" in a banner headline..which I discovered going through boxes after a move.

Odd he would become the right wing devil, no?

pic.twitter.com/ZyeVBznGXQ

— Eric Weinstein (@EricRWeinstein) November 27, 2019
I mean of his own money.
FINALLY
: Today is the day we thank The Lord for his grace and mercy.
I am thankful for my wife of 42 years, our children, our great country, and my wonderful readers. You stick by me even when we disagree. You put up with my errors and forgive my typos. I do this for you, and I know you appreciate it.
Let me get in the spirit of the day.
— Don Surber (@donsurber) November 25, 2019
That tickled the stuffing out of me.
Some say I am the Prince of puns.
Again, happy Thanksgiving.