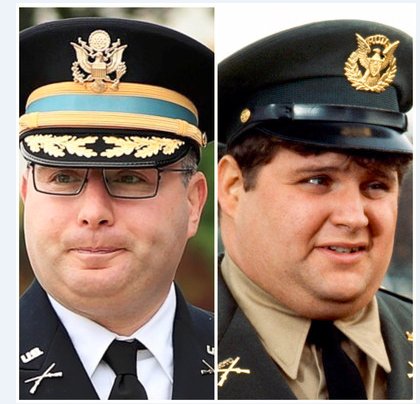 Donald John Trump is still our president. And Vindman
still looks like Flounder
.
ITEM 1
: Saint Preet is in a panic.
— Ron Coleman (@RonColeman) November 22, 2019
Preet Bharara is a rising Democrat star. Chuck Schumer hired him as his chief counsel. Obama appointed him U.S. Attorney for the Southern District of New York. He went after CEOs offering them plea deals to stay out of jail if their companies donated to liberal causes. This was a shakedown disguised as a crackdown. The Bush administration sent two dozen CEOs to prison. Democrats sent none.
Bharara taunted President Trump early on.
Now Bharara is blinking his eyes and sweating. He is mitigating the damage from the Russian Collusion Hoax. But a reader pointed out he was likely the next Democrat attorney general or Supreme Court pick, so Bharara blinks and sweats on CNN. Duty calls.
ITEM 2
:
CNBC reported
, "House Democrats and the Trump administration did not come to an agreement on moving forward with President Donald Trump's new North American trade deal during a meeting Thursday.
"Lawmakers and the White House have worked for weeks to resolve Democratic concerns about enforcement tools for labor and environmental standards under the deal, known as the United States-Mexico-Canada Agreement. Leaving a meeting with House Speaker Nancy Pelosi and U.S. Trade Representative Robert Lighthizer, House Ways and Means Committee Chairman Richard Neal said the sides made progress but did not strike a final agreement, his office confirmed.
"A spokesman for Pelosi said the meeting, which lasted more than an hour, was productive."
The deal should have been done a year ago. None of the countries want NAFTA.
ITEM 3
:
Christian Toto wrote
, "We've been wallowing in Fake News long before Donald Trump descended from an escalator to start his presidential campaign.
"Media bias is part of the modern news culture. It 'roided up after reporters felt it was their mission to remove a sitting president, facts be damned.
"And Clint Eastwood knows it.
"You don't get to be a movie star for decades, and decades, without a keen sense of the American people. Could that explain why the Hollywood legend is delivering a full-on assault on Fake News at this particular moment?"
The decades of misery from the press for Eastwood are about to be paid back. There are real life heroes in this story, including lawyer Lin Wood -- who is going to get justice for Nicholas Sandmann.
— Julie Gunlock (@JGunlock) November 22, 2019
ITEM 4
:
CNBC reported
, "President Donald Trump and Apple CEO Tim Cook toured a Texas manufacturing facility on Wednesday, getting a glimpse of a factory used by Apple to assemble the Mac Pro desktop.
"The tour was a public symbol of Trump's close relationship with Cook, and also provided an opportunity for the president to showcase a leading American company that's manufacturing in the U.S. as Trump struggles to put into place the first piece of a U.S.-China trade agreement."
Apple. Made in the USA.
I like that.
Those jobs are coming back. In fact, we are adding even more.
ITEM 5
:
John Eidson reported
, "During her recent visit to Washington, DC, Swedish teen climate activist Greta Thunberg was hailed by Barack Obama as 'one of our planet's greatest advocates.' When the two met prior to her speech before Congress, the former president assured her of his own environmental bona fides with this: 'You and me, we're a team.'"
Marxists stick together. I wonder if he invited her to his $15 million estate in Martha's Vineyard, you know the place that they claim will be underwater in 15 years.
ITEM 6
:
Sara Carter reported
, "Justice Department prosecutor U.S. Attorney John Durham is questioning personnel connected to the Pentagon's Office of Net Assessment, which awarded multiple contracts to FBI informant Stephan Halper. Halper, who was informing the bureau on Trump campaign advisors, is a central figure in the FBI's original investigation into President Donald Trump's 2016 campaign,
SaraACarter.com
has learned.
"These latest developments reveal the expansive nature of what is now a Justice Department criminal probe into the FBI's investigation into the Trump campaign. The revelation also comes on the heels of DOJ Inspector General Michael Horowitz's report regarding the bureau's investigation into the Trump campaign and Russia. Sen. Lindsey Graham, R-SC, announced to Fox News' Sean Hannity Wednesday night the lengthy investigative report will be released to the public on December 9."
It was supposed to be released in June, then July, then by Labor Day, then Thanksgiving, now Kirk Douglas's birthday. He'll be 103.
Let us hope good things come to those who wait. The longer it takes, the stronger the case? We shall see.
ITEM 7
:
The Daily Caller reported
, "The Democratic National Committee (DNC) released its disappointing October fundraising numbers in the middle of the party's fifth presidential primary debate.
"The DNC reported less than $8.7 million cash on hand and over $7 million debt in an FEC report released Wednesday."
The story said, "The RNC raised nearly three times as much money as the DNC last month, pulling in over $25 million in October, while reporting over $60 million cash on hand. Additionally, the joint fundraising effort between the Trump campaign and the RNC has raised over $300 million in 2019 so far, and reported over $156 million cash on hand last month."
Make America Great Again versus Make America Miserable As Hell.
It's no contest.
Look for the president to take 30 to 37 states, add a couple of Republican senators, and retake the House on anti-impeachment ads. Truman was the last president to retake the House as winning incumbent president.
ITEM 8
:
The Associated Press reported
, "Prime Minister Benjamin Netanyahu was indicted Thursday in a series of corruption cases, throwing Israel's paralyzed political system into further disarray and threatening his 10-year grip on power. He rejected calls to resign, angrily accusing prosecutors of staging 'an attempted coup.'
"The first-ever charges against a sitting Israeli prime minister capped a three-year investigation, with Attorney General Avichai Mandelblit indicting Netanyahu for fraud, breach of trust and accepting bribes."
It was a sad day for Israel.
ITEM 9
:
CNBC reported
, "Charles Schwab's decision to give investors zero-commission online trades turned his industry upside down but looks like it could work out well for the firm that bears his name.
"The move was a shrewd maneuver. Schwab's action pressured his rivals to quickly match no-fee commissions, their stocks fell, and now a source tells CNBC that Charles Schwab is close to announcing a deal to buy key rival TD Ameritrade. The combined firm would have $5 trillion in assets, and the Financial Times says the deal could value Ameritrade at $25 billion."
I am a big fan of Schwab who has for 40-plus years worked to open trading to the middle class. Along with Jack Bogle's stock index fund and Ted Benna's 401k, he helped make retirement better for many Americans.
ITEM 10
: Article of Impeachment No. 59: Some boy once did something to Fiona Hill.
Fiona Hill confirms the story that at age 11 a boy set her pigtails on fire during a test, which she put out with her hands: "It had some very unfortunate consequences afterwards, my mother gave me a bowl haircut"

pic.twitter.com/KPDjO7Bb0S

— Axios (@axios) November 21, 2019
And you thought running around with their hair on fire was a metaphor.
Oh yes, the impeachment continues. America yawns.
Fallon: Today was Day 3 of the impeachment hearings. Which means it was also the third day Americans turned on the TV to watch Ellen and then screamed, "You gotta be kidding me!"

— Andrew Malcolm (@AHMalcolm) November 22, 2019
ITEM 11
:
The Washington Examiner reported
, "Former National Security Council official and Russia expert Fiona Hill on Thursday testified that she heard Russian President Vladimir Putin at a 2011 conference describe American fracking as a great threat to Russia, a position he has emphasized ever since.
"The recollection came out at a point in the impeachment hearing when Rep. Mike Conaway of Texas was asking Hill about Putin's propaganda efforts in the United States, at the center of which is the television channel RT, which pushes anti-fracking messaging. Hill agreed that Russia saw the growth of U.S. fracking as a threat given that it undermines Russia's efforts to dominate the energy sector."
Which his why Democrats hate fracking, comrade.
ITEM 12
:
Pinedale Online reported
, "Gun maker Stag Arms has announced on November 18, 2019, it is moving all its operations from Connecticut to Wyoming. Connecticut passed stricter gun laws after the 2012 shooting at Sandy Hook Elementary School in Newtown. The AR-15 rifle maker had announced in June that it would be leaving Connecticut for somewhere else that is more business friendly.
"It plans to be relocated to Cheyenne by the end of the year. The company said in a statement on November 18th, 'Not only is Wyoming an incredibly hospitable place to do business, it is also a top destination for outdoor recreation, including hunting and shooting sports, which reflects its citizens' unwavering support for the Second Amendment.'"
Companies go where they are wanted.
ITEM 13
: Bill Mitchell has a better track record than the New York Times.
Remember in 2018 when ActBlue suddenly dumped 100's of millions into Democrat Campaigns in the final month seemingly out of nowhere?

Now we learn all this Burisma money was being laundered to Democrats through an investment firm.

I think we just found the ActBlue piggybank.

https://t.co/f5W68oyGlf

— Bill Mitchell (@mitchellvii) November 21, 2019
Paying Biden's cocaine-addled son a million a year showed whatever Burisma wanted, Burisma got.
ITEM 14
:
Fox News reported
, "Biden announces 'No Malarkey' Iowa bus tour to boost slumping 2020 campaign.
No Malarkey.
Now you are cooking with gas, Daddy-O. The tour will be the Bee's Knees.
Meanwhile, Democrats held a debate on Wednesday.
Fox News reported
, "Joe Biden On Violence Against Women: We Have To Keep 'Punching At It, And Punching At It And Punching At It.'"
Too easy.
ITEM 15
:
The Washington Examiner reported
, "An investment firm linked to Hunter Biden received over $130 million in federal bailout loans while his father Joe Biden was vice president and routed profits through a subsidiary in the Cayman Islands, according to federal banking and corporate records reviewed by the Washington Examiner.
"Financial experts said the offshore corporate structure could have been used to shield earnings from U.S. taxes.
"Rosemont Capital, an investment firm at the center of Hunter Biden's much-scrutinized financial network, was one of the companies approved to participate in the 2009 federal loan program known as the Term Asset-Backed Securities Loan Facility, or TALF.
"Under the program, the U.S. Treasury Department and the Federal Reserve Bank issued billions of dollars in highly favorable loans to select investors who agreed to buy bonds that banks were struggling to offload, including bundled college and auto loans.
"According to federal records, 177 firms participated in TALF, many of them well connected in Washington or on Wall Street. For investors, there was little risk and a high chance of reward. The Federal Reserve funded as much as 90% of the investments. If the bonds were profitable, the borrowers benefited. If not, the department agreed to take over the depreciated assets with no repercussions for the borrowers."
Democrats should tell Quid Pro Joe: see you later, alligator, because he may be headed for the hoosegow if the fuzz ever finds out.
ITEM 16
:
NASA announced
, "An international team has found sugars essential to life in meteorites. The new discovery adds to the growing list of biologically important compounds that have been found in meteorites, supporting the hypothesis that chemical reactions in asteroids – the parent bodies of many meteorites – can make some of life's ingredients. If correct, meteorite bombardment on ancient Earth may have assisted the origin of life with a supply of life's building blocks."
Consider this a little sugar in the morning. I will later post sugar in the evening and of course, sugar at suppertime.
But this is a great discovery. While manned space exploration is my preference, NASA is unlocking the secrets of the universe with machines and it is quite impressive.
ITEM 17
:
Tristan Justice reported
, "A California law that sought to require candidates to publish tax records in order to appear on the ballot has been ruled unconstitutional by the state's Supreme Court Thursday.
"The Presidential Tax Transparency and Accountability Act, which was signed by California Democratic Governor Gavin Newsom in July, required candidates running for president or governor in the state to hand over the five most recent years of tax returns to the California secretary of state to qualify for the ballot.
"The California Supreme Court unanimously struck down the law Thursday ruling it a direct violation of the state constitution which mandates the state government to operate an 'open presidential primary whereby the candidates on the ballot are those found by the secretary of state to be recognized candidates throughout the nation or throughout California.'"
Even Democrat judges see Democrats are ignoring the constitution.
ITEM 18
:
GlobalNews.ca reported
, "The strike at CN Rail has left Quebec with fewer than five days before it runs out of propane, said Premier Francois Legault, who warned of an "emergency" that could wreak havoc at hospitals, nursing homes and farms.
"The premier expressed hope for a settlement between the railway and the union, but called on Prime Minister Justin Trudeau and the opposition parties to pass back-to-work legislation if necessary ahead of Parliament's scheduled return on December 5."
They should have thought about that
before they banned fracking
.