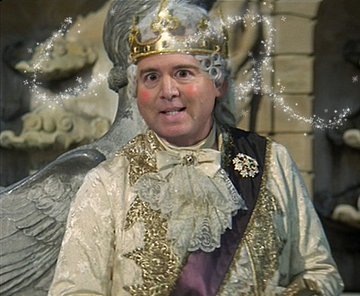 Latka Gravas prepares for another day of impeachment.
ITEM 1
: Louisiana re-elected its Democrat governor.
In 2016, West Virginia was the Trumpiest state in the whole USA. 68% of West Virginia's votes went to Donald John Trump as he broke Lincoln's state record set in 1864.
We elected a Democrat governor in that same election.
And there is this.
🚨

#LALEG

CALL 🚨

SD-16 | REPUBLICAN HOLD

Republicans have officially created a supermajority in the Louisiana State Senate after successfully defending SD-16, which went to a runoff. Here's the final flip map for the 2019 LA State Senate elections: GOP flipped 3 districts.

pic.twitter.com/EVa6J0J3zC

— Chaz Nuttycombe (@ChazNuttycombe) November 17, 2019
ITEM 2
: On the Iranian protests,
Rick Moran wrote
, "The oil industry is broken, the economy is dead in the water, inflation is at 30 percent and rising, there's little food, and little hope for younger Iranians. These demonstrations could easily become a referendum on the incompetent and corrupt government currently in power. That's what happened in neighboring Iraq and Lebanon. And it wouldn't take much to start a revolution in the streets in Iran."
President Trump's kept the United States out of this one. We are not very good at regime change. Our participation in the Vietnam War stemmed from changing a regime in South Vietnam.
Our sanctions against Iran are designed to change its foreign policy, not its domestic policy. But if it leads to a regime change, fine.
ITEM 3
: The Carlos Slim's New York Times reported, "Attorney General William P. Barr on Friday vigorously defended President Trump's use of executive authority and suggested that House Democrats were subverting the will of voters by exploring whether to remove the president from office for abusing his power.
The Times was frugal in quoting him directly.
Sundance posted the whole thing online
.
I enjoyed this passage, "One of the ironies of today is that those who oppose this President constantly accuse this Administration of shredding constitutional norms and waging a war on the rule of law. When I ask my friends on the other side, what exactly are you referring to? I get vacuous stares, followed by sputtering about the Travel Ban or some such thing. While the President has certainly thrown out the traditional Beltway playbook, he was upfront about that beforehand, and the people voted for him. What I am talking about today are fundamental constitutional precepts. The fact is that this Administration's policy initiatives and proposed rules, including the Travel Ban, have transgressed neither constitutional, nor traditional, norms, and have been amply supported by the law and patiently litigated through the Court system to vindication.
"Indeed, measures undertaken by this Administration seem a bit tame when compared to some of the unprecedented steps taken by the Obama Administration's aggressive exercises of Executive power – such as, under its DACA program, refusing to enforce broad swathes of immigration law.
"The fact of the matter is that, in waging a scorched earth, no-holds-barred war of Resistance against this Administration, it is the Left that is engaged in the systematic shredding of norms and the undermining of the rule of law."
2016 really was a Flight 93 election.
ITEM 4
:
The Associated Press reported
, "The number of Democrats running for president is growing as the first votes of the primary approach. And voters have a clear message: Stop.
"Former Massachusetts Gov. Deval Patrick roiled the race last week by launching a surprise bid. New York billionaire Michael Bloomberg is likely to do the same in the coming days.
"The late entries, less than 80 days before Iowa's kickoff caucuses, have exposed a fresh gulf in a party already plagued by divisions. On one side: anxious establishment leaders and donors, who are increasingly concerned about the direction of the race and welcome new candidates. On the other: many rank-and-file voters and local officials across early voting Iowa, New Hampshire and South Carolina, who are drowning in candidates and say they're more than satisfied with their current options."
The Washington Post reported, "Democrats fear a long primary slog could drag into summer."
Politico reported
, "Democratic donors say they want Michael Bloomberg and Deval Patrick to run for president because they're petrified that a left-wing candidate can't defeat President Donald Trump.
"But progressives see a more sinister effort afoot.
"Aides and allies to Bernie Sanders and Elizabeth Warren, among other liberals, perceive the eleventh-hour campaign launched last week by Patrick — and the prospect of an impending Bloomberg 2020 bid — as an attempt to crush an ascendant left wing that would expand government more than any other Democratic president in decades."
Its communist wing owns the Democrat Party. The millionaires and billionaires who pandered to the whims of this wing to keep the peace are shocked to discover that the people in the Che T-shirts and Antifa masks are serious. They really want to confiscate guns, confiscate wealth, and shutdown dissent in the name of hate speech.
The rich have discovered the cannibals invited them to dinner to be the dinner. Pass me the popcorn. The show just got interesting.
ITEM 5
: Carlos Slim's New York Times reported, "'Absolutely No Mercy': Leaked Files Expose How China Organized Mass Detentions of Muslims."
Given the choice between Marxists and Muslims, the Times sided with the Muslims. Interesting.
The story said, "The students booked their tickets home at the end of the semester, hoping for a relaxing break after exams and a summer of happy reunions with family in China's far west.
"Instead, they would soon be told that their parents were gone, relatives had vanished and neighbors were missing — all of them locked up in an expanding network of detention camps built to hold Muslim ethnic minorities.
"The authorities in the Xinjiang region worried the situation was a powder keg. And so they prepared.
"The leadership distributed a classified directive advising local officials to corner returning students as soon as they arrived and keep them quiet. It included a chillingly bureaucratic guide for how to handle their anguished questions, beginning with the most obvious: Where is my family?
"The directive was among 403 pages of internal documents that have been shared with The New York Times in one of the most significant leaks of government papers from inside China's ruling Communist Party in decades. They provide an unprecedented inside view of the continuing clampdown in Xinjiang, in which the authorities have corralled as many as a million ethnic Uighurs, Kazakhs and others into internment camps and prisons over the past three years."
I have asked before why we still trade with these actual Nazis who set up concentration camps for a religious minority.
The free trade argument is cynical and as false as grandma's teeth because Red China is closed to most of our goods.
ITEM 6
:
The Wrap reported
, "Conservative Denver radio station 710 KNUS fired host and former district attorney Craig Silverman during his broadcast Saturday after he criticized Donald Trump, according to the Denver Post."
For the first time, liberals are protesting the firing of a conservative.
Don Cherry is laughing his arse off.
ITEM 7
:
David Harsanyi wrote in National Review
, "Paul Krugman: Always Wrong, Never in Doubt. He's a stopped clock who has yet to be right about Trump."
What a jerk.
Harsanyi, not Krugman (although Krugman is a jerk too).
Harsanyi wrote the infamous "
Why President Trump Would Be A Bigger Disaster Than Hillary
" in 2016.
In it, Harsanyi said, "There's a difference between caring about the plight of working stiffs and embracing isolationism, high tariffs, and other policies that would destroy their long-term prospects. Is everyone supposed to surrender to mercantilism because it makes 30 percent of angry voters feel better? You can't let a mob run your party. And it's not a mob because it's hyper-populist or constructed around a cult of celebrity or even because it's angry — though all those things are true. The problem is that it's incoherent and nihilistic."
So he was as wrong as Krugman. Like I said, Harsanyi is a jerk.
Only President Trump supporters get to mock Krugman for being wrong about Donald Trump.
ITEM 8
:
The Washington Examiner reported
, "White House: Vindman wrote summary of April Trump-Zelensky call that conflicts with rough transcript."
The story said, "The White House is blaming Lt. Col. Alexander Vindman for misleading reporters about the contents of an April 21 phone call between President Trump and Ukrainian President Volodymyr Zelensky.
"Vindman is the top Ukraine official on the White House National Security Council. On Friday, the White House released a rough transcript of the call that conflicts with a separate summary of the call sent to reporters in April."
We have 310 potential Vindmans on the NSC. We need to cut that down to 10, and then make sure they are not a Vindman.
ITEM 9
:
ITEM 10
:
Zero Hedge reported
, "Baltimore has just hit 300 homicides for the fifth consecutive year, reported The Baltimore Sun.
"On a per capita basis, Baltimore is one of the most dangerous cities in America. If you have plans on going to Baltimore for the holidays -- cancel them immediately -- that's because the city is imploding on itself, likely to get worse in the early 2020s."
The mayor ordering police to stand down to let rioters loot and burn stores five years ago sent a message to the thugs. They responded accordingly.
ITEM 11
:
NBC reported
, "President Donald Trump tweeted a backhanded compliment about former Vice President Joe Biden Sunday after North Korea called the Democratic presidential candidate a rabid dog.
"'Mr. Chairman,' Trump said on Twitter in an apparent reference to North Korean leader Kim Jong Un, 'Joe Biden may be Sleepy and Very Slow, but he is not a rabid dog.'"
Fact check: TRUE. There is no evidence that Quid Pro Joe has rabies.
ITEM 12
:
The Daily Caller reported
, "Liberal pundits and activists criticized former President Barack Obama on Saturday morning after he suggested the Democratic Party should avoid leaning 'too far left' ahead of the 2020 election.
"Democrats laid into the former president after he urged them to consider a moderate approach during a fundraising meeting Friday. Climate activists and pundits turned on Obama, suggesting on Twitter that he was enabling that white supremacists gain a foothold in American politics.
"'Saying 'Americans are more moderate than these wild leftists' is basically conceding that the far right propaganda machine has prevailed,; Peter Daou, a former aide to Hillary Clinton, wrote in a tweet Saturday."
Daou thinks Obama is a pawn for the far right?
No, these people are not crazy Marxist zealots. What gave you that idea?
ITEM 13
: Maureen Dowd wrote, "When he was running in 2016, Donald Trump told me that he reminded himself of another presidential candidate — someone, Trump said, who was also tremendously good-looking, a former entertainer and a Democrat-turned-Republican.
"The vainglorious Trump felt he was the second coming of Ronald Reagan.
"It is true that, like Reagan, Trump has reshaped his party in his own image, fully inhabiting it. But Reagan's great mission was to thwart the Evil Empire, taunting that he would put a Star Wars shield in the sky. He wanted democratic ideals to supersede authoritarian rule in the Soviet Union."
President Donald John Trump got the left to dump on Obama and praise Reagan. President Trump is so good at this that it is almost unfair.
ITEM 14
: I shall answer a few questions the Sunday columnists asked. Andrew Ferguson of The Atlantic asked, "Can Marriage Counseling Save America?"
No, but the make-up sex would be awesome.
Jennifer Weiner of Carlos Slim's Times asked, "I'm Sorry, Is Impeachment Not Entertaining Enough for You?"
Well it would help if it offered actual evidence instead of opinions. PBS panels are more animated.
Matthew Continetti of the Washington Free Beacon asked, "What Will Post-Trump Republican Voters Want?"
Donald John Trump cloned.
ITEM 15
:
Fox News reported
, "The Rev. Al Sharpton raked in $1,046,948 from his own charity last year, according to National Action Network's latest tax filings obtained by the New York Post. Sharpton got a $324,000 salary — 32% higher than his 2017 pay — in addition to a $159,596 bonus and $563,352 in other compensation."
His charity raked in $7.2 million last year.
Charity begins at home.
ITEM 16
:
Breitbart News reported
, "Sen. Kamala Harris's (D-CA) campaign manager is facing calls to resign due to the campaign's continued struggles, with a recent Reuters/Ipsos poll showing the presidential hopeful tying with Michael Bloomberg at three percent support nationally."
The campaign is just fine. Keep the manager. Replace the candidate.