Donald John Trump is still our president.
ITEM 1
:
Bloomberg reported
, "A key measure of U.S. consumer prices unexpectedly cooled in October despite fresh tariffs on Chinese goods, a sign price gains may be slow to reach the Federal Reserve's target even after interest-rate cuts this year.
"The core consumer price index, which excludes volatile food and energy costs, rose 2.3% from a year earlier, a Labor Department report showed Wednesday. That missed economist estimates, while the broader CPI climbed 0.4% and 1.8% annually, with both readings topping forecasts. The core measure was up 0.2% on the month, matching projections."
Unexpectedly?
I fully expected National Review experts and the like who called the tariffs a tax on consumers to be wrong. They always are wrong about President Trump because they are over-rated mediocre thinkers.
ITEM 2
:
U.S. Citizenship and Immigration Services announced
, "a proposed rule to deter aliens from illegally entering the United States and from filing frivolous, fraudulent or otherwise non-meritorious asylum applications in order to obtain employment authorization.
"The proposed rule will better allow USCIS to extend protections to those with bona fide asylum claims. USCIS also seeks to prevent certain criminal aliens from obtaining work authorization before the merits of their asylum application are adjudicated.
"The proposed rule stems from the April 29, 2019, Presidential Memorandum on Additional Measures to Enhance Border Security and Restore Integrity to Our Immigration System, which emphasizes that it is the policy of the United States to manage humanitarian immigration programs in a safe, orderly manner and to promptly deny benefits to those who do not qualify. Nothing in this rule changes eligibility requirements for asylum. Instead, this rule strengthens the standards that allow an alien to work on the basis of a pending asylum application."
The bureaucracy spent decades undermining immigration by promulgating rules that aid illegal aliens. President Trump is reversing that.
ITEM 3
:
USA Today reported
, "President Donald Trump heaped praise on Turkish President Recep Tayyip Erdogan during a day-long visit to the White House on Wednesday despite bipartisan concern that the authoritarian leader is sowing chaos in the Middle East.
"As House lawmakers began public hearings to investigate Trump's interactions with Ukraine, the president fully embraced another controversy weighing on his White House: His decision last month to withdraw U.S. troops from northern Syria, clearing the way for Turkey's invasion into that country days later.
"There was little sign Wednesday of the bipartisan criticism that has cropped up in response to Trump's approach to Turkey. After a series of meetings, the president told reporters during an East Room press conference that he hopes to broker an agreement with Turkey that would significantly expand trade between the two countries."
No genocide.
No surge of ISIS.
Nothing but a truce.
Once again, President Trump's critics were wrong.
ITEM 4
:
Red State reported
, "The GOP polls 2020 target states on a weekly basis. On Tuesday, RNC Chair Ronna McDaniel sent out a tweet showing how their internal poll numbers have changed since September 24th, the date House Speaker Nancy Pelosi stood before a line of U.S. flags, and announced the opening of the impeachment inquiry. Because no man is above the law.
"Surprisingly, McDaniel reports that opposition to the hearings among Democrats is up 6 points. Could it be that there are still some sane members left in the Democratic Party who see this spectacle for what it is? Regardless of what new information is learned, no matter how favorably it may reflect on President Trump, there are a large number of Democrats who will not be swayed. Most Democrats hate Trump so much that, even though they're well aware of how unfairly he's been treated, they're willing to go along with anything that will remove him from office. A 6 point shift doesn't seem like much, but even a small move can swing an election."
Local affiliates cannot be happy with this because the hearings run over their cash cow: local news.
They also are bleeding viewers permanently to those who changed channels to avoid Schiff hitting the fan.
ITEM 5
: Others watched the impeachment so we don't have to.
Both of the Democrats' star witnesses just admitted that they were NOT on the July 25th call between Presidents Trump and Zelensky. Everything they are saying today is 2nd or 3rd or 4th-hand knowledge.

Democrats are trying to impeach the president based on a game of telephone.

pic.twitter.com/jbpvWOPMFs

— Kevin McCarthy (@GOPLeader) November 13, 2019
MAJOR CONCLUSION FROM 'IMPEACHMENT' HEARINGS SO FAR: The State Department is filled with some of the biggest jerks on the planet.

— Roger Simon (@rogerlsimon) November 13, 2019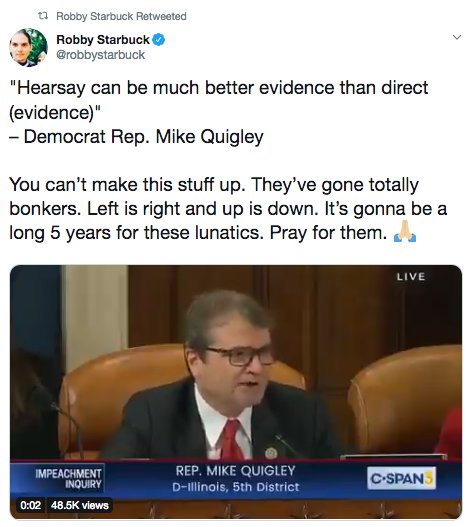 Adam Schiff has lost CNN:

CNN's Toobin: neither witness "had direct contact with the president…that's a problem"

pic.twitter.com/4mpgk6fDhS

— Steve Guest (@SteveGuest) November 13, 2019
Breitbart News reported
, "Pissi Myles, a self-described drag queen comedian, singer, and hostess from Asbury Park, NJ, was spotted on the first day of public impeachment hearings on Capitol Hill."
He is the 21st century version of Morganna Roberts,
baseball's voluptuous kissing bandit
. What a dirt poor century this is. People put down the 1970s, but it had its moments.
And Adam Schiff said, "I do not know the identity of the whistleblower and I'm determined to make sure the identity is protected."
No whistleblower, no impeachment.
ITEM 6
:
Chris Wallace,

#NeverTrump

asshole, said Taylor's testimony was "very damaging to the president."

I'm sorry, what?

It was completely heresay and he testified the Ukrainian President was "happy with Trump's call."

Didn't Wallace also say Christine Ford was VERY CONVINCING?

— Bill Mitchell (@mitchellvii) November 13, 2019
Fact-check: Yup.
His actual words were
, "This is a disaster for the Republicans."
ITEM 7
:
NBC reported
, "An American-born woman who once urged jihadists in America to 'go on drivebys, and spill all of their blood,'" says she 'regrets every single thing' and believes she should be given the option to return to the United States with her young son.
"'Anyone that believes in God believes that everyone deserves a second chance, no matter how harmful their sins were,' Hoda Muthana, 25, said in a wide-ranging interview with NBC News from a refugee camp in Syria where she and her 2-year-old son, Adam, live in a tent."
Buried in the story was, "Although she was born in New Jersey, and traveled to Syria with her U.S. passport, the government argue she should never have been considered a citizen in the first place as she was the daughter of a diplomat serving for the Yemeni government at the time.
"The children of foreign diplomats based in the U.S. are excluded from the right to citizenship by birthright."
Let her go home to Yemen.
ITEM 8
:

Clip and save for 3 years.
ITEM 9
:
Jonah Goldberg wrote
, "Shaking Down the Rich Is Bad for Democracy,"
Nevertheless, Captain Obvious will vote for Elizabeth Warren because President Trump is in Goldberg's own words "
a bane on humanity
."
ITEM 10
:
The Washington Examiner reported
, "Justice Ruth Bader Ginsburg missed oral arguments before the Supreme Court on Wednesday.
"She is 'indisposed due to illness,' Chief Justice John Roberts said at the start of proceedings. She intended to participate in the consideration of the cases by reading briefs and transcripts, Roberts added."
Too bad there is no 25th Amendment for justices.
ITEM 11
:
The Daily Mail reported
, "Jeremy Corbyn insisted that mass-murdering ISIS chief Abu Bakr al-Baghdadi should have been arrested -- despite the fact that the terrorist leader blew himself and two of his children up as US soldiers approached."
How nice that the UK has an Adam Schiff to call its own.
ITEM 12
:
The Daily Caller reported
, "Arizona Republican Congressman Paul Gosar tweeted out a cryptic series of impeachment-related tweets on Wednesday afternoon, but some noticed that they each starting with letters spelling out the phrase 'Epstein Didn't Kill Himself.'"
Keep it up.
Outing the Arkancide of Epstein is more likely than removing President Trump.
ITEM 13
:
CNBC reported
, "The Dow Jones Industrial Average hit an all-time high on Wednesday as Disney shares popped while investors digested testimony from the top-ranking Federal Reserve official.
"The 30-stock average closed 92.10 points higher, or 0.3% at 27,783.59, notching intraday and closing records. Disney jumped 7.4% after the media giant said its Disney+ streaming service got more than 10 million sign-ups after launching on Tuesday.
"Meanwhile, the S and P 500 eked out a record closing high, its 20th of the year, ending the day up 0.1% at 3,094.04. The Nasdaq Composite, however, closed just below the flatline at 8,482.10."
Stock market fell during the Nixon and Clinton impeachments.
This one is a sham and the stock market has no time for Democrat shenanigans. There is too much money to be made in an economy we might not see again in 50 years.
ITEM 14
:
Fox News reported
, "The compound in northern Syria where the former leader of the Islamic State terror group was holed up until U.S. special operations forces stormed it last month was reportedly connected to the Internet until the day of the fateful raid."
Great.
One more thing to worry about when the Internet goes out.
ITEM 15
:
The Independent Journal Review reported
, "Sen. Richard Burr (R-NC) told reporters that an impeachment trial could take six to eight weeks. If the Senate uses previous impeachment hearing schedules, it will be in session six days a week with trial times running from 12:30 p.m. to 6:00 p.m. That intensive schedule would require several Democratic Senators running for president to be present for the hearings."
The trial will end February 2, unless Adam Schiff sees his shadow that day. If so, there will be six more weeks of testimony.
ITEM 16
:
Wow! Was just told that my son's book, "Triggered," is Number One on The New York Times Bestseller List. Congratulations Don!

— Donald J. Trump (@realDonaldTrump) November 14, 2019
Triggered is No. 1 with a bullet.