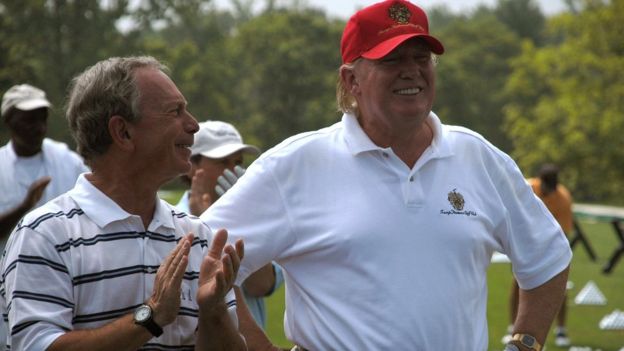 Donald John Trump is still your president. Michael Bloomberg is not your mayor.
ITEM 1
:
Breitbart News reported
, "Rep. Alexandria Ocasio-Cortez (D-NY) dismissed the mounting concerns from establishment Democrats, who fear that she and presidential hopeful Sen. Bernie Sanders (I-VT) are moving the Democrat Party too far left, asserting that the ultra-leftist movement is bringing the party home.
"Ocasio-Cortez stumped with Sanders in Iowa over the weekend and addressed critics who say that candidates like Sen. Elizabeth Warren (D-MA) and Sanders are moving the Democrat Party too far left with their proposals for free college, Medicare for All, and multitrillion-dollar climate change proposals.
"'When people try to accuse us of going too far left — we're not pushing the party left,' Ocasio-Cortez told the crowd in Coralville, Iowa. 'We are bringing the party home.'
"'Are you all ready for a revolution?' she continued, using the same rhetoric Sanders has been touting for years. 'I sure am.'"
Revolution?
Hahaha.
These safe-place wussies can't handle tweets from a 73-year-old president.
ITEM 2
:
Market Watch reported
, "While many investors may worry about the effects that the U.S.-China trade war, Brexit and Middle East tensions are having on the global economy, Jamie Dimon has this advice: Relax."
His actual words were, "The consumer, which is 70% of the U.S. economy, is quite strong. Confidence is very high. Their balance sheets are in great shape. And you see that the strength of the American consumer is driving the American economy and the global economy. And while business slowed down, my current view is that, no, it just was a slowdown, not a petering out."
He also said, "This is the most prosperous economy the world has ever seen."
There is one man responsible for this turnaround from the malaise under Obama. That is quite an admission from a longtime and generous donor to the Democrat Party, and a supporter of the Clintons.
While his reaction was framed by the news agency as a vote of confidence for President Trump, of more importance is the high likelihood of a century of peace and prosperity.
One man may not be able to save the world, but The Donald comes close.
ITEM 3
:
The Associated Press reported
, "The United Nations' nuclear watchdog reported Monday that its inspectors have discovered uranium particles of a man-made origin at a location in Iran not declared to the agency, confirming allegations made earlier by Israel and the United States.
"The International Atomic Energy Agency did not identify the site in the confidential quarterly report that was distributed to member states and seen by The Associated Press."
Nukes in Iran.
This is Obama the Awful's legacy. He gave them $170 billion to build them.
ITEM 4
: Holman W. Jenkins Jr. of the Wall Street Journal spanked Hillary so hard her eyes should have popped out. He blames the sore loser for the Russian Collusion Hoax and the ongoing infantile impeachment.
Jenkins wrote, "Voters had a right to expect better from their elites—i.e., a more productive response. Mr. Trump was in no sense a Republican, a partisan, a conservative or a policy student. His gadfly presidency, under other circumstances, might be wrapping up now, with declarations of victory and possibly having done some good. But the arc of events has been determined by his opponents. They were not satisfied with opposing him. They sought to destroy him. Mr. Trump, it's easy to see, believes he must stick around and continue to wrap himself in the immunities and powers of the presidency simply to defend himself and the legitimacy of his 2016 victory.
"When history assesses blame, Hillary Clinton, and not Mr. Trump, will be the biggest sinner of our time. Mrs. Clinton continues to flog the claim, and increasingly wildly, targeting Greens and dissenting Democrats, that Russia controls our politics. Any day now, she can be expected to declare that Michael Bloomberg, now threatening to enter the Democratic presidential race, is another Russian asset.
"In a few years, Mr. Trump's passage through our national life will not seem so hysterically important as it does now, though an opportunity has been lost. Mrs. Clinton, whatever she may have achieved in life, deserves to be remembered finally as the coward who put the country second because she couldn't accept the legitimacy of her defeat."
His was a good column, despite the refusal of Jenkins to admit Donald Trump has had an excellent presidency.
Hillary is not alone in not accepting they were wrong.
No links for pay sites.
ITEM 5
:
The Hill reported
, "ABC, CBS, NBC and PBS on Wednesday will preempt their regularly scheduled programming for live coverage of the House Intelligence Committee's open impeachment hearings of President Trump.
"As expected, all of the major cable news networks, including Fox News, MSNBC, CNN and CSPAN will also offer live coverage.
"William Taylor, the top U.S. diplomat to Ukraine, on Wednesday is slated to be the first to publicly testify regarding possible efforts by Trump administration officials to link U.S. military aid to Ukraine in exchange for investigating former Vice President Joe Biden, a top Democratic presidential candidate, and his son Hunter Biden for business dealings in the country."
Ahoy.
The media is going down with the SS Impeachment.
ITEM 6
:
BBC reported
, "Prominent Canadian ice hockey commentator Don Cherry has been fired for controversial comments on new immigrants and Remembrance Day poppies.
"Cherry complained on-air this weekend that he rarely sees people he believes to be newcomers wearing the symbol.
"His remarks prompted widespread condemnation from the hockey world."
Screw hockey then.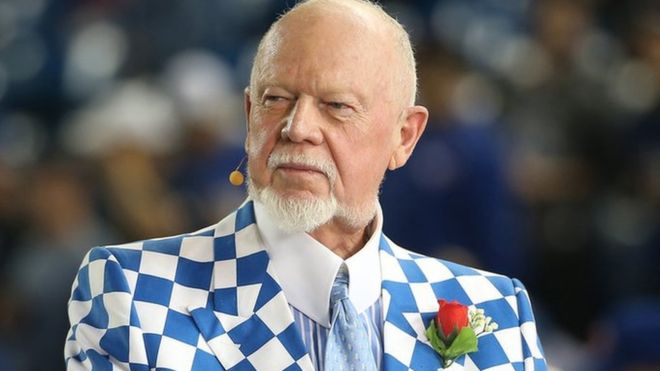 We all knew this would happen eventually. The media hates patriots, conservatives, and old people in that order. Don Cherry is all three.
He said, "You people, you love our way of life, you love our milk and honey, at least you can pay a couple bucks for a poppy or something like that. At least you can pay a couple of bucks for poppies. These guys paid for your way of life that you enjoy in Canada, these guys paid the biggest price."
If you choose to live in another country, you must adapt to that country. It is not the other way round.
For his part, Cherry said
, "I have just learned I've been fired by Sportsnet for comments made on Coach's Corner Nov. 9. No problem.
"I know what I said and I meant it. Everybody in Canada should wear a poppy to honour our fallen soldiers.
"I speak the truth and I walk the walk. I have visited the bases of the troops, been to Afghanistan with our brave soldiers at Christmas, been to cemeteries of our fallen around the world and honoured our fallen troops on Coach's Corner."
He is a hero.
ITEM 7
:
— Florida GOP (@FloridaGOP) November 10, 2019
The Washington Free Beacon reported
, "'Medicare for All, as I put this together, covers everyone regardless of immigration status,' Warren told a crowd of liberal activists on Friday."
It took two clicks to debunk the Pulitzered Politifact.
ITEM 8
:
Business Insider reported
, "Jeff Bezos reportedly called Michael Bloomberg and asked him if he would run for president earlier this year."
The power of the Jeff Bezos Washington Post will propel him to a 50-state sweep.
If only he could rise above the gay mayor in the polls.
ITEM 9
: Speaking of the gay mayor,
Breitbart News reported
, "Mayor Pete Buttigieg celebrated Veterans Day on Monday, promising to change the motto of the Veterans Affairs to make it more gender inclusive."
Instead of playing around with the words, how about just making the VA better?
ITEM 10
:
The New York Post reported
, "Supporters of a man who knifed and deflated a diaper-clad Baby Trump balloon so the president would not see it during his visit to watch a University of Alabama football game have raised almost $40,000 to pay his legal fees.
"A GoFundMe page created Saturday asks for donations to help Hoyt Deau Hutchinson, 32, 'pay legal fees and restitutions' for the balloon had raised $39,641 as of Monday afternoon. The goal for the fundraiser was initially set at $6,000."
You know the Internet oligarchs won't let the man get the money.
ITEM 11
:
Nancy Pelosi has abandoned her district to pursue a partisan witch hunt.

Nancy's district is falling apart with rampant homelessness and high crime - maybe she should spend more time fixing her constituent's problems!

— Brigitte Gabriel (@ACTBrigitte) November 11, 2019
If I owned San Poop-cisco and Hell, I would rent out the former and live in Hell, as Phil Sheridan might say.
ITEM 12
:
Reuters reported
, "Mexico has made an unspecified number of arrests over last week's massacre of three women and six children of dual U.S-Mexican nationality in the north of the country, Security Minister Alfonso Durazo said on Monday.
"'There have been arrests, but it's not up to us to give information,' Durazo told reporters in Mexico City.
"The women and children from families of U.S. Mormon origin who settled in Mexico decades ago were killed last Monday on a remote dirt road in the state of Sonora by suspected drug cartel gunmen, sparking outrage and condemnation in the United States.
"Durazo said that prosecutors in Sonora, as well as at the federal level, were in charge of the investigation."
President Trump put the heat on Mexico by stating his willingness to go to war over this massacre. They know he means business.
ITEM 13
:
The Washington Times reported
, "Wall Street investors, U.S. farmers and Chinese officials will be among those listening closely to President Trump's speech at the Economic Club of New York on Tuesday for signs of whether he intends to make concessions to Chinese demands for a rollback of tariffs."
The story also said, "Mr. Trump said over the weekend that negotiations were moving along very nicely but dismissed reports that he has agreed to lift tariffs on Chinese products by a certain level.
"'The reports were incorrect. If it's not a great deal, I won't make it,' the president told reporters. 'China very much wants to make a deal. They're having the worst year they've had in 57 years. Their supply chain is all broken, like an egg.'"
The story also said, "Meanwhile, the White House has until Wednesday to decide whether to impose tariffs on European and Asian auto imports."
While the press pleasures itself over impeachment, President Trump continues to make America great again.
ITEM 14
:
Blue Lives Matter reported
, "Presidential hopeful Joe Biden demonstrated his lack of basic firearms knowledge yet again on Friday, when he declared that citizens should not be able to possess 'a magazine with 100 clips in it.;
"Biden's latest baffling comment came during a campaign stop in New Hampshire."
This is the best candidate Democrats can find.
Really.
ITEM 15
:
The Hollywood Reporter reported
, "Despite a presidential tweet that urged viewers to vote for him hours earlier, Sean Spicer was voted off of ABC's Dancing With the Stars on Monday's show.
"Spicer's Dancing With the Stars days came to a close when the show's panel of judges, along with low fan votes, gave him the boot after the former U.S. press secretary performed a foxtrot to Destiny's Child's 'Bills, Bills, Bills' with dancing partner Jenna Johnson. Spicer and Johnson's performance earned a 26 out of 40 score."
CNN announced Spicer's loss dooms the re-election campaign.
ITEM 16
:
— Don Surber (@donsurber) November 11, 2019
Sadly, Monday looks like it will be the last topdown day for a while. If only the little girl were right, the world would be warming and better for mankind.