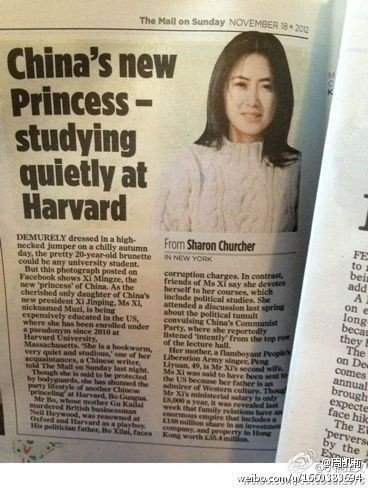 The Taiwan News reported that even though she graduated five years ago, Chairman Xi's daughter has returned to Harvard for graduate studies. The newspaper speculates that Xi sent her to protect her safety.
The Taiwan News said she may be unhappy with life in Red China.
The newspaper reported
, "Some observers also consider the move to be a potential safeguard. Sending his daughter back to the U.S. might be considered a diplomatic measure to signal trust in Washington and also a means for Xi to remove his daughter from harm if factional struggles within the Communist Party were ever to threaten Xi's grip on power."
This may explain the Trump administration's crackdown on Chinese student visas. Keeping the offspring of Red China's elitists from seeking asylum in America is leverage in trade negotiations.
There are other explanations.
Inside Higher Ed reported on June 4
, "China's Ministry of Education on Monday warned students interested in studying in the U.S. about potential difficulties getting visas from the American government."
The trade publication also said, "The U.S. last year shortened the duration of visas for Chinese graduate students in certain science, technology, engineering and mathematics (STEM) fields from five years to one year, and Chinese-U.S. research collaborations have become the focus of intensified scrutiny from the White House, members of Congress, scientific funding agencies and national security agencies, all of which have raised concerns about the risk of espionage and intellectual property theft posed by Chinese students and scholars.
"Outside the STEM fields, the US. has reportedly canceled visas for a number of Chinese professors affiliated with the state-run Chinese Academy of Social Sciences. And many colleges have closed their Confucius Institutes -- Chinese government-funded centers for language education and cultural programming -- amid growing criticism from U.S. lawmakers who argue that the institutes serve as platforms for Chinese propaganda. The defense spending act passed into law last year bars colleges that receive Defense Department funding for Chinese language study from also hosting Confucius Institutes, a restriction that has contributed to the spate of closures."
Protecting intellectual property is a good explanation.
But I am fascinated by the thought that Chairman Xi may fear his daughter's life. That's the problem with being president for life: impeachment includes execution.
The South China Morning Post reported, "China may have a one-party system, but claims of President Xi Jinping's rise to absolute power ignore the influence of the tuanpai," on April 6, 2017, when Xi met with President Donald John Trump at Mar-a-Lago.
The newspaper reported
, "In Beijing's system, the Chinese Communist Party (CCP) holds a monopoly on power. But the party leadership is not a monolithic group. CCP leaders span a range of political associations, socioeconomic backgrounds, professional credentials, geographic associations and policy preferences. Two broad camps in the leadership vigorously vie for influence and control in post-Deng China: the elitist coalition, with its core faction of princelings (leaders who come from veteran revolutionary families), and the populist coalition, which primarily consists of so-called tuanpai (leaders who advanced their careers through the Chinese Communist Youth League)."
Elitists vs. populists. Sound familiar?
Chairman Xi is part of the former. Red China may not be immune from the worldwide rise in populism because populism is a reaction to the failure of elitists to protect the people. Factory closings in the rust belt in the 1970s led to the Reagan Revolution.
But Jimmy Carter is still alive and well, and liked. He had the advantage of not being a president for life.