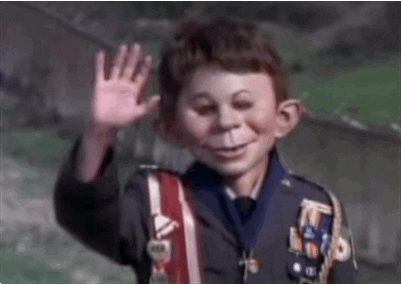 With the top 3 Democrats all over 70, the party needed someone younger in the race. Beto's talk of gun confiscation spooked them. Booker, Kamala and the rest have all the charisma of a cantaloupe. So the press dusted off Pete Buttigieg, the party's flavor of the month in May, and reported a surge in support for him.
He is half Biden's age. Plus, he is gay which means he won't spook women and girls unlike Quid Pro Joe.
USA Today reported
, "Poll: Iowa caucuses are 'up for grabs' as Pete Buttigieg surges into top tier."
Oh?
The story said, "The poll, taken Wednesday through Friday, put Biden at 18%, Warren at 17% and Buttigieg at 13% among 500 likely Democratic caucusgoers."
So they found 63 or so people in Iowa who like him. That's nice.
The story said, "Those standings reflect significant changes since the Suffolk/USA Today poll taken in Iowa at the end of June, when Biden led Warren by double digits and Buttigieg trailed at a distant 6%. California Sen. Kamala Harris, who was then in second place after a strong showing in the first Democratic debate, has plummeted 13 percentage points and is now in a three-way tie for sixth. Vermont Sen. Bernie Sanders earned 9% support, the same number as in the June poll."
No. 5 after Biden, Warren, BOOT-EDGE-EDGE, and Sanders was Tom Steyer. If we cannot have a Sanders-Trump race -- communism vs. capitalism -- then I hope they nominated Steyer so we can have a Battle of the Billionaires. If WWE can do it, why not the USA?
The Democrat Party looks dead.
It continues to push for things that we already have -- abortion (1973), equal pay (1963), gun control (1968). The party's leadership is in its 70s. The next generation are their grandchildren who have yet to be weaned from college communism.
The stench of failure accompanies them. From the Mueller report to the Schiff shuffle, Democrats keep raising the hopes of their supporters to rid the world of President Donald John Trump, but Democrats don't deliver.
Meanwhile, the economy roars, the wall rises, and peace is breaking out all over the world. Donald Trump is a better president with one hand tied behind his back than any Democrat in my lifetime.
So the press fluffs BOOT-EDGE-EDGE up. We will know he has arrived when Hillary calls him a Russian asset.