ITEM 1
:
The Daily Wire reported
, "According to reports from Iowa, Democratic rising star and South Bend, Indiana, mayor Pete Buttigieg is looking like a reasonable option to secure the 2020 Democratic nomination amid concerns that none of the three front runners — former Vice President Joe Biden, Sen. Bernie Sanders (I-VT), or Sen. Elizabeth Warren (D-MA) — can put together the kind of coalition of Democratic voters necessary to defeat President Donald Trump."
This would be the Kiss-O-Death for Democrats.
Black voters, Hispanic voters, and white women voters will see this as nominating an unqualified white man simply because he is gay -- because that is what it is.
37? I have glasses older than that.
Handing the party over to Hollywood elites pushes to Republicans those already pleased by Donald John Trump's presidency.
Affirmative action politics vs. Action Jackson Trump is no contest. As a nominee, Buttigieg would be a bug meeting the windshield.
ITEM 2
:
— Mollie (@MZHemingway) October 29, 2019
Hey, Hunter's gotta eat. Azerbaijani manat, Ukrainian hryvnia, Red Chinese yuan -- as long as the check clears the bank, count Biden and Son in.
ITEM 3
:
Barak Ravid of Israel's Channel 13 news reported
, "President Trump's senior adviser Jared Kushner told me during an exclusive interview with Israel's Channel 13 News that many of his efforts since he started working at the White House were focused on 'cleaning up the messes that Vice President Biden left behind.'"
The story said, "Kushner gave several examples of his White House work that he claimed was aimed at fixing problems created by Biden — specifically, criminal justice reform.
"Kushner said that reforms enacted by the Trump administration "rolled back a lot of the very harsh laws that were created and partially written by Vice President Biden over 20 years ago, which put a lot of African Americans in prison and really destroyed a generation and did a lot of harm to our country."
Father-in-law erases Obama's legacy.
Son-in-law erases Biden's.
The family that drains swamps together stays together.
ITEM 4
:
It's astounding how much of our (badly broken) foreign policy is dictated by career beltway employees. Depositions are giving us a glimpse into the full glory of their self-importance, and their denial that they work for anyone elected by the people.

— Thomas Massie (@RepThomasMassie) October 29, 2019
Massie is a Republican congressman from Kentucky. The Deep State may go down.
ITEM 5
:
The Associated Press reported
, "When President Barack Obama was reelected in 2012, a Saudi tycoon and his business associate sent hundreds of thousands of dollars to the U.S. to help pay for the inaugural celebration and get a picture with the president, according to court documents and an analysis of campaign finance records by The Associated Press.
"U.S. election law prohibits foreign nationals from making those sorts of political contributions. But the donations Sheikh Mohammed Al Rahbani tried to send to Obama's inaugural committee were funneled through a seasoned straw donor, the records and the AP analysis show.
"That intermediary, Imaad Zuberi, agreed this month to plead guilty to making illegal campaign contributions to several American political candidates on behalf of foreign nationals. He is also set to plead guilty to concealing his work as a foreign agent as he lobbied high-level U.S. government officials.
"The prosecution by the U.S. attorney in Los Angeles is the latest in a string of cases that highlight the prevalence of banned foreign money in American politics and the often lax approach campaigns take in vetting contributions."
Not a smidgen of scandal.
Tons of it.
ITEM 6
: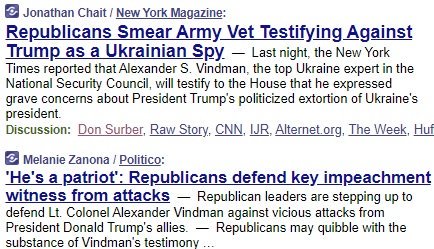 Democrats cannot get their story straight.
ITEM 7
:
Which social media genius decided to film Bernie Sanders --the presidential candidate people accuse of being a socialist -- in front of empty grocery shelves

pic.twitter.com/hpPRh7irRU

— Harry Khachatrian (@Harry1T6) October 28, 2019
As Yakov Smirnoff said, in Russia you wait for food. In America, food waits for you.
He also said, I like American women. They do things sexually Russian girls never dream of doing -- like showering.
ITEM 8
:
The Hill reported
, "The U.S. detained more unaccompanied minors trying to cross the nation's southwestern border in the past year than ever recorded, according to newly released figures from the Trump administration.
"By the end of fiscal 2019 in September, U.S. Customs and Border Protection apprehended 76,020 minors at the nation's southwestern border, an increase of 52 percent from the previous fiscal year.
"Most of the migrant children came from Central America — Guatemala, Honduras and El Salvador — while more than 10,400 came from Mexico."
It is not the Trump administration that is separating families. It is the families.
ITEM 9
:
The Hill reported
, "The U.S. is on track to not admit any refugees in October, following the cancelation of hundreds of flights intended to bring refugees to the country, CNN reported Tuesday.
"Admissions had been slated to resume Tuesday after a temporary halt, but the extended pause will now continue until Saturday. The delay marks the third time this month that admissions have been postponed, according to CNN. Revised travel plans, including the re-booking of tickets for taxpayer-funded flights, will now be required."
The story also said, "By law, no refugees may be admitted in any given fiscal year until the President signs and issues the Presidential Determination on Refugee Admissions."
The fiscal year began October 1.
ITEM 10
:
KDKA reported
, "An Allegheny County judge struck down three gun control laws that limit assault weapons and ammunition in Pittsburgh.
"The laws were passed after the shooting at the Tree of Life Synagogue.
"In 2018, the City of Pittsburgh made three proposals to regulate firearms and ammunition. Firearms within the City-County Building were also prohibited."
The 2nd Amendment applies to Pittsburgh as well as the rest of the nation. Imagine that.
ITEM 11
:
The New York Post reported
, "President Trump is set to take in an MMA bout Saturday night at Madison Square Garden — and stay in the city into Marathon Sunday, potentially putting Midtown traffic into a chokehold, according to a law-enforcement source.
"Trump is scheduled to be in attendance when the Mecca plays host to UFC 244, headlined by a five-round tangle between welterweights Nate Diaz and Jorge Masvidal, a New York Times reporter tweeted on Tuesday, a source told The Post."
The UFC would not exist today if not for Donald Trump giving Dana White a chance and a venue.
We shall see if there are any boos.
ITEM 12
:
Kim Kardashian got criminal justice reform and recognition of the Armenian Genocide.

— Seth Mandel (@SethAMandel) October 29, 2019
It is amazing what celebrities can achievewhen they are not barking at the moon in a pussy hat.
I cannot believe Kim Kardashian is accomplishing more than Congress.

— Ann Shultis (@Clonmel2000) October 30, 2019
I totally can believe it. I notice the people the media trashes often are better than the ones the media promotes.