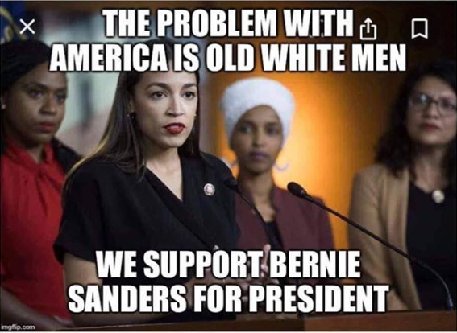 ITEM 1
: Alexandria Ocasio-Cortez said in endorsing Bernie on Saturday, "We need a United States that really, truly, and authentically is operated, owned, and decided by working – and all – people in the United States of America. That is what it – it is multiracial, multigendered, multigenerational, and multigeographic."
Multigeographic?
Huh? Well, readers at
Breitbart News could not define it either
.
Could some reader kindly explain to me what the devil she means?
Maybe she meant multidimensional.
Maybe if she says her name backwards she disappears for 90 days
.
Do not worry. Donald John Trump is still your president.
ITEM 2
:
Reuters reported
, "Republican Senator Lindsey Graham, who has been one of the most vocal critics of President Donald Trump's decision to move U.S. troops out of northeastern Syria, said on Sunday he now believed historic solutions were possible.
"In an interview with Fox News Channel, Graham said a conversation he had with Trump over the weekend had fueled his optimism that a solution could be reached where the security of Turkey and the Kurds was guaranteed and fighters from Islamic State contained.
"'I am increasingly optimistic that we can have some historic solutions in Syria that have eluded us for years if we play our cards right,' Graham said."
I knew he would come around because his concerns were sincere.
Meanwhile, the New York Times said, "In Bracing Terms, Trump Invokes War's Human Toll to Defend His Policies," while publishing sanctimonious editorials about Kurds dying.
ITEM 3
:
CNBC reported
, "China needs more pork imports than ever as the country grapples with an outbreak of a swine disease — and that could become a business opportunity for U.S. farmers if the two countries can reach an agreement on trade.
"African swine fever hit Chinese pig farms last year, causing a severe shortage in the meat that is a staple for hundreds of millions of Chinese households.
"Prices have nearly doubled, and publicly available data indicate China's production of pork this year will likely fall a few million tons short of demand.
"In December, a kilogram of pork cost about 22.50 yuan, or $1.46 a pound, according to Beijing-based BRIC-Agri Info. By last week, a kilogram of pork had jumped to 42.46 yuan, or $2.75 a pound, according to figures released by the Ministry of Commerce."
Advantage: President Trump.
ITEM 4
:
Media-ite reported
, "Jake Tapper Calls Out Top Republicans Avoiding His Show for 4th Week in a Row, 'Shirking' Their Duties of Accountability."
His actual quote was, "We hope they will come to explain all of this to the American people because especially at a time when the White House has ended the practice of regular press briefings, they are shirking this important part of their duty to the American public to explain what they are doing with our money and in our name."
Maybe they are colluding with Russia to tank his ratings. Candy Crowley had higher rankings.
But how do we know he even invited anyone in time to schedule an interview? Maybe he is trying to play the victim of a vast rightwing conspiracy. CNN puts many things ahead of the truth including self-promotion.
ITEM 5
:
Politico reported
, "They've been derided as a 'deep state,' slurred as 'Obama holdovers,' threatened with draconian budget cuts and told President Donald Trump doesn't even need them.
"Now, America's diplomats are taking their revenge."
Revenge?
Which shows they are Deep Staters and Obama Holdovers with no allegiance to our country. Obama organized this and commands it. The coup is real. Its participants are brazen. Rescind Civil Service protection for them.
ITEM 6
: The New York Times reported, "Review of Russia Inquiry Grows as F.B.I. Witnesses Are Questioned."
The story said, "The president granted Mr. Barr sweeping powers for the review, though he did not open it as a criminal investigation. That means he gave Mr. Durham the power only to read materials the government had already gathered and to request voluntary interviews from witnesses, not to subpoena witnesses or documents. It is not clear whether the status of the review has changed.
"Mr. Durham's investigators appeared focused at one point on Mr. Strzok, said one former official who was interviewed. Mr. Strzok opened the Russia inquiry in late July 2016 after receiving information from the Australian government that the Russians had offered damaging information on Hillary Clinton to a Trump campaign adviser. Mr. Durham's team has asked about the events surrounding the Australian tip, some of the people familiar with the review said."
The spin is interesting. But why is Australia involved in this? And Ukraine? And Russia? I doubt this is the first presidential election they became involved in.
My theory is that spies eventually befriend one another and start working for themselves instead of their respective governments.
I do not link pay sites.
ITEM 7
: The Atlantic reported, "The Liberation of Mitt Romney. The newly rebellious senator has become an outspoken dissident in Trump's Republican Party, just in time for the president's impeachment."
Horse manure.
Mittens has been on a self-righteous tear against the man for 4 years pausing only long enough to beg for the Secretary of State job after the 2016 election.
No links for pay sites.
ITEM 8
:
Legal Insurrection reported
, "If Sen. Kamala Harris (D-CA) was hoping to get some good news about her slumping campaign after the fourth Democratic debate, polling information that was released by Emerson two days later gave her a rude awakening.
"Harris, who polled at 18% in Iowa after the first debate when she went toe to toe with Joe Biden, now stands at a measly 2% in the crucial first caucus state."
Running for president is like what Woody Allen said about bank robbing. The hours are good, you get to travel, and you are your own boss.
ITEM 9
:
The New York Post reported
, "Even Mayor de Blasio's pals at Hot 97 are laughing at his now-defunct presidential campaign, and for good reason: The latest fund-raising numbers show what a complete joke it was.
"He only pulled in $333,045 over the last three months of his four-month bid, after raising $1.1 million in the first six weeks.
"And at least three-quarters of his cash came from big donors — most of them, people plainly looking for favors from city government, or repaying de Blasio for favors already received."
His campaign was money laundering.
ITEM 10
:
Michael Goodwin of the New York Post wrote
, "It's time for Michael Bloomberg to enter the 2020 race."
Bloomberg's deluded into thinking NYC mayors matter. De Blasio ran, and Rudy wanted to. I think there was talk once of Dinkins becoming the first black president.
Becoming mayor of NYC is a stepping stone to becoming a former mayor of NYC. If it worked the way Bloomberg think it works, then Donald Trump would have run for mayor of NYC before running for president. No one knows American politics better today.
ITEM 11
:
Fox News reported
, "President Trump announced Saturday night that his administration will no longer consider his personal resort in Doral, Fla., to host the 2020 G-7 summit, and suggested he might consider Camp David presidential retreat in Maryland instead.
"'Based on both Media and Democrat Crazed and Irrational Hostility, we will no longer consider Trump National Doral, Miami, as the Host Site for the G-7 in 2020,' the president tweeted. 'We will begin the search for another site, including the possibility of Camp David, immediately. Thank you!'"
It would have been cheaper and more convenient and he would not make a dime on it.
But it was stopped by a media and a political establishment that is insanely jealous and just insane.
ITEM 12
:
Rush Limbaugh said
, "I'm getting some emails. 'Rush, you don't seem to be taking impeachment seriously enough. I think you're wrong. I think the House is gonna impeach Trump. They're gonna do it. I think there's gonna be a trial. I'm really worried. Why aren't you?'
"I'll go through it again, but let me give you a very simple reason why I think they aren't going to actually have an official vote and transfer all this to a trial in the Senate.
"That's why they're not gonna do it. They're not gonna turn this over to the Senate — and not even because the Senate would acquit. They're not gonna give the politics of this away. They want to be able to talk about impeachment, and Pelosi and Schiff and the Democrats want to be seen as the people running it, in charge of it — the politics of it.
"The minute they have a vote and hand this over to the Senate, the Senate is in control of impeachment, not the House. The Senate is run by Republicans. They're not gonna do that. It's real simple. They are not going to let go of their control of all the narratives attached to impeachment, and that would happen if they go to the Senate with it."
Limbaugh gets what is going on. He knows American politics better than anyone not named Donald Trump. They ain't worried. I ain't worried. Remember, in DC, where there's smoke, there's a smoke machine.
ITEM 13
:
Terry Ponick wrote
, "Welcome back, fans of Truth, Justice and the American way. Round 2 of my comprehensive list of conservative (and in a few cases, mostly conservative) news and information sources you can substitute for the bankrupt newspapers and network and cable news conglomerates that now bring you nonstop fiction instead of actual news, facts and figures. Today, I'm focusing on the best breaking conservative news sites available online.
"Before we get going today, I'd like to give a grateful shout-out to Don Surber and Ed Driscoll of Instapundit for alerting their readers to my first Media Stars column. The result: an uncommon number of pageviews for my first conservative news site compendium, for which both CDN and I are grateful.
"Don Surber has been posting to his long-running and well-regarded political news and commentary blog for many years. I'd already planned to highlight Don's must-read blog when I cover sites that primarily deal with commentary and analysis. So stay-tuned for more."
Hi Terry! Thank you.
ITEM 14
:
Miley Cyrus said
, "We're getting handed a piece-of-shit planet, and I refuse to hand that down to my child. Until I feel like my kid would live on an earth with fish in the water, I'm not bringing in another person to deal with that."
Another liberal voluntarily leaves the gene pool.
ITEM 15
: The Wall Street Journal reported, "The Trump administration's decision to reduce this year's refugee cap to a record-low 18,000 people is just one step in its broader plan to shrink the program and make it harder for any future administration to quickly resume accepting refugees."
Good.
Pay site. Not linked.
ITEM 16
:
Kamala Harris claims that Rudy Giuliani has "broken many laws"

CNN's Anderson Cooper asks her what laws he has broken

Harris responds: "Well, I, I, I don't know"

pic.twitter.com/N2dUg7b2av

— Ryan Saavedra (@RealSaavedra) October 19, 2019
*Prosecutor*
ITEM 17
:
Every day, people are forced to choose between going to school or work, or staying home because they can't afford the menstrual products they need.

Pads, tampons and cups should be available tax-free, across the nation.

#NationalPeriodDay https://t.co/orIDdz1lPD

— Julián Castro (@JulianCastro) October 19, 2019
Democrats finally found a tax they don't like.
ITEM 18
:
— Tim Perry (@tperry518) October 19, 2019
Don't blame him. Who wants to risk Arkancide?
ITEM 19
:
I believe the Trump Presidency will not only be remembered for its outrages but as a time when millions of Americans woke from a slumber of apathy and acquiescence to reclaim the ideals of the nation.

— Dan Rather (@DanRather) October 19, 2019
We did awaken.
And we elected him.
Courage.