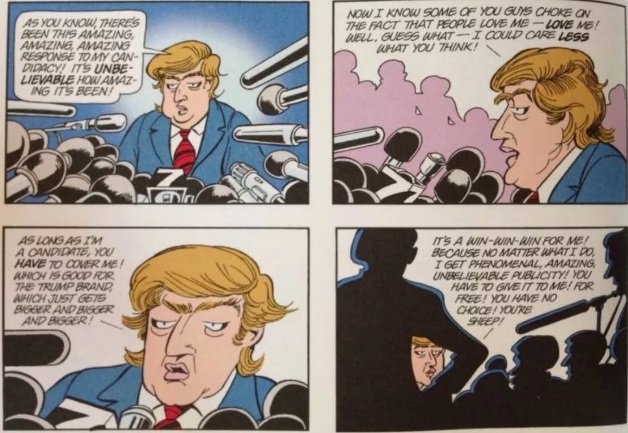 Doonesbury. 1999.
A bigger size is here
.
LAUGH OF THE DAY:
FRENCH REPORTER: "You have a very low unemployment rate in the U.S. & we have a very high unemployment rate in France. — How come?"

PRESIDENT TRUMP: "Well... maybe we have a better President than you do."

pic.twitter.com/oPqednOVma

— Breaking911 (@Breaking911) October 18, 2019
How can anyone not like the man?
ITEM 1
:
Fox News reported
, "President Trump declared Thursday a great day for civilization as Vice President Mike Pence and Secretary of State Mike Pompeo announced terms of a cease-fire agreement that would end violence between Turkey and Kurds in Syria, following a meeting with Turkish President Recep Tayyip Erdogan in Ankara.
"The deal is for a 120-hour cease-fire, during which time the Kurdish-led forces could pull back from the roughly 20-mile-wide safe zone on the Turkish-Syrian border. All Turkish military operations under the recent offensive known as Operation Peace Spring will pause during that time, and the operation itself will come to an end entirely upon the completion of the Kurdish withdrawal, under the terms of the deal."
This deal could NEVER have been made 3 days ago. There needed to be some "tough" love in order to get it done. Great for everybody. Proud of all!

— Donald J. Trump (@realDonaldTrump) October 17, 2019
Blessed are the peacemakers.
Meanwhile,
Foreign Policy magazine reported
, "Tentative Syria Cease-fire Is a Major Win for Turkey. U.S. Vice President Mike Pence negotiated a pause in the violence, but the Kurds got a bad deal."
Any success by President Donald John Trump is downplayed by a media that simply hates him and has nothing to offer the world but mud, slander, and libel.
ITEM 2
:
The Daily Caller reported
, "Hunter Biden received over $700,000 from a New York-based capital management company that held equity in a Chinese investment firm with close ties to the Bank of China, a Daily Caller News Foundation review of Hunter Biden's Chinese, Ukrainian and American business dealings has found.
"And despite the deluge of media reports saying Hunter Biden received $50,000 a month for his work on the board of the Ukranian natural gas company Burisma Holdings, the records tell a much different story.
"Hunter Biden, the son of former Vice President Joe Biden, did not receive any compensation directly from Burisma, according to available records. The oft-cited $50,000 a month figure is actually based on payments he received from a New York-based company called Rosemont Seneca Bohai, which was owned and controlled by his longtime business partner, Devon Archer.
"Rosemont Seneca Bohai's Morgan Stanley bank records are publicly available because they were submitted in an unrelated criminal case that involved Archer and an alleged scheme to defraud millions from an American Indian tribe. Archer was found guilty in the case in 2018, but his conviction was later overturned.
"The bank records show that in each month between June 2014 and October 2015, Rosemont Seneca Bohai wired between $10,000 and $150,979 to Hunter Biden for undisclosed purposes. In total, Hunter Biden received $708,302 from Rosemont Seneca Bohai, which was under Archer's care at all times."
This is getting very interesting.
ITEM 3
:
Reuters reported
, "Britain secured a Brexit deal with the European Union on Thursday, more than three years after Britons voted to leave the bloc, but Prime Minister Boris Johnson must still win a knife-edge vote in Parliament to get the agreement approved.
"'Where there is a will there is a deal — we have one!' European Commission president Jean-Claude Juncker said in a tweet a few hours before the start of an EU summit in Brussels."
President Trump told Theresa May just leave. She didn't listen. She wasted 3 years trying to cut a deal with an EU that didn't think Britain would go through with it.
Boris Johnson got the job, listened to President Trump, and got a deal in 85 days.
I don't understand the details but I see the leadership crystal clear. If you want something done, elect a
blond anti-establishment native of New York City
.
ITEM 4
:
Life Site News reported
, "A federal judge permanently blocked an Obama administration rule Tuesday that could have forced medical facilities and doctors to abort unborn babies.
The rule from President Barack Obama's Department of Health and Human Services (HHS) defined 'discrimination on the basis of sex' to include abortion in Obamacare. In doing so, it could have forced medical facilities, doctors, nurses and other medical workers to abort unborn babies against their beliefs."
Bush 43 judge.
This happened 3 days ago. Our press no longer covers the news.
ITEM 5
:
Fox News reported
, "In San Diego, officials say new wall is helping bring border numbers down."
The president replaced 8-foot backyard fencing with a 30-foot wall. The loss of border jumpers has a better benefit.
The story said, "But the barrier not only lowers apprehensions, it allows officers to make apprehensions more safely and closer to the border -- rather than within border communities. Harrison says that, as a result, there has been a surge of construction taking place as better barriers go up, with construction of warehouses, housing, shopping outlets and restaurants."
The border area no longer is a ghetto (or barrio if you prefer). As Mel Allen used to say, "How about that!"
ITEM 6
:
The Philadelphia Inquirer reported
, "Mark Sanford kicked off his presidential campaign against Donald Trump in Philly. One person showed up."
He was Bill Quinn, the father of one of Sanford's former University of Chicago students. Quinn is a Democrat, so he won't get a chance to vote for Sanford in the primary.
Sanford said, "Nobody knows me in Philadelphia. I get it. I think in life we all do what we can do, what's within our power to have an effect. So we're just sort of moving along as we go along."
Maybe he should have announced in Argentina.
ITEM 7
:
The San Francisco Chronicle reported
, "Kamala Harris campaign's 'time for an upgrade' Pelosi meme backfires."
She went from top tier to the Sanford section fast. What was Willie Brown thinking?
ITEM 8
:
News Busters reported
, "South Park Mocks LeBron James' Response About China."
They put LBJ's words in Eric Cartman's mouth, the ultimate insult. King James is now Peking James.
ITEM 9
:
— Juanita Broaddrick (@atensnut) October 17, 2019
Dallas.
ITEM 10
:
What happens to Cummings's seat:

—Gov. Hogan has 10 days to issue proclamation for special election

—Primary within 65 days of proclamation

—General within 65 days of primary

https://t.co/uF24fYW4dk

— David Pontious (@DavidPontious) October 17, 2019
Scott Presler should run
.
ITEM 11
:
— Julia Hartley-Brewer (@JuliaHB1) October 17, 2019
Julia Hartley-Brewer tweeted, "Climate activists protested by standing on top of a train and blocking it going forward during morning rush hour. Unfortunately for them it was in Canning Town, a working class district of London. Their direct action was answered by direct action from commuters."
The protesters are spoiled upper class spawn. Think Prince Charles and his youngest son.
ITEM 12
:
To find out our show is getting pulled and replaced with an all-white cast ON Columbus Day? You can't write this stuff folks. Our time slot literally got colonized!!

https://t.co/uuUb3lDuTk

— Joel Kim Booster (@ihatejoelkim) October 16, 2019
How casual liberals are with their anti-white racism. His show drew 1.4 million total viewers -- in its debut. That was why it was canceled.