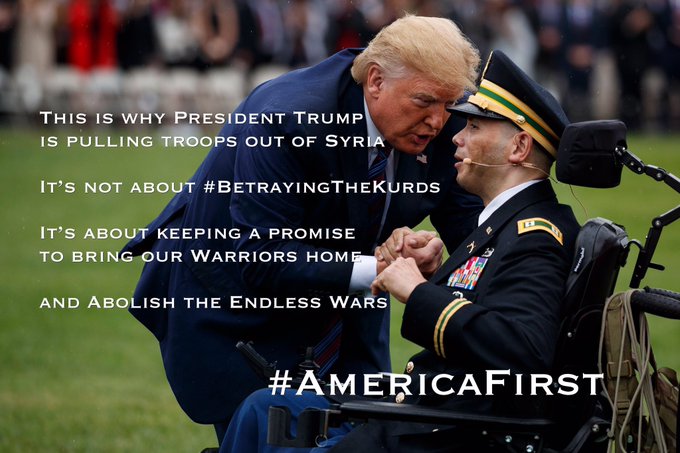 Donald John Trump is still our president.
ITEM 1
:
The Associated Press reported
, "Louisiana Gov. John Bel Edwards' quest for a second term as the Deep South's only Democratic governor will stretch over another month, as voters denied him an outright primary win Saturday and sent him to a runoff election.
"The incumbent's inability to top 50% of the vote in the six-candidate field raised questions about his reelection chances against a national Republican offensive that includes President Donald Trump. Trump made a last-minute appeal to Louisiana's voters to reject Edwards."
The magic of Donald John Trump continues. In 2018, Republicans knocked off 4 incumbent Democrat senators, a feat not accomplished by a White House party in a midterm in 84 years. Midterms usually go against the White House party. President Trump had a net gain of 2 seats in the Senate.
We will see if Republican newcomer Eddie Rispone can knock off Edwards next month. Edwards has a ton of money to spend.
ITEM 2
:
The Washington Times reported
, "Trump executive orders curtail union business on the taxpayer dime. Unions must pay for their own offices and represent workers using their own funds."
The story said, "The latest data from the Office of Personnel Management estimates the union subsidy costs $178.8 million, with federal employees spending 3.6 million hours conducting union business. It is important to note that these figures are estimates that do not include the cost of office space and other perks, and likely lowball because federal agencies do a poor job tracking and recording the hours spent on official time and the costs.
"Back in May 2018, President Trump issued three executive orders to curtail official time and to make federal agencies more accountable and fiscally responsible. Specifically, the orders will make it easier to remove federal employees for poor performance and misconduct, require agencies to negotiate more effective union contracts and limit the amount of time federal employees conduct union business on the taxpayers' dime.
"Shortly after the orders were issued, multiple labor unions filed lawsuits against the orders and won a temporary injunction. That ended on Oct. 2, 2019, when a federal appeals court lifted the injunction on the executive orders."
Democrats have tied the federal government in a
Gordian Knot
.
President Trump is slicing through it.
ITEM 3
:
Reuters reported
, "Germany is willing to contribute more to NATO's running costs as long as other allies also step up to help reduce the United States' share of funding, German Defense Minister Annegret Kramp-Karrenbauer said on Friday.
"President Donald Trump has long accused European allies, especially Germany, the biggest economy in Europe, of taking U.S. security guarantees for granted and says they need to spend much more on their own defense."
Accused. (Eyeroll.)
From the story, "Under a proposal now being considered by NATO, the U.S. contribution to the alliance's annual budget would fall to 16% from the current 22%, while Germany's would rise, also to 16% from 14.8%, from 2021. Other countries would also pay more."
For a guy the media portrays as in over his head, President Trump sure is getting a lot done.
ITEM 4
:
Bloomberg News reported
, "Hunter Biden is stepping down from the board of a Chinese-backed private equity company and promising to forgo all foreign work
if
his father, former U.S. Vice President Joe Biden, is elected president in 2020. After months of keeping a relatively low-profile as President Donald Trump leveled a barrage of unsubstantiated accusations of corruption at him, the younger Biden is publicly vowing to avoid any conflict of interest."
Translation:
If
. If we elect Quid Pro Joe, then his worthless, cocaine-addled son will resign.
And of course Mike Bloomberg's Fake News operation is lying about "unsubstantiated accusations of corruption" because like the rest of Corporate America, he wants to play nice with the communists. Re-education camp is going to rock with all the billionaires who discover they have the same rights as everyone else.
None.
ITEM 5
:
Reuters reported
[Chairman] "Xi Jinping warned on Sunday that any attempt to divide China will be crushed, as Beijing faces political challenges in months-long protests in Hong Kong and U.S. criticism over its treatment of Muslim minority groups.
"'Anyone attempting to split China in any part of the country will end in crushed bodies and shattered bones,' he told Nepal's Prime Minister KP Sharma Oli in a meeting on Sunday, according to China's state broadcaster CCTV.
'And any external forces backing such attempts dividing China will be deemed by the Chinese people as pipe-dreaming!' he was quoted as saying.
"Xi, the first Chinese president to visit Nepal in 22 years, arrived in Nepal on Saturday on a state visit. Both sides are expected to sign a deal expanding a railway link between the Himalayan nation and Tibet."
Someone sure seems nervous.
ITEM 6
:
Politico reported
, "House Intelligence Committee Chairman Adam Schiff indicated Sunday that the whistle blower at the heart of Democrats' impeachment inquiry into President Donald Trump may not testify over concerns about that person's safety.
"Schiff's remarks come after Trump has dramatically escalated his attacks on the whistle blower and repeatedly called for the official to be unmasked. Trump's unrelenting barrage has spurred worries from Democrats that congressional Republicans may try to reveal that person's identity — conceivably endangering his or her safety — at the behest of the president."
So much for the Fourth Amendment. How does he get death threats when no one knows who he is?
Senate Judiciary Committee ought to subpoena him.
ITEM 7
:
Politico reported
, "More than 100 Democrats gathered on a Wednesday call to get the party organized on an existential question: How to sell the public on impeaching Donald Trump.
"For several years now, the impeachment push has been defined by activists beating the drum on Trump — and powerful Democrats in Washington ignoring their calls. But in the two weeks since House Speaker Nancy Pelosi announced an impeachment inquiry, this organizational hub has sprouted in D.C., commissioning polling, sponsoring ads and trying to guide the energy in the party toward a message and result the public will support, while counteracting a blistering, expensive anti-impeachment campaign from Trump and the Republican National Committee."
If only Democrats put as much effort in re-opening factories and restoring America's economy like President Trump has done.
ITEM 8
:
CNN reported
, "President Donald Trump and his personal attorney Rudy Giuliani on Saturday had lunch together at Trump's golf course in Sterling, Virginia, a person familiar with the meeting confirmed to CNN.
"The source did not provide additional details of the lunch. The New York Times first reported the meeting."
Wow, the president had lunch.
If only they put as much effort in outing the whistle blower. Oh wait, the whistle blower is likely bedding one of their reporters.
ITEM 9
:
The Los Angeles Times reported
, "The California Democratic Party has spent more than $800,000 on legal costs stemming from three lawsuits alleging discrimination and sexual misconduct by former chair Eric Bauman.
"The sum includes more than $430,000 in attorney's fees alone, including payments to law firms representing Bauman. According to a Times review of state and federal campaign finance filings, the state party has paid $378,348 in legal settlements to Alton Wang, William Rodriguez-Kennedy and Kate Earley. The trio originally filed suit in January, alleging a culture of harassment and sexual misconduct that was 'well-known and apparently tolerated' by top officials."
The story also said, "Rodriguez-Kennedy had alleged that Bauman speculated out loud about his sex life during discussions about a job opening with the party. He and Wang also alleged unwanted touching by Bauman, including instances when the former chair massaged Rodriguez-Kennedy's back and neck in front of others and placed his arm around Wang's waist.
"Earley later dropped her claims and alleged she was being intimidated by a top party official."
But wait. There's more. The story said, "In a separate case, Bauman's former assistant alleged that Bauman repeatedly groped and sexually assaulted him. Another case filed by two other former employees and a party activist alleged that they endured sexual assault, harassment and racial discrimination by Bauman, who denied the claims through his attorney and said he 'looks forward to complete vindication once the facts come out.' Both cases are still pending."
Groping people. Intimidating those who complain. Who does Bauman think he is? Bill Clinton?
ITEM 10
: Convicted pedophile Gary Glitter's song "Rock and Roll Part 2" is used in the movie, Joker, which leftists condemn because, well, do they need a reason?
The Los Angeles Times reported
, "'Gary Glitter does not get paid,' said a spokesman for Snapper in London who asked to remain anonymous. 'We've had no contact with him.' The song consistently attracted filmmakers and TV showrunners long before Joker, landing in Meet the Fockers, Boyhood, South Park and The Office. 'People generally come to us,' added the spokesman. 'We don't promote it at all.'
"Snapper purchased the masters to Glitter's catalog in January 1997, several months before the singer's legal problems began with the discovery of child pornography on his laptop and in his home. His new label's plans for a retrospective album were quickly canceled. Unlike other legacy artists on the label, Snapper does not sell physical copies of Glitter's records, which are available only as digital streams and downloads."
Once again, facts spoil the lefty narrative.
ITEM 11
:
Pretty much anything you see out of Syria right now is emotion driven propaganda designed to stampede you into an action against your own best interests.

Or am I the only person who ever heard of war propaganda?

— Mark Noonan (@Mark_E_Noonan) October 13, 2019
The American press is the fog machine in the fog of war.
ITEM 12
:
— Josh Kraushaar (@HotlineJosh) October 13, 2019
BREAKING NEWS: General Flynn will flip on him!
BREAKING NEWS: Paul Manafort will flip on him!
BREAKING NEWS: Roger Stone will flip on him!
BREAKING NEWS: Michael Cohen will flip on him!
ITEM 13
:
— CNN (@CNN) October 11, 2019
The perp was a Muslim. Democrats gave his dad a prominent seat at their convention.
ITEM 14
:
California implements "mandatory blackouts" to save lives, and they kill this poor man in the process. Total incompetence.

https://t.co/tzGq2dUpOS

— Wayne Dupree 🎙🎥 (@WayneDupreeShow) October 13, 2019
Putting your life in the hands of the government is suicide.
ITEM 15
:
WATCH: The president held a campaign rally last night and attacked Hunter Biden. We cannot in good conscience show it to you

@chucktodd

: "Politics ain't beanbag, but it isn't supposed to be this either. We all need to play a role in not rewarding this kind of politics"

pic.twitter.com/ERPk4SJ0Yf

— Meet the Press (@MeetThePress) October 11, 2019
But it is OK to call Ivanka Trump the C word in a scripted, taped television show.
The "attack" was asking, "Where's Hunter?"
ITEM 16
:
— Ryan Saavedra (@RealSaavedra) October 12, 2019
Here's a crazy idea: have some kids and avoid extinction.
ITEM 17
:
During the 1968 Tet Offensive, Nguyen's mother and father, along with his five brothers and sister, were killed by Viet Cong in their family home outside Saigon. Nine-year-old Nguyen was shot in the arm and thigh, with another bullet piercing his skull.

https://t.co/s66UtelggI

— Steve Herman (@W7VOA) October 12, 2019
We are not worthy.