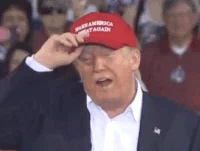 "If you want anything done, ask a busy man to do it." --
Elbert Hubbard
. This is why America elected Donald John Trump president. He wanted the job. Hillary wanted the title.
This past weekend was typical for President Trump.
On Friday,
Newsweek reported
, "The U.S. Customs and Border Protection agency says it has built 75 miles of President Donald Trump's border wall, with 158 more miles currently under construction."
That was the wall Nancy promised would not be built. The 75 miles are in the places where most illegal aliens have jumped the border.
Also on Friday,
Reuters reported
, "U.S. and Chinese officials are close to finalizing some parts of a trade agreement after high-level telephone discussions on Friday, the U.S. Trade Representative's office and China's Commerce Ministry said, with talks to continue."
Nobody wins a trade war. Except Donald Trump.
Also on Friday, the New York Times alleged, "President Trump, speaking to a handpicked audience of supporters at a historically black college here on Friday, belittled the Obama administration's record on racial equity and claimed that his own administration had helped African-Americans beyond anything 'in the history of our country.'
"Opening a three-day forum on criminal justice that will later feature his Democratic rivals, Mr. Trump promoted the bipartisan criminal justice overhaul he signed last year and invited to the stage several people who were released from prison as a result of the new law or his own commutation decisions."
No links to pay sites.
On Saturday, he celebrated Take Back Day.
— Donald J. Trump (@realDonaldTrump) October 26, 2019
Opioids have gutted Southern West Virginia. Finally, some help is on the way.
On Sunday, he celebrated Diwali.
— Donald J. Trump (@realDonaldTrump) October 27, 2019
It is the Hindu festival of lights.
Also on Sunday, he announced the death of Abu Bakr al-Baghdadi.
While all this was going on, he celebrated his eldest daughter's 10th anniversary with their family at Camp David. I hope he got some golf in.
Mind you, he is getting all this done while being hounded in witch hunts by Democrats who do not have the decency to admit America rejected their candidate in 2016.
The wicked flee though none pursue; but the just, like a lion, are confident.

Proverbs 28:1

— Marco Rubio (@marcorubio) October 28, 2019
He is 73.
Incredible.