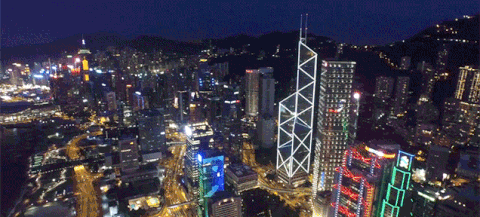 CNBC reported
, "Hong Kong leader Carrie Lam said that she will withdraw a contentious extradition bill that has sparked months of mass protests. The Hang Seng index in Hong Kong had soared around 4% on reports overnight that the withdrawal of the bill was imminent."
The extradition law would allow Chairman Xi to dragoon (or shanghai) anyone in Hong Kong to Red China -- even tourists. Once in Red China, they may as well be dead.
As Breitbart News reported
, "The bill in question would have allowed the Communist Party of China to extradite anyone present in Hong Kong, not just Hong Kong residents or Chinese citizens, into the Chinese prison system if accused of violating communist 'crimes.'
"China has notoriously 'disappeared' thousands of political dissidents into its prison system and severely restricts free speech and religious activity. Multiple investigations have found that China uses its political prisoners as forced organ donors, cutting them open and taking their organs alive to fuel a million-dollar industry."
More than a million Hong Kong citizens eventually joined the protest. It is a remarkable event. They wave American flags but we have nothing to do with this uprising.
Our national security apparatus is too busy covering its tracks over spying on our own president to be bothered with helping those trying to remain free.
And make no mistake, Hong Kong is free. The Cato Institute ranked it third in freedom out of 162 countries and nation states. Cato ranked the USA at No. 17. New Zealand was No. 1 overall.
Chairman Xi went a bridge too far in trying to seize control of Hong Kong. He is not dealing with barefoot villagers in the rice provinces. Hong Kong is a cleaner version of New York City. He is the emperor who controls everything except the city that keeps his empire afloat.
This klutzy move could cost him his empire as he foolishly engages a trade war with the United States.
Former Green Beret Michael Yon is in Hong Kong and is corresponding with columnist Austin Bay about the matter.
Bay wrote
, "East Germany provides a historical example of the stages of resistance, the escalating trend (or gradient) Yon noticed. In 1989, East Germans moved from secret police-enforced silence to public protests to civil disobedience involving the vast majority of East German citizens. To employ a buzz term, East Germans were 'collectively mobilized' in bitter opposition to their communist jailers. The Berlin Wall cracked; mass civil disobedience toppled the regime. Did that make it a bloodless insurgency? I'd remind a pinhead making that argument that the long siege called the Cold War wasn't bloodless."
The protesters have a lot to lose. They are as affluent as New Yorkers are. Great Britain ceded a jewel to Communist China in 1997 instead of fighting to preserve it. Now the people of Hong Kong fight for themselves.
On the other side of the world dealing with his own set of problems with Red China, President Donald John Trump wages his trade war against a Washington that is more comfortable with the Red China flag than our own. Do not question the patriotism of the Deep State. It is very loyal, just not to our country.
These two events are related only in that they threaten Chairman Xi's power.
In an earlier day, under a weak president, Chairman Deng rolled the tanks into Tienanmen Square. George H.W. Bush clucked his tongue, but nevertheless America opened its markets to Red China with nothing in return.
Chairman Xi does not have that luxury of a Bush presidency. President Trump can and has united the world to challenge Red China's economic bullying.
This leaves Xi with a Sophie's Choice. He can roll into Hong Kong and lose the world, or he can do nothing and lose Red China. He is struggling to find a third way.
Oh, Hillary, you let him down. Maybe Joe Biden can save him.
The New World Order celebrates its 30th anniversary next year. It is obsolete, of course, and is being replaced by MAGA, Brexit, and a million protesters standing in the rain in Hong Kong.
This still could turn into a Tienanmen Square, sure. But it also could be the fall of another Berlin Wall.
More likely, something less dramatic will occur. Hong Kong will keep its freedom. The United States will get a trade deal with Red China. And Chairman Xi will keep his job, or at least his title.