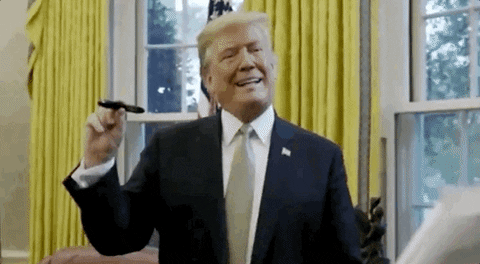 As vice president and with the permission of Obama, Joe Biden withheld a billion dollars in U.S. aid to Ukraine unless it fired the prosecutor who was investigating Biden's worthless son. Biden bragged about this last year.
Instead of bringing Biden to justice, the media and Democrats want to use this to impeach President Donald John Trump. We live in a land where the media and Democrats have embroidered the truth so much that they reject the truth. They resent the truth because it does not conform to their childish narrative of Orange Man Bad, Democrats Good.
On July 25, President Trump talked to Ukrainian President Volodymyr Zelensky by phone for 30 minutes.
Toward the end of the call, President Trump said, "There's a lot of talk about Biden's son, that Biden stopped the prosecution and a lot of people want to find out about that so whatever you can do with the Attorney General would be great. Biden went around bragging that he stopped the prosecution so if you can look into it… It sounds horrible to me."
President Zelensky said, "I wanted to tell you about the prosecutor. First of all, I understand and I'm knowledgeable about the situation. Since we have won the absolute majority in our Parliament; the next prosecutor general will be 100% my person, my candidate, who will be approved, by the parliament and will start as a new prosecutor in September. He or she will look into the situation, specifically to the company that you mentioned in this issue. The issue of the investigation of the case is actually the issue of making sure to restore the honesty so we will take care of.that and will work on the investigation of the case."
The whole transcript is here
.
Democrats who wanted to impeach President Trump for "obstruction of justice" for tweeting mean things about Mueller now want to impeach him for promotion of justice.
But they may be getting cold feet.
Schiff sure sounds like a guy who is backing away from the original marketing of this story as a quid pro quo

https://t.co/oTU2FOpiyM

— Dan McLaughlin (@baseballcrank) September 25, 2019
I blame the media.
I am not alone.
"Some type of action."

A big part of the Ukraine/Impeachment hoax is to gin up the media's sagging cable news ratings....

https://t.co/F8KSBA2Kzk

— John Ocasio-Nolte (@NolteNC) September 25, 2019
Most media accounts exclude Biden bragging that he extorted Ukraine officials.
In 2018,
Biden said
, "I was supposed to announce that there was another billion dollar loan guarantee and I had gotten a commitment from Poroshenko and from Yatsenyuk that they would take action against the state prosecutor and they didn't. So they said they had — they were walking out to press conference, I said I'm not going to — we're not going to give you the billion dollars. They said you have no authority, you're not the president. The president said. I said, call him. I said, I'm telling you, you're not getting a billion dollars. I said you're not getting a billion, I'm going to be leaving here and I think it was about six hours, I look at him and say we're leaving in six hours, if the prosecutor's not fired, you're not getting the money. Oh, son of a bitch."
Obama authorized this. ("They said you have no authority, you're not the president. The president said. I said, call him.")
The Washington Free Beacon reported
, "Joe Biden's family ties to an influence peddling scheme at a Ukrainian gas company could hurt the former vice president's 2020 campaign, political scientist Ian Bremmer told CNN on Tuesday.
"'Biden does have a problem here. I have to say $50,000 a month for Hunter Biden — clearly to be selling influence because otherwise, no one would ever pay him that kind of money — for a company that, frankly, was pretty corrupt and has been before and has been since under investigation,' Bremmer said.
"Bremmer is president of Eurasia Group and Time magazine editor at large. He told CNN's New Day Hunter Biden was named to the board of Burisma, Ukraine's largest private gas company, for his ability to sell influence during the Obama administration."
***
Now we cannot impeach Biden or Obama no matter how much they and their secretaries of state raked in actual emoluments from Ukraine, Red China, Russia and elsewhere. Hillary used a Fake Charity. Biden and Kerry used a hedge fund run by their families. Obama likely did it through post-presidential book deals and that Netflix contract.
But we can stop the uneducated mob from destroying our president. We do that by standing by our man just as we did 3 years ago when that Billy Bush tape came out. We stood by Donald Trump then not knowing if he was just another carnival barker or the real deal.
Faith is going to the edge of darkness and taking one more step.
Our faith was rewarded with the best economy in 50 years, 150-plus new judges, and Planned Parenthood de-funding itself.
Gary Abernathy is a retired newspaper publisher in Hillsboro, Ohio, who writes columns for the Washington Post supporting President Trump. His latest piece is about going to the county fair amid Sharpiegate -- you know, that thing before this that the media said was going to end the presidency of Donald John Trump.
Abernathy wrote
, "The Highland County Fair has endured, rain or shine, for more than 70 years, despite occasions of drought, crop failure, trade wars and grain embargoes. 'Like a tree that's planted by the waters,' the old hymn declares, 'I shall not be moved.'
"Next year's fair will be held just two months before the 2020 election. No matter the hardships that might befall farm families, livestock will be exhibited and blue ribbons will be awarded.
"Regardless of how hot or cold it might be or how much rain might fall, the tractor pulls will be held into the wee hours of the morning. And despite the outrages and scandals that will be relayed from that galaxy far, far away called Washington, for most fairgoers Trump will still be their man.
"They shall not be moved."
Michael Goodwin of the New York Post wrote Nancy Pelosi blew it by authorizing an impeachment inquiry over this.
He wrote
, "Because of what she said and did, if the House doesn't go all the way, it will be a political disaster. Either failing to take a vote on articles of impeachment, or failing to get enough votes among her majority to pass any articles, would be seen as a political exoneration for Trump, likely leading to his re-election.
"If all that weren't risky enough, consider another scenario. If House Dems do impeach Trump on grounds that much of the public sees as flimsy and concocted, they could win the battle and lose the war. Indeed, no matter what the House does, there is a next-to-zero chance the GOP controlled Senate would convict the president absent clear and convincing high crimes and misdemeanors."
***
Smart money bets against the removal of the president.
John Normand, head of cross-asset fundamental strategy at JPMorgan Chase, wrote
, "Despite the drama this process will inject into the rest of the President's first term, there is little justification for altering asset allocation now, unless one thinks that this issue is the decisive one that tips the US economy into sub-trend growth and/or a profits recession.
"To us, impeachment more seems yet another constraint on returns over the next year, given the newer uncertainties created around international and domestic policy."
Pelosi may have been throwing a bone to the Squad by authorizing this inquiry but she foolishly raised public expectations to an impeachment, as Goodwin pointed out.
Impeachment is easy. Removal from office is not. And an impeachment without removal from office is a failure, and no one votes for failure.
Which leads back to the Highland County Fair. Trump voters will not be moved. This will keep Republican senators largely in check. You dance with the one who brung you.
To remove from President Trump from office, Democrats will need 20 Republican senators.
Who will cross the line? Romney, Murkowski, um, ah, Collins (?), Amash (no, he's a congressman), Dopey, Sneezy?
Newt Gingrich tried this in 1998 and lost his House speakership.
Pelosi was there.
21 years later she made the same mistake.
The most self-owning words in English are, "This time it's different."
It seldom is.