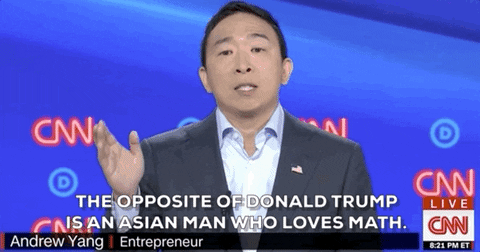 Andrew Yang's presidential bid seems to be based on the color of his skin and not the content of his character. In one of the debates, he tapped into the stereotype, saying, "The opposite of Donald Trump is an Asian man who loves math."
Yang is not Asian. His parents are, having emigrated from Taiwan.
He is the son of an immigrant? So is The Donald.
As for math, well, his dad was a scientist who is credited for work on 69 patents. But Yang is a lawyer. A millionaire, true, but not a billionaire. A billion is 1,000 million.
But the biggest difference between the two is President Donald John Trump is a leader. He walks the walk, takes care of his people, and sets an example.
Yang on the other hand is a talker.
The Washington Free Beacon reported
, "Democratic presidential candidate Andrew Yang said the United States may have to eliminate private car ownership to combat climate change during MSNBC's climate forum at Georgetown University Thursday morning.
"He told MSNBC host Ali Velshi that 'we might not own our own cars' by 2050 to wean the United States economy off of fossil fuels, describing private car ownership as 'really inefficient and bad for the environment.' Privately owned cars would be replaced by a 'constant roving fleet of electric cars.'"
Roving electric cars?
How will that work in rural America?
How will roving electric cars replace pickup trucks?
I won't go into the cost or who pays because I know it will be me.
His full quote was "What we're really selling is not the car, it's mobility.
"So if you have mobility that's then tied into a much more, if you had like, for example, this constant roving fleet of electric cars that you would just order up, then you could diminish the impact of ground transportation on our environment very, very quickly."
Why doesn't Yang do that now?
There already a roving fleet of cars in Washington, where he made his speech. They are called buses.
The idea of roving electric cars is ridiculously impractical because Yang thinks America is one big city.
West Virginia has the same size population as San Jose scattered about 24,000 square miles of hills, ridges, and valleys. There are 77 people per square mile on average.
San Jose's population density is 5,803 per square mile.
His car policy is as foolish as his gun policy. The sheriff's office is 20 minutes away from Poca.
Yang views himself as an Asian who loves math. He thinks that is the opposite of President Trump, but I guarantee you that Donald Trump didn't crawl out of that first bankruptcy court mess without appreciating math. He went from a billion bucks in debt to becoming a multi-billionaire.
I suggest that if Yang is serious about running against him (and I doubt Yang is) he studies and discovers just who Donald Trump is.