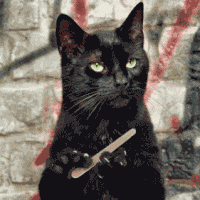 Poor Erwin Schrödinger. His cat is more famous than him, and he won a Nobel Prize in physics.
To illustrate the problem of the Copenhagen interpretation of quantum mechanics applied to everyday objects, Schrödinger asked his fellow physicists to imagine a cat in a box in which radioactivity breaks a flask of poison and kills the cat. You just don't know when it happened or if it happened.
This is all above my pay grade, but the question seems to be is the cat alive or dead -- or both?
Schrödinger chose wisely. If he used a dog, he would be lynched. People love dogs. Some of us are a little ticked at Pavlov for making his dog salivate like that. Killing a dog in the name of science is unacceptable. You cannot kill even an imaginary one.
But a cat? Who cares what happens to a cat? Dead or alive no one really likes cats. Even cats don't like cats. They are about as loyal as Mitt Romney.
Schrödinger came up with this in 1935.
In 1970, the cat tale was placed in a commercial with the voice of Ella Fitzgerald shattering a glass. The commercial asked the world, "Is it live or Memorex?"
In the 21st century, no one cares about sound quality. But we do care about the truth. We no longer accept as factual what the media reports. Comments on a post on Sunday, "
95% troubled by the media
," made that clear.
Greg said, "We are living in a wonderful age of epistemology. How do you know what you know? I can only assign varying levels of probability to anything I hear or read. Nothing I know is 100%. But with a thinking brain and a good deal of skeptical criticism, I have high levels of admiration and confidence in many of the writers I read.
"Thank you Don, and keep up the great work exposing Fake News for the garbage it is."
I replied, "Quantum Journalism."
And then a reader who understands physics said, "Except the equation governing quantum journalism is the INVERSE of Schrödinger's wave equation!"
The problem is not that you cannot entirely dismiss the reports as inaccurate.
For example, Joe Biden's tale of confronting a black bully named Corn Pop seemed off the wall. I was all set to join the chorus of mockingbirds. Then a reporter at CNN tweeted Corn Pop's obituary from a few years ago.
At that point, I did the calculations. I quickly deduced that Biden's campaign tipped the reporter on the obituary.
Now an obituary for a guy named Corn Pop who was black and the right age does not necessarily prove Biden's story, but yes it does. If it were a made-up story, why would Biden come up with the name Corn Pop? It is to 21st century ears a ridiculous name. And what are the odds that just some random black man named Corn Pop who was Biden's age lived in Wilmington, Delaware?
So I reasoned that Biden did not make the story up. Whether he embellished it did not concern me. The preponderance of evidence is there was a Corn Pop and there was some sort of confrontation.
This is the subliminal math we must use when the media reports the news. Is Schrödinger's newspaper lying, truthing, or both?
I just wait them out. When I read bad news, I wait for the debunking.
Sunday morning, the New York Times alleged that Justice Brett Kavanaugh did something embarrassing at a party at Yale decades ago. By halftime on Sunday afternoon, the Times backtracked and said the supposed victim does not remember a thing. It's another big scoop of industrial strength lies by the Times.
Newspapers have descended from being as beloved as a dog to being more despised than cats. Schrödinger's newspaper lines the kitty litter.