Matt Drudge promoted the 100th story that will impeach President Donald John Trump. Congratulations to Matt on extending his losing streak to 100.
ITEM 1
:
The Hill reported
, "Ironically, the latest lackluster jobs report shows how formidable Trump will be in 2020. Beneath the headline numbers, are the most important indicators of how Americans are doing in this economy. They are doing remarkably well, and more importantly for Trump, this is particularly true in demographic groups Democrats dominated in 2016.
"By all accounts, the August employment report showed tepid growth. The economy generated only 130,000 new jobs, with only 96,000 in the private sector. Further, the previous two months' growth was lowered by 20,000, dropping the three-month average to just 156,000.
"While those figures wrote the headlines, overlooked ones told the broader economic story. The unemployment rate stayed at historically low levels of just 3.7%. Simultaneously, labor force participation continued to rise, reaching 63.2%, while average hourly earnings have increased by 3.2% over the last year."
Unemployment could double tomorrow and still be below the 7.7% in November 2012 when we re-elected Obama the Awful. It was 7.6% when Obama took office.
ITEM 2
:
The Washington Examiner reported
, "Optimism in the U.S. construction industry has reached a record high, with builders forced to push off work because finding help is difficult due to the historic unemployment low.
"The new Commercial Construction Index, compiled by the U.S. Chamber of Commerce and USG Corp., climbed to a record high in the third quarter, with 77% of commercial contractors optimistic about their future.
"The index, provided to Secrets in advance of its release, also found that 'half of all contractors' expect higher revenue and the expectations for bigger profits next year also surged."
Under Obama, an adjunct professor and senator, higher education and the federal government flourished.
Under President Donald John Trump, a developer, construction flourishes.
I am voting for old men from now on. Self-interest.
ITEM 3
:
Newsweek reported
, "President Donald Trump's job approval rating this week averaged across major polls surpassed that of his predecessor President Barack Obama at the same time eight years ago, giving some actual good news to Trump who is known to cite only conservative-leaning polls to bolster his image.
"Trump's approval rating on Wednesday was 44.3 percent, according to a Real Clear Politics average of more than a half-dozen major polls. That is higher than Obama's average approval rating of 43.9 percent on September 18, 2011, by the same measure.
"The 45th president's average approval rating surpassed that of his predecessor on Monday and stayed on top for the next two days. Trump's average approval rating on Monday was 44.1 percent compared to Obama's 43.9 percent on September 16, 2011, and 44 percent on Tuesday compared to Obama's 43.8 percent on September 17, 2011."
This is a country for old men.
ITEM 4
:
The Washington Examiner reported
, "Supreme Court Justice Brett Kavanaugh supposedly asked New York Times reporters to lie to their readers. At least, that is the story certain journalists have repeated, following Times reporters Robin Pogrebin and Kate Kelly's appearance Wednesday evening at the National Press Club.
"As with all things Kavanaugh-related, you would be wise to take this new allegation with a very, very large grain of salt.
"The National Press Club event, which was hosted for the benefit of promoting Pogrebin and Kelly's new book, The Education of Brett Kavanaugh, included a moment where the moderator asked specifically of the Times reporters' efforts to collect information on the conservative justice: 'Did you speak to Justice Kavanaugh?'
"'We were on our way to Washington to speak to him,' said Pogrebin. 'We had finally arranged for an interview. Ultimately, we could not agree on terms that we felt comfortable with. So, we didn't do it, regrettably. We didn't feel like we could.'"
Notice she neither said yes nor no.
Which means no.
ITEM 5
:
The Miami Herald reported
, "At a time when taxpayer and foreign-government spending at Trump Organization properties is fueling political battles, a U.S. Marine Corps reserve unit stationed in South Florida hopes to hold an annual ball at a venue that could profit the commander in chief.
"The unit is planning a gala to celebrate the 244th anniversary of the Marines' founding at President Donald Trump's Mar-a-Lago club in Palm Beach on Nov. 16, according to a posting on the events website Evensi."
The story also said, "While specific funding sources for the upcoming ball are unclear, the practice of spending taxpayer money at Trump properties has been criticized by Democrats and government watchdogs."
Semper Fi, guys. Your party. Your decision.
ITEM 6
:
Zero Hedge reported
, "Facebook may have just stepped on a legal landmine amid an ongoing battle with journalist Laura Loomer -- after the Silicon Valley giant claimed in a motion to dismiss Loomer's lawsuit that it can bar the political activist under their rights as a publisher, according to RT.
"Notably, Facebook has long defined itself as a tech company which simply provides a platform for users' free speech -- maintaining that they're a neutral party which is protected from legal repercussions."
However, RT noted, "Defining itself as a publisher opens Facebook up to lawsuits for defamation and other liability for the content users publish, something they were previously immunized against. All the lies, personal attacks, and smears launched by users going forward can now be laid at Facebook's feet. That's a Pandora's box they might not want to open, legal analyst and radio host Lionel told RT."
Lawyers always seek the deepest pocket when suing.
On behalf of the nation's trial lawyers, I thank Facebook.
I am also going to open a Bentley dealership giving trial lawyers a 25% discount.
ITEM 7
:
Breitbart News reported
, "The Trump administration is calling on the University of North Carolina (UNC) and Duke University to revise their joint Middle Eastern studies program or lose taxpayer funding. According to the Department of Education, the program offers very few, if any, programs focused on the historic discrimination against religious minorities in the Middle East, and lacks balance, focusing on the 'positive aspects of Islam' while having an 'absolute absence' of a similar focus on the positive aspects of Christianity and Judaism.
"The U.S. Department of Education says that Duke and UNC are misusing a federal grant to advance 'ideological priorities,' and is ordering the Duke-UNC Consortium for Middle East Studies (CMES) to revise its joint program by September 22 or risk losing federal funding, according to a report by the Associated Press."
He who pays the piper calls the tune.
ITEM 8
:
United Press International reported
, "The United States signed an agreement on Friday requiring migrants passing through El Salvador on their way to the U.S. border to first request asylum in the Central American country.
"Acting Secretary of Homeland Security Kevin McAleenan and El Salvadoran Foreign Minister Alexandra Hill signed the accord."
Another brick in the wall.
ITEM 9
:
Breitbart News reported
, "Erasing a ban on women going topless will save Fort Collins, Colorado, a lot of money, city officials said Wednesday.
"Fort Collins government spokesman, Tyler Marr, concluded that 'the money was just better spent on other city priorities,' NBC News reported.
"In 2015, activist Britt Hoagland launched a protest against the ban which she claimed treated men and women differently. Reports said Hoagland and another activist, Samantha Six, sued the city in May of 2016."
But please don't objectify women.
In 10 years, Hoagland and Six will be wearing burkas.
ITEM 10
:
Breitbart News reported
, "Friday MSNBC highlighted a climate change protest in front of the Brandenburg Gate in Berlin, where three people stood under gallows on ice blocks with nooses around their necks.
"Host Yasmin Vossoughian said, 'Millions of young people are taking to the streets to call for action on climate change. The global march includes events in 150 countries. What started this morning in Australia, Asia and Africa is now surging across Europe and the Americas. In Berlin, protesters used a striking visual message to push for action. Standing on ice blocks with nooses around their necks. A stark call for change before it's too late.'"
Iran just discovered a new way to execute people. Seriously, climate change hoaxers are some sick weirdos. It is not a religion. It is a mental illness.
ITEM 11
: Donald J. Trump tweeted, "Oh no, really big political news, perhaps the biggest story in years! Part time Mayor of New York City, Bill de Blasio, who was polling at a solid ZERO but had tremendous room for growth, has shocking dropped out of the Presidential race. NYC is devastated, he's coming home!"
But the groundhogs are safe.
ITEM 12
:
The Los Angeles Times reported
, "Democratic donor Ed Buck paid at least 10 men to use drugs for his own pleasure, prosecutors say."
Now we now why the Democrat Party invited the homeless to coastal cities: so their perverted donors have a better selection of victims. Notice, prosecutors are not going after Buck for killing 2 men but rather for almost killing a third man. Lighter sentence. See Epstein, Jeff.
ITEM 13
:
Breitbart News reported
, "One man has been arrested after a bomb threat at Rochester Community and Technical College in Rochester, Minnesota. The threat was made on Wednesday evening at an event hosted by the pro-life organizations Students for Life of America and 40 Days of Life."
They are the pro-death party.
ITEM 14
:
Hot Air reported
, "Beto: Let's Pay Reparations For Non-Violent Marijuana Offenders."
Why not just give them the guns we forcibly buy back?
ITEM 15
: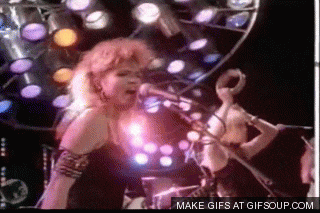 30 years ago today, the Bangles broke up. No one has walked like an Egyptian since, not even the Egyptians.
ITEM 16:
Patrick is a Democrat.