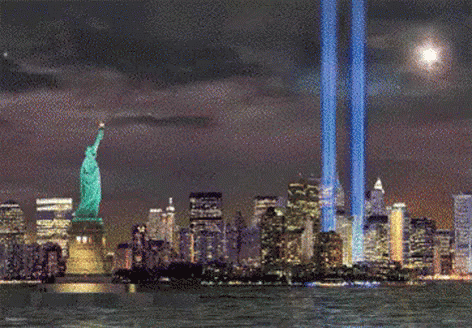 18 years ago today, Muslim terrorists tried to destroy America.
We're still standing. Tall. Proud. Free. And fighting one another like brothers and sisters because we are.
ITEM 1
: The New York Times reported, "Dan Bishop, a Republican state senator, scored a narrow victory on Tuesday in a special House election in North Carolina that demonstrated President Trump's appeal with his political base but also highlighted his party's deepening unpopularity with suburban voters."
Hahaha.
Democrats lost. They spent twice as much as Republicans did and Democrats still lost. The Times and the rest of the media can spin it all they want, but they cannot change the outcome. The Republican won, the Democrat lost.
Republican Greg Murphy won the other special congressional race in North Carolina, the one the national press largely ignored.
As for President Donald John Trump's base, it was broad enough to win 30 states in 2016 and elect him. Democrats have done nothing in the nearly 3 years since to attract a single Trump supporter.
I like his chances for re-election.
ITEM 2
: The Census Bureau reported that incomes rose and poverty dropped again in Donald John Trump's second year as president.
The report said in 2018
:
Median household income rose to $63,179.
Median earnings of all workers rose 3.4% to $40,247.
The number of full-time, year-round workers increased by 2.3 million.
The poverty rate was 11.8% down from 12.3% in 2017.
Poverty fell below 2007 as we have finally recovered from the recession.
The Associated Press reported
, "US household income finally matches 1999 peak, while poverty rate hits lowest point since 2001."
He promised to Make America Great Again. He delivered.
Those jobs came back, Barry.
ITEM 3
:
The Hill reported
, "Trump says he won't debate primary opponents."
He's doing them a favor. Ask Jeb. Ask Marco. Ask Megyn Kelly.
ITEM 4
: President Donald J. Trump tweeted, "I informed John Bolton last night that his services are no longer needed at the White House. I disagreed strongly with many of his suggestions, as did others in the Administration, and therefore I asked John for his resignation, which was given to me this morning. I thank John very much for his service. I will be naming a new National Security Advisor next week."
Bolton's moustache will be hard to replace.
ITEM 5
:
NBC reported
, "Puerto Rico's lead federal prosecutor, Rosa Emilia Rodríguez, announced Tuesday that three people have been arrested as part of a federal probe into an alleged fraud scheme involving former FEMA officials and hurricane relief funds."
The story also said, "The three people are Ahsha Tribble, who was a FEMA deputy regional administrator and is now on unpaid leave from the agency, former FEMA staff assistant Jovanda Patterson and Donald Keith Ellison, former president of COBRA Acquisition, an Oklahoma-based energy company operating in Puerto Rico as the main contractor for the island's power authority as it sought to restore and rebuild the electrical grid destroyed by Hurricane Maria in 2017."
Tribble was a holdover from the Obama administration.
President Trump said there was corruption. The press scoffed and called that racist. We have the dumbest reporters in the world.
ITEM 6
:
The Washington Examiner reported
, "The leading indicator of gun sales jumped in August, driven in part by Americans seeking self-protection and deep concerns congressional Democrats are going to push through expanded gun control legislation.
"The overall number of background checks recorded in the National Instant Criminal Background Check System surged 15.5%, said the National Shooting Sports Foundation. That figure includes background checks done for security, concealed carry permits, and gun sales and was the highest August number ever recorded.
"The industry group said that August FBI background checks adjusted for sales surged 15.2% over August 2018. The adjusted August number was second only to August 2016 during the heated presidential election.
"The new surge came in the wake of heightened pressure for gun control, sales bans on military-styled rifles, and limits on ammo following a spike in mass shootings."
When politicians say gun control, real Americans hear buy guns while you still can.
ITEM 7
:
Axios reported
, "Senior executives from 8 major newspaper publishing companies will head to Capitol Hill on Tuesday to convince lawmakers to do something about the dominance of tech companies over content creators, executives tell Axios."
The story said, "The papers want Congress to move quickly on passing their safe harbor bill so that they have the leverage to demand more money for their content from Google and Facebook."
Every one of those newspapers editorializes against lobbying.
ITEM 8
:
The Hill reported
, "The number of people without health insurance jumped by 2 million from 2017 to a total of 27.5 million in 2018, according to census data release Tuesday. It's the first time the census survey reported an increase in the number of people without insurance since 2009, before ObamaCare took effect and
vastly expanded coverage
" mandated buying insurance.
There. I fixed that.
Health insurance is a choice. All insurance is.
ITEM 9
:
The Associated Press reported
, "The National Rifle Association sued San Francisco on Monday over the city's recent declaration that the gun-rights lobby is a 'domestic terrorist organization.'
"The lawsuit, filed in U.S. District Court for the Northern District of California, accuses city officials of violating the gun lobby's free speech rights for political reasons and says the city is seeking to blacklist anyone associated with the NRA. It asks the court to step in 'to instruct elected officials that freedom of speech means you cannot silence or punish those with whom you disagree.'"
The real terrorists sit on the San Francisco Board of Supervisors. Agree with the Crown or be banished from the kingdom.
ITEM 10
:
The Daily Wire reported
, "Ranking member of the House Oversight Committee Rep. Jim Jordan (R-OH) is demanding answers over Democrats' mysterious trips to Mexico, including details into the alleged coaching of migrants to exploit United States immigration law, a letter from the Republican exclusively obtained by Fox News says.
"The letter, addressed to committee chairman Rep. Elijah Cummings (D-MD), inquires about 'at least two committee staff trips into Mexico in August — one of which required Border Patrol agents to provide a special escort back into the U.S.,' Fox reports. Republicans were not informed of the trips, according to Rep. Jordan."
It is sedition.
ITEM 11:
The Daily Wire reported
, "Angel Mom Booed While Testifying About Son Killed By Illegal Immigrant."
The story said, "Last week, Boston mother Maureen Maloney was booed while testifying about the death of her son Matthew Denice, who was killed in 2011 by a drunk-driving illegal with a criminal history. Maloney was testifying at the State House in opposition to a bill seeking to grant driver's licenses to illegal immigrants."
Ask me if I care that their children are separated from illegal aliens.
Well, I still do, but that is beside the point.
Once again, the liberals of Mafiachusetts show their compassion and empathy. To my black and my gay readers, I say you are next.
ITEM 12
: Marshall University (in West Virginia) announced, "For the first time, U.S. News & World Report's Best Colleges rankings have recognized Marshall University among the nation's top higher education institutions.
"The magazine's 2020 edition, released today, placed Marshall among the best 381 schools in the top tier National Universities category."
Well they're movin on up,
To the top tier.
Says a deluxe magazine in New York.
Movin on up
To the top tier.
Thanks to Bobby Byrd's pork.
Fish don't fry in the kitchen;
Couches don't burn on the porch...
Congratulations. All three of our Poca Dots went there.
ITEM 13
:
— Donald J. Trump (@realDonaldTrump) September 10, 2019
He is the best source of news in DC.
ITEM 14
:
— MSH3RIDAN (@MSH3RIDAN) September 10, 2019
Just another day for most of us. The greatest day in her life so far. And no, I don't know her. Just trying not to cry.
ITEM 15
:
— Dana Loesch (@DLoesch) September 10, 2019
Everybody ('cept him) was kung-fu fighting.
Those kicks ('cept his) were fast as lightning.
In fact it was a little bit frightening.
But they (not him) fought with expert timing.