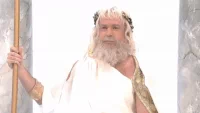 Bill Maher spoke for most of the media when he said he hoped for a recession to rid the nation of President Donald John Trump. They are doing their best to promote one. Fox Business News gave airtime to Peter Schiff of Euro Pacific Capital to tell viewers that the recession is coming.
Schiff said
, "This trade war is lost. The only question is when do we surrender and how do we admit defeat."
And he said, "The dollar is going to go through the floor and it's going to take the bond market with it and the next crisis, it's not subprime mortgages, it's going to be in the Treasury market."
And he said, "This is going to be the inflationary recession, there's no way out and it's a political disaster for Trump because the recession is going to start before he finishes this term, which means he won't have a second term."
Schiff forecast the global recession of 2008.
He also has predicted a recession seemingly every year since.
Luis Pablo de la Horra of the Foundation for Economic Education
listed Schiff fifth among "5 of the Worst Economic Predictions in History,"
Topping the list was, "Irving Fisher Predicting a Stock Market Boom—Right Before the Crash of 1929."
On Schiff, de la Horra wrote, "Financial commentator Peter Schiff became famous in the aftermath of the 2007-2008 Financial Crisis for having foreseen the housing crash back in 2006 (even a broken clock is right twice a day). Since then, he has been predicting economic catastrophes every other day, with very limited success.
"There are many examples of failed predictions from which to draw upon. For instance, in a 2010 video, Schiff foretold that Quantitative Easing (the unconventional monetary policy undertaken by the Fed between 2008 and 2014) would result in hyperinflation and the eventual destruction of the Dollar. Unfortunately for Schiff, the average inflation rate per year since the onset of QE has been 1.68%, slightly below the 2% target of the Fed."
Past performance is no guarantee of the future.
He might be right this time.
Or the next time.
Or the time after that.