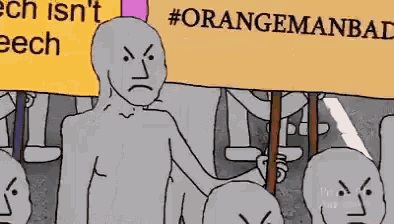 The Orange Man Bad crowd has convinced itself that prosecutors will indict Andy McCabe for lying and leaking while he was the No. 2 man at the FBI. The outrage from the left and the establishment over an imaginary indictment amuses me, particularly the anger from Patrick Frey, a deputy district attorney in LA who blogs as Patterico.
Frey wrote
, "Donald Trump is in charge of federal law enforcement, and he has been harshly criticizing McCabe for years. Here are just a few representative tweets."
The tweets cited were "DOJ just issued the McCabe report - which is a total disaster. He LIED! LIED! LIED! McCabe was totally controlled by Comey - McCabe is Comey!! No collusion, all made up by this den of thieves and lowlifes!"
And "James Comey just threw Andrew McCabe 'under the bus.' Inspector General's Report on McCabe is a disaster for both of them! Getting a little (lot) of their own medicine?"
And "Why isn't disgraced FBI official Andrew McCabe being investigated for the $700,000 Crooked Hillary Democrats in Virginia, led by Clinton best friend Terry M (under FBI investigation that they killed) gave to McCabe's wife in her run for office? Then dropped case on Clinton!"
Frey argued that those three tweets could invalidate any attempt to bring McCabe to justice.
Frey wrote, "Regardless of the strength of any possible criminal case against McCabe, it remains extraordinarily unseemly for the head of federal law enforcement to be saying such things, and causes observers to wonder whether any potential indictment is a result of the strength of the case, or a political hit job carried out to please the President of the United States.
"The fact that Trump does this kind of thing all the time does not make it less poisonous, but more so. One of the worst things about Trump is his penchant for undermining confidence in law enforcement — both by wildly criticizing law enforcement when it investigates his wrongdoing, and in his continual assumption that law enforcement officials exist to act as his personal political henchmen. And if you don't like McCabe (as I don't), and if you think McCabe ought to be prosecuted (as to which I express no opinion), you might even find yourself offended by the fact that Trump is giving McCabe a colorable defense that the apparently imminent prosecution is political and vindictive.
"This lout needs to shut his mouth. Of course, he won't, ever, which is yet another reason why his departure from office needs to be a priority for people who care about the justice system."
So Frey's argument is that because President Donald John Trump said mean things about McCabe any potential indictment is a political hit job carried out by those who want to please the President of the United States.
Is that how things work in the LA DA office?
Do Frey and his colleagues act as "personal political henchmen" in selecting which cases to prosecute?
Because that is what he just accused the U.S. attorney's office of doing.
Frey attempted to invalidate an indictment that may or may not exist; we will know more when
Schrödinger's grand jury arrives
.
Calling the president a lout and telling him to shut his mouth is unprofessional on Frey's part but the whole blogging thing is -- or at least the way he does it.
I can see where a prosecutor would blog to educate the public on the nuances of criminal courts and the like.
But Frey's language and temperament undermine his authority.
I doubt he would be dumb enough to stand before a jury and say, "This lout needs to shut his mouth."
So why did he say it on his blog?
The larger problem with his post though is that it is all speculation. Even if there were an indictment, Frey had not read it. He would not know what the evidence is.
I get that Frey does not like President Trump. And I get that in a county that is run by Hillary voters that makes him popular.
But what I don't get is why he could not wait for an indictment, read said indictment, and then blast the heck out of President Trump with the very argument Frey made in this post.
Had he been patient, he could have made a case that an indictment is political and vindictive.
By jumping the gun, he comes off as a partisan hack with a cushy government hack job and plenty of time on his hands to bloviate about indictments that exist only in the imaginations of the angry Orange Man Bad crowd.
As for me, no excitement unless there is an indictment. And even then, the presumption of innocence also applies -- even to people I do not like.
UPDATE:
The Hill reported
, "The Justice Department's internal watchdog on Thursday released a scathing report stating that former FBI Director James Comey violated FBI policies and his employment agreement with the bureau by leaking memos containing classified information."
No indictment. No excitement. A separate report on McCabe is expected.
UPDATE II: Radio talker Bill Mitchell tweeted, "The 'breaking news' that Barr will not prosecute Comey from breaking FBI policy over leaking memos is NOT breaking news. It's OLD news. The thing Comey will be in trouble for is FISA."
We shall see.
Comey meanwhile is tweeting a victory lap. He is the world's tallest teenaged girl.