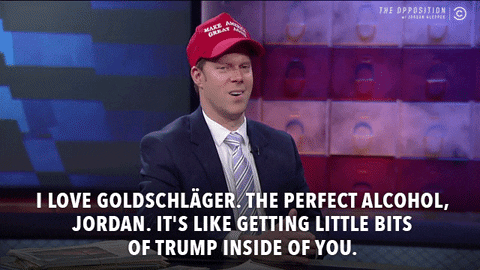 Living in West Virginia as a supporter of President Donald John Trump is easy. It is the Trumpiest state in the land. It is like being gay in San Francisco.
But elsewhere, the fascists try to oppress supporters of President Donald John Trump. Wearing a MAGA hat in Portland can get you beaten.
The press made a big deal about Trump staffer Corey Lewandowski touching a reporter in 2016.
Fascist Democrats beat and hospitalized reporter Andy Ngo
, and the press carelessly could not care less.
Democrats have spent the last four years demonizing supporters of President Donald John Trump, For all their loud talk of helping minorities, the fact is they view as subhuman the 46% of Americans who voted for Donald John Trump.
But the beating and ostracizing of supporters of President Donald John Trump will not silence us. People are standing up for themselves.
Democrats Congressman Joaquin Castro tried to shame donors to President Donald John Trump by naming them and their places of business. He wanted to intimidate them by encouraging threats and boycotts.
He tweeted,"Their contributions are fueling a campaign of hate that labels Hispanic immigrants as 'invaders.'"
People said enough.
Fox News reported
, "One of the businesses the congressman targeted for political retribution was Bill Miller Bar-B-Q, one of the most popular brisket and sweet tea joints in San Antonio."
Instead of a boycott, conservatives staged a buycott ala the one staged to support Chik-Fil-A five summers ago.
It turns out that Miller's food is as tasty as those Chik-Fil-A sandwiches. Perhaps it is a coincidence but conservative food tastes better than tofu.
Lara Trump said Castro's outing backfired. She told Fox News, "People don't like this.
"This is not acceptable. When has it ever been OK to harass people and try and silence them and make an effort to stop them from contributing to a political campaign just because you disagree with it?"
But while being a supporter of President Donald John Trump in West Virginia is easy, it is not too difficult in Texas.
Being MAGA is dangerous in intolerant and bigoted places like Seattle.
Danny Westneat of the Seattle Times reported
, "When word got out during the last presidential election that Seattle developer Martin Selig would be supporting Donald Trump, the blowback from our liberal town, he said, was "stunning."
"'Do you know what it's like being a Jewish Republican in Seattle?' Selig told the Seattle Times. "The repercussions of what you hear from people is stunning.'
"In reaction, Selig, a billionaire, retreated from any affiliation with Trump in 2016 and said he wouldn't even vote for him. It had become problematic just getting along in the city while wearing a MAGA hat."
This is America. Sooner or later, people stand up for themselves against the ignorant mob.
This year, Selig has donated the maximum he can toward the re-election of the Greatest President in the 21st Century.
Even in the backwaters and boondocks of Seattle, people are unafraid and going public with their support.
Westneat wrote
, "Well, now Trump, of all candidates, has nearly three times as many donations from Washington state as Bernie Sanders does. The Vermont senator has 8,080 itemized donations here, while Trump has the most ever recorded at this point in an election, by any candidate in either party, 21,657.
"What's more, these are itemized donations — meaning the donors were required to list their names, occupations and addresses, and risk the backlash Selig was so concerned about.
"So you can look through the list and see that just in Seattle, Trump has the support of a seamstress, an airline pilot, a crane operator, a teacher, a nurse, a city of Seattle firefighter, a UW professor, a longshoreman and about a thousand others. In total they've given $93,042.
"Past this point of the last campaign, Trump had only six donations from Seattle — and when the Seattle Times contacted the donors, two said they wanted their money back."
We are not alone. We rise. They may try to ruin us, just as they tried (and still try) to ruin Donald John Trump. They failed with him. They will fail with us.
Of course, such tough talk is easy from my living room in Poca, West Virginia.