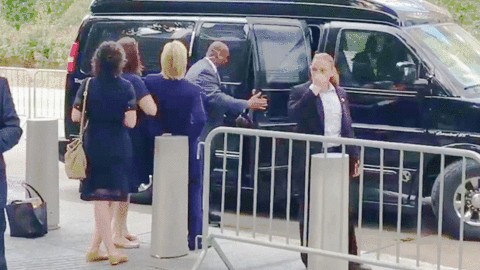 Good news. Hillary is not your president.
ITEM 1
:
The Detroit Metro Times reported
, "Siwatu-Salama Ra — the Detroit activist who was forced to give birth in jail last year after she was sentenced to prison for brandishing a registered, unloaded firearm to defend herself — had her felonious assault and firearm convictions reversed by the Michigan Court of Appeals on Tuesday, according to the offices of her attorney, Wade Fink.
"It's the latest chapter in a case that drew local and national attention, including outcry from the National Rifle Association.
"Ra's sentence stemmed from a 2017 altercation in which Ra used the unloaded firearm to defend herself, her 2-year-old daughter, and her unborn son during an argument with Chanell Harvey, the mother of a schoolmate of Ra's niece, who allegedly tried to use her car as a 'battering ram' to threaten Ra.
"The other woman drove off and went to Detroit Police, and Ra was later charged with assault and a felony firearm conviction, which carries a mandatory minimum two-year sentence. A judge denied Ra's requests for a delayed sentencing so she could give birth, and Ra was forced to give birth to her son while wearing ankle shackles."
Civil rights include the right to defend yourself and your unborn child.
The Detroit Police Chief should stand in the corner in shame for pursuing this case.
Matt Drudge did not link the story because it was not about robots in space.
ITEM 2
:
The Associated Press reported
, "A federal judge in Kansas has ruled that a law making it a crime to encourage or induce immigrants to enter or live in the country illegally is unconstitutional.
"KCUR-FM reports that U.S. District Judge Carlos Murguia issued his ruling from the bench Wednesday before throwing out the convictions of Jose Felipe Hernandez-Calvillo and Mauro Papalotzi. Prosecutors said the men, who themselves are in the country illegally, managed crews of workers who installed drywall for a Lawrence company.
"After they were convicted of conspiring with supervisors to violate the law, the Ninth U.S. Circuit Court of Appeals in San Francisco ruled in a similar case that encouraging immigrants to be in the country illegally is protected speech under the First Amendment."
Hate speech is not covered but criminal speech is. If this is true then anyone convicted of conspiracy must be released from prison.
And why not decriminalize perjury as well?
Kansas is not part of the Ninth Circuit. An appeal and a sane ruling by the Tenth Circuit would force the Supreme Court to weigh in. The Constitution is not a suicide pact.
ITEM 3
:
The Bureau of Justice Statistics reported
:
In 1998, 63% of all federal arrests were of U.S. citizens; in 2018, 64% of all federal arrests were of non-U.S. citizens.
Non-U.S. citizens, who make up 7% of the U.S. population (per the U.S. Census Bureau for 2017), accounted for 15% of all federal arrests and 15% of prosecutions in U.S. district court for non-immigration crimes in 2018.
The portion of total federal arrests that took place in the five judicial districts along the U.S.-Mexico border almost doubled from 1998 (33%) to 2018 (65%).
Ninety-five percent of the increase in federal arrests across 20 years was due to immigration offenses.
In 2018, 90% of suspects arrested for federal immigration crimes were male; 10% were female.
So much for the urban legend that immigrants are less criminal than natives.
ITEM 4
:
Biz Pac Review reported
, "An illegal immigrant mother whose nursing claims were disputed by a medical examination has been slapped with multiple felony charges for using another person's Social Security number.
"Maria Domingo-Garcia was federally indicted on Tuesday for knowingly using another individual's social security number, according to court documents obtained by the Daily Caller News Foundation. The ruling, handed down in the Northern Division of the Southern District of Mississippi, will result in her being placed in the custody of U.S. Marshals as she awaits federal trial."
Suddenly, most of the regular press drops the story.
ITEM 5
:
Australia's News.com.au reported
, "Razor brand Gillette says it is "shifting the spotlight from social issues to local heroes" after an ad delving into "toxic masculinity" caused a customer backlash.
"The new ad, which launched last week, stars Australian firefighter and personal trainer Ben Ziekenheiner."
The story also said, "The ad spruiks [promotes] the brand's SkinGuard range, highlighting the issue of sensitive skin for men who shave every day — including firefighters, who are required to be clean-shaven as it enables a proper seal for their breathing mask."
What the SJW CEO at Gillette called "toxic masculinity" puts the fires out.
Its business is in the toilet and swirling. Rather than use the shaving cream I still had, I grew my first beard ever. At 65.
ITEM 6
:
Breitbart News reported
, "Tom Wright-Piersanti, who has been a Senior Staff Editor at the New York Times for more than five years according to his LinkedIn page and according to his Twitter page oversees the newspaper's political coverage, has made a series of antisemitic and racist tweets over the years. Many of them are still public on his Twitter page as of the publication of this article, but some have since been deleted.
"The revelation of these tweets come in the wake of the executive editor of the Times stating that the newspaper intends to target the president on racial issues over the next couple years, after the newspaper's efforts on the Russia hoax scandal failed."
Remember, Hillary did not cite anti-Semitism as deplorable in her basket of deplorables.
ITEM 7
:
Yesterday the New York Times fraudulently accused

@realDonaldTrump

of being an anti-Semite.

Today we learn that the New York Times employs an open anti-Semite in a leadership role at their paper.

Life comes at you fast,

@nytimes

.

pic.twitter.com/ReVNEO3QBu

— Michael Coudrey (@MichaelCoudrey) August 22, 2019
ITEM 8
:
The Daily Caller reported
, "Former President Barack Obama and first lady Michelle are reportedly set to purchase a mega-mansion in Martha's Vineyard.
"The Obamas will purchase the house from Boston Celtics owner Wyc Grousbeck for a discount, according to a report published by TMZ Thursday. The property contains 29 beachfront acres, 7 bedrooms, and is listed at $14,850,000."
Discount.
Just like he got when he bought his mansion in Chicago upon his election to the Senate.
ITEM 9
:
Becker's Hospital News reported
, "President Donald Trump donated his salary for the second quarter — $100,000 — to the office of the Surgeon General in his third salary donation to HHS, according to USA Today.
"The money will be used for an unspecified upcoming public health advisory, according to the report. The White House named the opioid epidemic and teen e-cigarette use as key initiatives of the Surgeon General's office in a statement.
"President Trump committed to donate his salary as president to different agencies each quarter. His previous HHS donations came from his salary in the third quarters of 2017 and 2018. They helped fund the fight against the opioid epidemic and research into alcoholism, respectively. He also donated his first-quarter salary of 2018 to the Department of Veterans Affairs, according to the report."
I voted for the best president since Reagan. You can keep your Obama.
ITEM 10
:
— Arthur Schwartz (@ArthurSchwartz) August 22, 2019
It is not the left's ideas that are the problem; it is the attitude.
ITEM 11
:
The Daily Wire reported
, "Accuser Says She Massaged 'Simpsons' Creator Matt Groening's Feet On Epstein's Private Plane."
The story said, "According to her account, this particular encounter with Groening stood out because she almost vomited due to his toenails being of a 'yellow crusty' nature. He also allegedly gave her a drawing of Homer and Bart Simpson after she finished."
Now we know why the Simpsons are yellow.
ITEM 12
:
Legal Insurrection reported
, "Minnesota Star Tribune Editorial Paints Mt. Rushmore as Monument to White Supremacy."
Lincoln. White supremacist. They really believe that.
ITEM 13
: My reader who left the Ravelry knitting site after it banned Trump supporters reported, "This popped up on my new knitting group - a couple of thousand fellow yarnies who objected to being called white supremacists and are having a hell of a good time on our own."
Fascists always lose.