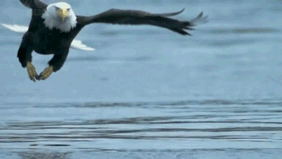 Good news. Donald John Trump is still our president.
ITEM 1
:
The Associated Press reported
, "The Trump administration is finalizing major changes Monday to the way it enforces the landmark Endangered Species Act, a move it says will reduce regulatory burden but critics charge will drive more creatures to extinction."
The law is nearly a half-century old. The polar bear population has risen from 5,000 then to 25,000 now. We have 5 million alligators in the United States. Black bears and wild turkeys roam the streets of suburbia.
AP illustrated its story with a photo of a bald eagle, a species not covered by this act but by its own law passed in 1940. Nevertheless, in 1974 there were 791 nesting pairs of bald eagles in the Lower 48. Now there are more than 10,000.
The spin by media outlets:
New York Times: "U.S. Significantly Weakens Endangered Species Act."
Washington Post: "New Trump rules weaken wildlife protections."
Fox News: "Trump administration overhauls Endangered Species Act in bid to reduce red tape."
It's not journalism; it's comfort food for the committed, as Michael Goodwin said.
ITEM 2
:
Ace of Spades reported
, "Integrity Theater: FBI Agents Raid Jeffrey Epstein's Pedo Island, Now That He's Dead, With Eye-Catching Speedboats."
He cited a Daily Mail story, which said
, "FBI agents were seen raiding Jeffrey Epstein's US Virgin Island - Little St. James - on Monday morning and afternoon, exclusive DailyMailTV footage shows At least a dozen agents were seen disembarking speedboats at the pier and driving around the 71.5 acre grounds on golf carts
"Other officials with 'FBI' lettering on clear display were later seen overlooking the sea from the top of Epstein's remote luxury home."
The search was for evidence to destroy, just like the Deep State destroyed any evidence of criminality by Hillary and her "home brewed server," a euphemism for expensive equipment used to dispense state secrets to donors to her fake charity.
ITEM 3
:
Breitbart News reported
, "President Trump is set to save American taxpayers billions of dollars as his administration announces a new rule on Monday that will essentially ban welfare-dependent legal immigrants from permanently resettling in the United States.
"A new regulation set to be published by the Trump administration will ensure that legal immigrants would be less likely to secure a permanent residency in the U.S. if they have used any forms of welfare in the past, including using subsidized health care services, food stamps, and public housing."
Immigrants are supposed to have a sponsor who will guarantee they will not become charity cases.
The spin from the New York Times was "Trump Policy Favors Wealthier Immigrants for Green Cards."
ITEM 4
:
News Busters reported
, "A new survey of Native American opinions on the Washington Redskins' nickname once again demonstrates underwhelming opposition to the moniker and just how out of touch the so-called mainstream media really is.
"The new survey duplicates the Washington Post's 2016 poll finding that 90 percent of Natives are not offended by the Redskins' nickname ― much to the disappointment of writers at the Post. Like Theresa Vargas, who insists the name is a dictionary-defined slur, no matter how many people accept the word."
The argument that naming a sports team after a group of people dishonors them is an idiocy. The mascots were the problem.
Go Cleveland Indians.
ITEM 5
:
Power Line asked
, "Why Has Biden Tilted So Far to the Left?"
Why has Power Line?
The story said, "Combine non-hard left White Democrat with a large percentage of Black Democrats — whether hard left or not — and Biden should have the votes he needs to secure the nomination, assuming his gaffes and his age don't do him in.
"So, again, why is Biden pandering so much to the left?"
White Democrats, Black Democrat, the real question is why does race still matter? This is the 21sr century, honey.
By the way, the answer to why is money. The left finances the party.
ITEM 6
: Media-ite reported, "
CNN's Chris Cuomo erupted at a man who apparently called him Fredo, in a video that went viral Monday night. The encounter between Cuomo and the man happened at a Shelter Island bar on Sunday."
Cuomo said, "Punk-ass bitches from the right call me Fredo. My name is Chris Cuomo. I'm an anchor on CNN. Fredo is from The Godfather. They use it as an Italian aspersion. Any of you Italian? It's an insult to your [F-bomb] people. It's like the N-word for us."
Everything is the N-word to Cuomo.
He said calling him Fake News was the N-word
.
His father was governor of New York. His brother is governor of New York. He's not even Fredo. He's Jeb.
ITEM 7
:
The New York Post reported
, "Sarah Silverman fired from new movie for blackface photo."
Hollywood has higher standards than the voters of Virginia.
ITEM 8
:
Channel News Asia reported
, "Export-reliant Chinese companies are slashing prices, moving production abroad, creating new domestic markets and even rebranding goods as they try to survive the escalating trade war with the United States.
"Factories along the eastern coast, fish processors in the south, apple juice exporters in central China and farmers in the northeast have all been forced to change their business models since US President Donald Trump launched the conflict more than a year ago, hitting everything from motorcycles to MRI machines.
"But no matter what the survival tactic, times are tough and set to get worse with newly threatened tit-for-tat tariffs meaning that virtually all trade between the world's two biggest economies would be covered."
Slashing prices? But all the six-figure salary people at the "conservative" think tanks told us the tariffs would cause the poor white trash who voted for Drumpf to pay more at Walmart.
Instead, Red China's economy is collapsing.
ITEM 9
:
Truth in Accounting reported
, "House may pass Social Security tax hike."
This is a tax on Social Security benefits.
The story said, "The taxation of Social Security benefits was introduced in 1983. That was the 'gift' that the Greenspan Committee provided to us. What a creep. It was in actuality a reduction in the 'benefit' received by some who had contributed to social security. Naturally, those that were taxed under this Greenspan program was expanded in 1993. The Social Security 2100 Act would expand this threshold again … And here is the kicker, the threshold is not adjusted for price inflation, so over time more and more social security recipients will cross the threshold and be taxed."
I hope Republicans have sense enough to point out Democrats want to raise taxes on granny.
ITEM 10
:
The Hill reported
, "A federal judge ruled Friday against a Virginia school board's policy barring a transgender former student, Gavin Grimm, from using the men's restroom, according to The Associated Press.
"Under the Gloucester County School Board's policy, Grimm was required to use either the women's room or a private restroom. In her decision, U.S. District Judge Arenda Wright Allen in Norfolk wrote that there was no question the policy discriminated against trans students."
Obama judge.
ITEM 11
:
WTVF reported
, "Tennessee lawmakers are considering a total abortion ban when the Senate Judiciary committee meets this week for its summer study.
"Lawmakers are hearing testimony today from more than 20 witnesses and debate an 11-page amendment to the fetal heartbeat bill."
Ultrasounds have made Roe v. Wade obsolete because we now know for sure that a fetus is a baby.
ITEM 12
:
Newsweek reported
, "Alejandro Giammattei, the conservative Guatemalan politician who once vowed to build a wall to prevent migration to the United States if elected president, swept to victory in the Central American country's federal election on Sunday, vowing to bring change to the nation — as well as to its relationship with the U.S.
"After losing three previous bids for the presidency, Giammattei managed to defeat his centre-left rival, former first lady Sandra Torres, with a landslide win of more than 58 percent of the vote, according to preliminary results.
"In the lead-up to his election victory, Giammattei suggested in an interview with Reuters on Sunday that one of his first priorities as president would be to try to make changes to the controversial safe third country deal struck between his predecessor, outgoing President Jimmy Morales, and President Donald Trump.
"It is unclear what toll the deal, which requires migrants passing through Guatemala to seek asylum there rather than in the United States, will have had on the country by the time Giammattei officially takes office in January."
We don't want the "refugees."
Mexico doesn't want the "refugees."
Guatemala doesn't want the "refugees."
Maybe Germany can take them.
ITEM 13
:
The Daily Mail reported
, "The family of the young couple who died protecting their baby from the El Paso gunman say they have received death threats after they met with Donald Trump.
"A picture of the president went viral in the wake of the mass shooting at the Walmart after it showed first lady Melania holding little Paul Anchondo as POTUS smiled and gave a thumbs up.
"Among the family members in the photo was the baby's uncle, Tito Anchondo, a Trump supporter who said he had received death threats.
"'We should be coming together as a country at this time instead of threatening each other with hate messages,' he said.
"Anchondo said on Friday that Trump 'was just there to give his condolences and he was just being a human being'.
"He added: 'Is it that hard to try and understand that a family is trying to not be sad at a moment like this? We're trying to be as strong as we can. My brother is gone.'
"He previously told NPR that he and his brother were Trump supporters."
Democrats.
Instead of red flag legislation, let's have a blue flag. Confiscate the guns of every registered Democrat.
ITEM 14
:
Byron York asked
, "Why is the presidential field so old?"
Answer: Life expectancies have increased from 38.3 at birth in 1800 to 78.6 in 2017. Longer lives mean more old people, which means more old candidates.
They win because the younger candidates are foolish and socialist.