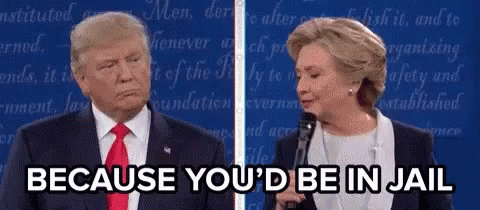 Hillary: "It's just awfully good that someone with the temperament of Donald Trump is not in charge of the law in our country."
Trump: "Because you would be in jail."
Nearly three years after that Burn of the Century, Annie Karni of the New York Times has figured out that attacking The Donald doesn't work.
She should run the Times because no one in management seems to have figured that out. They keep attacking him as if he were subhuman.
In a story today, Karni wrote that the two dozen or so Democrats running for president are all attacking President Trump.
She wrote, "But if the steady stream of ad hominem attacks is failing to shock, awe or drive the news, it is in part because there is little left in terms of criticism of Mr. Trump that has not already been volleyed — by his own team."
She then cleverly and dishonestly went through all the attacks on him by the also-rans in the 2016 Republican nomination process.
But the real problem is the media. It has spent more than four years calling him every mean and vile thing they could think up. They threw away their credibility.
Tim Alberta of Politico told Karni, "Voters on the whole are completely desensitized to personal attacks on Trump at this point."
Still convinced that Donald Trump is unqualified, Alberta said, "the unlearned lesson from 2016 for Republicans was that every day spent launching ad hominem attacks on Trump was a day not spent pointing to voters how little he knows about actually running the government."
Journalists and their employers also have not learned a darned thing. They keep making personal attacks on the president instead of arguing against his policies. That is because his policies are working. Most Americans are better off today than they were 4 years ago.
But the press lives in another dimension. They keep calling President Trump names.
And they keep going back to the sources who got the 2016 election wrong.
Karni talked to Geoff Garin, a Democratic pollster.
He said, "Part of the reasons that voters in 2016 overlooked a lot of these same criticisms of Trump is that they hoped that his schtick was just a schtick. It's possible these criticisms will be more meaningful because it's much harder to have the illusion that these character deficiencies aren't for real."
Keep calling him Hitler. Maybe on the millionth time it will stick. If not then, the billionth time will.
Karni made a big deal about Garin helping elect Democrat Governor Ralph Northam of Virginia by attacking President Trump as a racist and a "narcissistic maniac."
Not mentioned in her story is Northam wearing black face and posing with a fellow dressed as a klansman.
The story said personal attacks on President Trump will not work. Yet it was one personal attack after another.
They think this will work.
They thought the same thing 4 years ago.
I don't see the name-calling causing defections in the ranks of Trump supporters. 2020 is looking like 2016.