Seth Levy had an explanation of the timing of President Donald John Trump's inevitable attack this weekend on the Odd Squad, aka the Four Horses of the Apocalypse. Levy sadly gave his content free to Twitter rather than put it on his blog,
Political Speculation
.
That means I can quote it in full because I am not going to link Twitter and make more money for an Internet Oligarch. I already make enough money for them as it is.
But before I go into that, let's talk about me because this is my blog and it is called Don Surber.
On November 18, 2016, I was putting the finishing touches on "Trump the Establishment," which
is a good book that you should read
.
It was a Friday night and Mike Pence was in New York doing whatever a vice president-elect does. He took his wife to the musical, "Hamilton." After the performance ended, the cast came out and lectured the Pences on democracy, even though our nation is a constitutional republic.
Pence took no offense.
Donald John Trump did.
What ensued was so hilarious that it became a fine example of what we now call very stable genius. It was so good that I had to include it in the book. Which I did. Here is an excerpt:
Trump tweeted, "Our wonderful future V.P. Mike Pence was harassed last night at the theater by the cast of Hamilton, cameras blazing. This should not happen!"
That kicked off a weekend of Trump bashing on cable news. What was important was what the all-knowing pundits did not discuss. Hours before the cast of Hamilton spoke to Pence, Trump University had settled out of court a lawsuit, giving $25 million to seven thousand former students and the state of New York.
Two days after the show, Pence told Fox News Sunday, "I did hear what was said from the stage, and I can tell you, I wasn't offended by what was said."
Once again the press got played. Like a magician trotting out a beautiful and shapely assistant, Trump used the Hamilton cast to divert the attention of the news media from his Trump University settlement.
@@@
Donald John Trump buried bad news using the press to dig the hole. A president has the power to change the news. Most of them are clumsy and only underscore the bad news they want to knock off page one.
But Donald John Trump cut his teeth in New York, which is home to the toughest media in the world. Any man who could knock George Steinbrenner off the front sports pages can handle the wimpy Washington press corps with ease.
And he does. Seth Levy gave a very sane genius explanation of what just transpired. His tweets:
1/ Pelosi was actually very honest in her press conference and mostly what she was actually saying was missed.
When asked if Trump was baiting her she said let's not talk about that. But she also said Trump is a great distractor. Then she revealed the key piece.
2/ Pelosi said you have to give him credit for that. For being a great distractor. But what did she mean?
3/ Well to understand what Pelosi meant you have to look at the series of events that led to Trumps tweets on Saturday morning.
4/ Most analysts have said Trump blundered because he distracted from Democrat infighting that had spilled into the public. But that analysis is flawed mostly because it overlooks what they were arguing about.
5/ Pelosi and the squad were fighting ever since Pelosi passed the funding for the border facilities.
They were arguing about the appropriate response to combating Hitler, I mean Trump, from transforming our border facilities into concentration camps.
6/ It wasn't over whether they were concentration camps but which approach to combating them was most appropriate.
The concentration camp part was becoming cemented as truth.
But what actually drove Trump to tweet, to distract?
Why Saturday morning?
7/ Well to understand that you have to look at what happened on Friday.
Pence took congresspeople and the media to the facilities in McAllen TX. Generally it was a success. Except the media was winning the spin battle.
8/ The media was selling the Pence visit as a disaster. According to them the key moment was when Pence had turned his back on a cage full of brown men who were suffering. They had framed it as a brazen display of the Trump administration's indifference.
9/ Then later that night Alyssa Milano posted her famous image.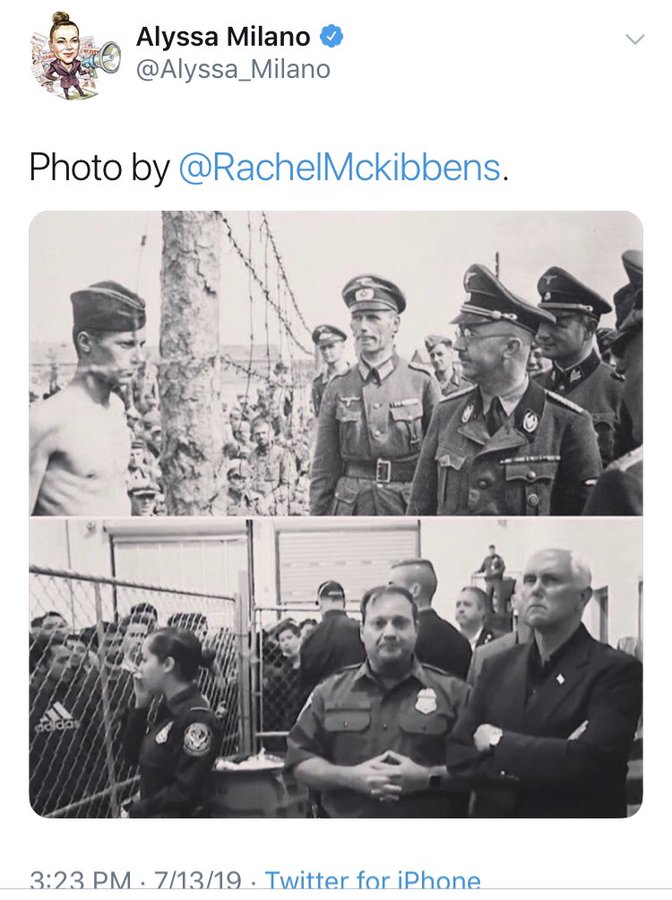 10/ What was actually a successful trip, that plainly showed the Trump admin was caring for women and children and also doing the best they could with single men who had been convicted of crimes and made multiple attempts to illegally enter, had turned into a PR disaster.
11/ So lets go back to that "fight" between Pelosi and the Squad. In reality Pelosi understands unconventional political warfare. She knows people pay attention to the soap opera. She was loving how things were proceeding. Democrats had all the momentum. Trump was a Nazi.
12/ Then everything changed at 8:27 AM Saturday morning. The great "distractor" changed the context of the argument and took back control of the narrative. He reasserted himself as the defender of American greatness. How did he do it?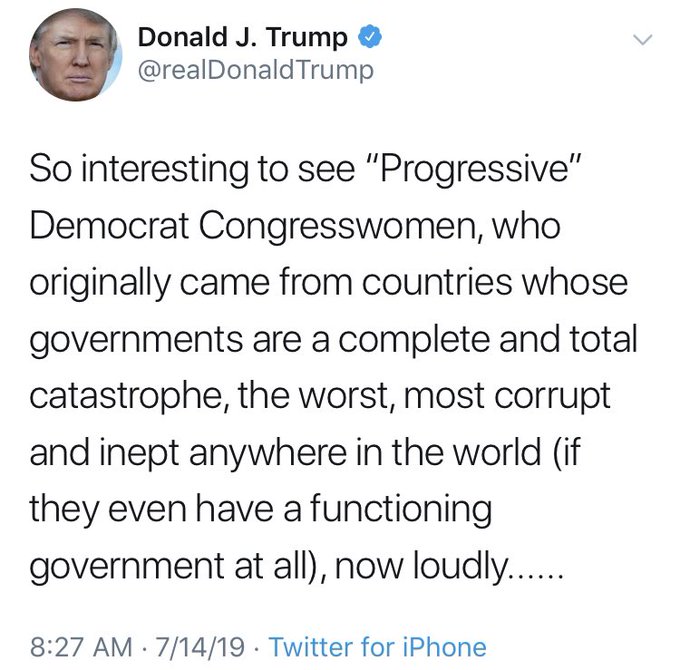 13/ He cast the Squad, who I affectionately call the four new congresswomen of the apocalypse, as attempting to impose unproven solutions on America. He cast them as "foreign" and suggested they prove their solutions could work by trying them somewhere else first.
14/ In other words he seriously raised the stakes. Used an inflammatory attack to reset the terms of the narrative and he forced America to consider that the Squad desired not to fix America but to destroy it.
15/ The Squad was left to defend itself. And predictably they cast Trump's attack as racist. But because they had just accused Pelosi of the same it blunted their argument.
16/ In a hastily arranged press conference Monday, they explained how hurtful Trump's attack was. But having been the purveyors of the concentration camp attacks, their offense rang political. Then they devolved into they're radicalism by avoiding a chance to denounce Al-Qaeda.
17/ Shortly after, videos appeared showing the Squad refusing to condemn the Antifa attack on an ICE facility in the state of Washington. Then on Tuesday the RNC dropped a commercial repackaging the events of the previous few days as a display of radical anarchy. Trump had won.
18/ Pelosi attempted to take the high ground by passing a resolution condemning Trump but chaos exploded on the House floor that ultimately required Pelosi to break House rules in order to pass the resolution. It was a clown show. Pelosi had lost.
19/ All setting the stage for Pelosi to step to the podium this morning. Imagine, Democrats had invested months looking to tie the failing facilities as an anchor around Trump's neck and in 72 hours he slipped the noose and instead tied the squad around Pelosi's neck.
20/ Pelosi was reduced to declaring that Democrats also want to make America great again and then defining her view of American exceptionalism. It was a full capitulation. Pelosi knew that what Trump achieved was masterful and she acknowledged it. /end
@@@
As you can see, Levy gets it now as do most Republicans in Washington because (with four exceptions) they refused to side with Pelosi and her Odd Squad on impeachment. Nancy allowed a vote because she loves to clap back.
President Donald John Trump's tweets were inevitable.
He picked Ilhan Omar (not by name) for two reasons.
First, her ingratitude as a refugee makes her the easiest target.
Second, Trump wants to flip Minnesota
because he could pick up a Senate seat as well as 10 Electoral College votes
.
But timing is everything in politics and all other forms of comedy. Levy nailed it.