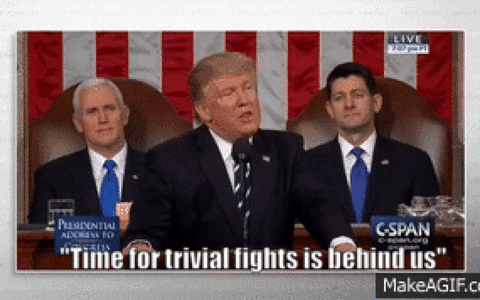 Tim Alberta of Politico wrote a piece today called, "Inside Trump's Feud With Paul Ryan." It told only Ryan's side of the story, but it was instructive on just how far President Donald John Trump will go to Make America Great Again.
He worked with Ryan, a man who abandoned him a month before the general election.
Nevertheless, after winning the presidency and carrying Ryan's home state (which Ryan failed to do in 2012) President Donald John Trump was willing to forgive and forget Speaker Ryan's abandonment.
Pettiness gets you nowhere.
Alberta did not take President Donald John Trump's acts of charity into account. Instead Alberta berated Republican Ryan for working with a Republican president.
The story said of Ryan
, "Once upon a time, he had been mortified at the prospect of Trump as the GOP nominee, spending much of 2015 and 2016 telling anyone who would listen that the reality TV star was immoral and unfit for office. Even after Trump vanquished the Republican primary field, Ryan refused to muffle his objections, at one point memorably rebuking the party's new standard-bearer for making 'the textbook definition of a racist comment.'"
Well, President Donald John Trump is indelicate in describing the opposition. Ryan never name called and President Donald John Trump refrained from calling him Lyin' Ryan or some such.
In Alberta's new book, Alberta quoted Ryan taking swipes at the president who has fired a volley back.
In this column, Alberta wrote of Ryan, "when the time came for choosing on November 8, 2016 — to risk his speakership by continuing to hold the new president accountable, or preserve his standing in the party by taking a vow of silence — Ryan did not think twice. There was historic work to be done, he told friends, and quarreling with Trump would prove wholly counterproductive. He could not afford to be both the speaker of the House and the conscience of the Republican Party.
"What ensued was a bruising, mortifying, tortured 26 month partnership between two men who disliked one another but had become convinced of the necessity of a ceasefire. It was, Ryan told friends, at once the most auspicious and agonizing stretch of his adult life. Even while securing enormous new funding for the military and re-writing the tax code, he knew history would remember Republicans for operating in the shadow of a president whose performance eclipsed their hardest-won legislative accomplishments."
Country first.
But after putting country first, Ryan decided to join an unusually large group of Republican congressmen who did not seek another term in 2018.
To my surprise, Ryan returned to Janesville, Wisconsin, passing up on a deep six-figure salary as a lobbyist.
Alberta visited Ryan to discuss his brief speakership.
Ryan said, "We've gotten so numb to it all. Not in government, but where we live our lives, we have a responsibility to try and rebuild. Don't call a woman a 'horse face.' Don't cheat on your wife. Don't cheat on anything. Be a good person. Set a good example. And prop up other institutions that do the same. You know?"
In short, President Donald John Trump should have been Obama.
But that is style.
Let us look at substance. What did Ryan accomplish with Obama besides a few government shutdowns?
Compare that to what Ryan accomplished with President Donald John Trump.
That is substance.
Washington favors style over substance.
America's objection to that is why America elected Donald John Trump president. America wants to be great again. President Donald John Trump is willing to walk through the gates of hell with a can of gasoline under each arm if necessary to do that.
I respect Ryan's objections to the president's style. And I admire his willingness to work with a man he dislikes.
My point is it works both ways. I thank Alberta for reminding me of this.