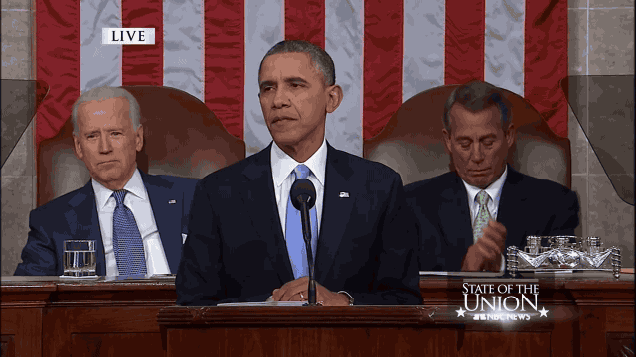 Does anyone take Joe Biden seriously? The man made monkey shines during the president's State of the Union address. Biden could not hold it together for one hour.
Then there was the signing of Obamacare. Biden burst out loud in the middle of it, exclaiming, "This is a big [vulgarity] deal."
Finally, there was his weirdness around women and children -- sniffing their hair, touching them, and making inappropriate comments.
I get the feeling they kept him out of the loop. He was the comic relief in the Obama administration, a throwback Democrat who served as protection from impeachment. The greatest fear Republicans had was Biden becoming president.
Biden's peculiarities did not stop him from rising in the Senate where he figured out the rules fast. He sucked up to Democrat leadership -- a bunch of segregationists and Ted Kennedy in 1973 -- did what he was told and gradually, through the miracle of seniority, he rose to Senate judiciary chairman.
He finished fifth in the Democrat presidential race in 2008, but got the Gold Ticket as vice president when Hillary chose secretary of state instead.
But now he is running for president for the third or fourth time, and he finds himself leading the pack for the first time. This time he has a chance to win.
And he is blowing it.
His segregationists-got-stuff-done speech proved that being the first black president's understudy doesn't make you black.
And then Kamala Harris sandbagged him with her "And I Was That Little Girl" vignette in the first debate. He had no comeback.
Now he is reeling. His reaction is worthy of Hillary. Maybe the famed plagiarist can pen "What Happened?" and blame Jim Comey and Vladimir Putin for his troubles.
Desperation struck him.
Naomi Lim wrote
, "Joe Biden let slip that his campaign was collecting dirt on his rivals for the 2020 Democratic presidential nomination.
"'I mean, I get all this information about other people's pasts, and what they've done and not done. And you know, I'm just not going to go there. If we keep doing that — I mean, we should be debating what we do from here,' Biden told CNN in a Friday interview, referring to the crowded field of two dozen White House hopefuls.
"In May, Biden, 76, promised not to attack his rivals, saying: 'I will not speak ill of any of the Democratic candidates, I will not do it.'"
He's losing it.
Now then, suppose he has all this dirt. Why tell anyone? Just quietly leak it in a manner that does not come back to you.
President Trump tweeted on Saturday, "Joe Biden is a reclamation project. Some things are just not salvageable. China and other countries that ripped us off for years are begging for him. He deserted our military, our law enforcement and our health care. Added more debt than all other Presidents combined. Won't win!"
Add unsalvageable to the long list of nicknames for America's Joke VP.