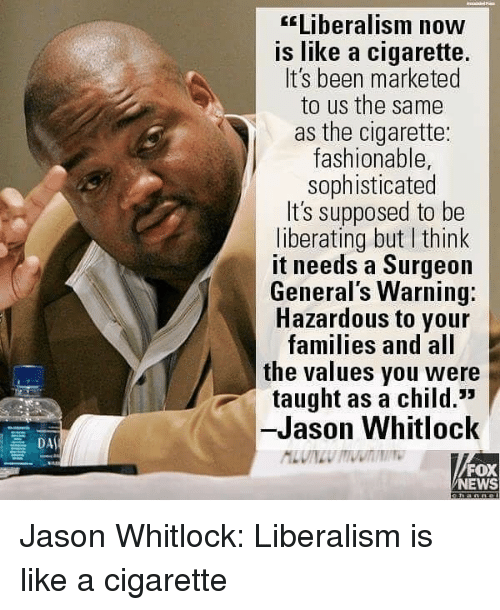 Jason Whitlock, a Fox Sports commentator, tweeted on May 7, 2018, "Liberalism is black people's cigarette. It was marketed to us as sophisticated, fashionable and liberating. It needs a surgeon general's warning: hazardous to our families and all the values we were taught."
It is worse than that.
Liberalism is hazardous to your physical well-being. Here are some examples.
Let me start with this Drudge-linked LA Times story, "The war on Southern California smog is slipping. Fixing it is a $14-billion problem."
The story began, "The war on smog has been called one of America's greatest environmental successes. Decades of emissions-cutting regulations under a bipartisan law — the 1970 Clean Air Act — have eased the choking pollution that once shrouded U.S. cities. Cleaner air has saved lives and strengthened the lungs of Los Angeles children.
"But now, air quality is slipping once again."
But how can this be? Los Angeles is a mecca of modern liberalism. It bans straws. It recycles. It is a sanctuary city. How can it be smoggy?
The newspaper said pollution is up all over, but, "Nowhere is the situation worse than in Southern California, where researchers found a 10% increase in deaths attributable to ozone pollution from 2010 to 2017. The region has long reigned as the nation's smog capital and has seen a resurgence of dirty air in the last few years, one that has sharpened the divide between wealthier coastal enclaves with cleaner air and lower-income communities farther inland with smoggy air."
Wow, who was president then?
Obama.
Of course, the newspaper blamed President Donald John Trump who inherited this and dozens of other stinking messes.
The story also said, "An American Lung Association report this year found air pollution rising across much of the nation in 2015, 2016 and 2017."
This is Obama's legacy. From 1970 to 2008, Republicans held the White House for 26 years and Democrats held it for 12. Smog fell. Now it is back.
My second example is AIDS. It could have been stopped in the 1980s if we shut down the bathhouses, traced the sex lives of patients, and otherwise treated it as a venereal disease.
Instead, AIDS became a civil rights issue. Liberals called for teaching schoolchildren all about "safe sex" and condoms. The result is not only did AIDS spread, but other venereal diseases (now branded as STDs) came back into vogue.
AIDS also was used to push "needle exchanges" for drug users. Instead of arresting them and trying to get them to quit, liberals said we should give them free needles.
Overdose death skyrocketed. Last year saw the first decline in overdose deaths in 28 years. Democrats controlled the White House for 16 of those years.
My next example is -- do I really have to mention San Francisco and other liberal locales allowing people to poop on the sidewalk?
I'll skip that one.
Then there is the anti-vaccination nutballs. This started in earnest when liberals Jim Carrey and Jenny McCarthy were an item. She said her son was autistic and caught it from vaccinations.
Of course, the biggest danger liberals pose is to our children's health. Liberals kill one in four babies. Liberals say they are providing health care by killing nearly a million American babies a year.
Whitlock is correct about liberals and their socialist programs are destroying black families, black values, and black culture.
Liberals do the same to white people as well.
I just want to point out the hazard is also physical. Under Obama,
American life expectancy dropped for the first time
.