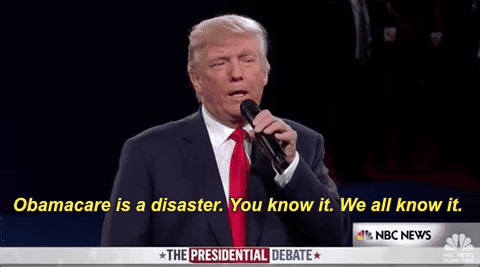 Obamacare is a disaster. Every Democrat presidential candidate not named Joe Biden wants to replace it and private health insurance with a national, government-run system.
Late Friday, a federal judge allowed President Donald John Trump to reform Obamacare
District Court Judge Richard J. Leon in Washington ruled that President Donald John Trump can allow companies to offer health insurance that does not meet Obamacare's guidelines.
Well, why not?
Obama used executive orders to grant waivers to requirements under Obamacare.
If Obama did not enforce his own law, then why should President Donald John Trump enforce it? He was elected to repeal and replace Obamacare.
The Hill reported
, "The Trump administration issued a regulation last year allowing short-term health care plans to last up to 12 months instead of three. These plans were originally intended as an option for individuals who need to bridge a gap in health insurance coverage.
"But the administration extended the length of time they can be sold to provide customers with more affordable options.
"The plans generally cost less because they don't have to comply with coverage requirements set by the Affordable Care Act, such as maternity care and prescription drugs."
Imagine that.
You can keep your coverage.
Why should a 50-year-old couple pay for maternity care coverage? That is like buying volcano insurance in Rhode Island.
By the way, the insurance companies sued The Donald.
That tells you for whom Obamacare was designed to help.