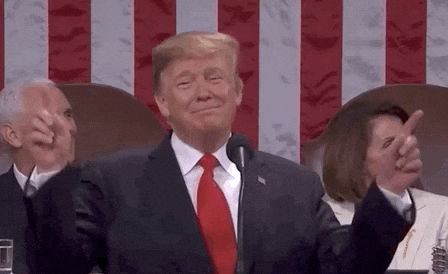 Salena Zito reported
, "Lara Trump says her biggest challenge isn't retaining the women who voted for her father-in-law in 2016, but instead winning the votes of women who didn't vote Trump, but who now find they like his policies while disliking his comportment."
The First Daughter In Law's actual words were, "I think there are a lot of people, men and women alike, who feel that way out there. The reality is that you don't have to love everything about this President, but you sure can love the direction that he's taking this country."
The list of President Trump's accomplishments is long. Conservative judges, repealing bad regulations, and the best tax cuts since Reagan are at the top.
Lara Trump told Zito, "You might not love everything he tweets, but you never have to wonder what this president is thinking. He's very transparent."
Her sales pitch is simple: "I think because he is unconventional, he's been incredibly effective. ... You don't have to follow all of the old rules in Washington DC. He's beholden only to the American people, not to lobbyists, not to special interest groups."
Now the good news is that as Missus Trump campaigns for her husband's father, retention is easy. People who voted for President Trump are going to vote for him again.
And guess what? That was enough to re-elect him.
Where the last four presidents to lose an election for another term -- Hoover, Ford, Carter and Pere Bush -- screwed up was in losing their base. They failed to deliver what they promised.
But President Trump has delivered with one exception. Congress won't fund the wall.
With the best economy in 50 years and no war, President Trump should be on his way to a rout.
However his combative nature turns off the people who should be supporting him.
I have no problem with the trolling tweets, the rowdy rallies, and the feisty feuds. They are entertaining and serve his purpose in frustrating the opposition. This was the only way he could go from the penthouse on Fifth Avenue to the White House on Pennsylvania Avenue.
And President Trump was the only one who could defeat Hillary Clinton because they were duller than Romney. Remember Jeb!'s please clap moment? Pre-beard Ted Cruz was pretty standoffish.
If by some accident they were elected they would have suffered the same indignities of a Congress that promises but never delivers. I doubt Jeb! or Kasich had the wherewithal to get a tax cut. They would have sought something bipartisan. The corporate tax cut -- which is driving much of the economic growth -- would not have been considered.
And we would have gotten another David Souter on the Supreme Court.
I can see why he offends people who should be his supporters.
But liking him is pretty easy. You can choose whether or not to follow the daily drama. If his tweets bother you, don't read them. If his rallies bother you, don't watch them.
And bear in mind what the man has had to put up with. No American president was ever saddled with a special prosecutor based on a fake dossier by his predecessor who spied on him.
They never gave him a chance.
That should tell any conservative all that is needed to know about President Trump. He is dangerous to the establishment.
Yes, it would be nice to have a Romney or a Bob Dole or even another Bush.
But we tried that and it failed.
Being a polite Midwesterner did not cut it.
A rude and occasionally crude New Yorker got the job done.
Give him a second term and we can go back to the polite world of Jell-O molds and noodle salads under President Pence.