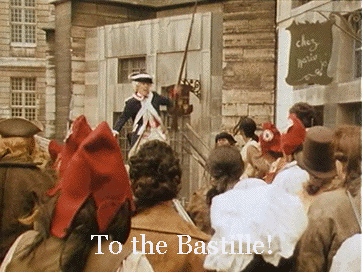 Happy Bastille Day. It celebrates France's victory over the French.
ITEM 1
:
Marine Link reported
, "U.S. Oil Makes it to Ukraine, a blow to Moscow."
Its story said, "U.S. crude exports are gaining traction in Europe as even Ukraine turns into a significant consumer of American barrels at the expense of Russian supplies amid heightened U.S. political pressure on Moscow and problems over contaminated Russian oil.
"Ukraine this month received its first ever barrels from the United States, according to Refinitiv Eikon flows data, as the tanker Wisdom Venture unloaded 80,000 tonnes of Bakken crude in Odessa on July 6 for the Kremenchug refinery, the port said.
"Russia often struggles to export oil from the Black Sea via the narrow Turkish Bosphorus and Dardanelles straits due to congestion, making the arrival of the U.S. crude into the Black Sea from the Mediterranean even more extraordinary."
Aha!
Not only is Donald John Trump not a Putin Puppet but he is sticking it to Vlad.
Obama bent over backward. Oh he talked a good game but he did nothing in America's interest on foreign policy.
ITEM 2
:
Tim Carman reported
, "The national restaurant industry is bracing for a U.S. Immigration and Customs Enforcement operation that could round up hundreds of migrant families that have received deportation orders. Restaurant owners and worker advocates hope the operation, planned to start on Sunday, will not disrupt an industry already hurting for staff, or broaden into a wider investigation of employees not on the Trump administration's deportation lists.
He also wrote, "Restaurant associations and immigrant advocacy groups across the country were sending out mass emails to members and workers this week, alerting them to their rights should ICE agents knock on their doors. The California Restaurant Association, the Illinois Restaurant Association, Restaurant Opportunities Centers United (which advocates for restaurant workers), South Asian Americans Leading Together (which advocates for the rights of South Asians in the United States) and the Restaurant Law Center (the legal affiliate of the National Restaurant Association) were among the groups alerting constituents about the expected ICE actions."
So because rich elitists in San Francisco and Washington want fancy but inexpensive dinners, the middle class must put up with millions of people living here illegally in a lawless underground economy.
Let them eat Big Macs.
ITEM 3
:
Jon Levine reported
, "The president said Friday he would freeze fines imposed by his predecessor on automakers who produced new cars which violated stiff fuel efficiency standards, Reuters reported.
"The Obama-era regulations intended to reduce harmful fuel emissions had been fiercely opposed by the auto industry, which argued the fines could add a billion dollars in additional costs to the industry.
"In a statement, the Alliance of Automobile Manufacturers, an industry trade group, praised President Trump's decision.
"The Obama administration 'failed to take into account the significant economic harm that would result,' an Alliance spokesperson said, adding the 'significant economic harm' of the fines would have been passed on to 'auto manufacturers, workers, and ultimately consumers.'"
I want a Chrysler that seats about 20 and is as big as a whale. What happened to my car body, my choice?
ITEM 4
:
Politico reported
, "Two mystery litigants citing privacy concerns are making a last-ditch bid to keep secret some details in a lawsuit stemming from wealthy financier Jeffrey Epstein's history of paying underage girls for sex.
"Just prior to a court-imposed deadline Tuesday, two anonymous individuals surfaced to object to the unsealing of a key lower-court ruling in the case, as well as various submissions by the parties.
"Both people filed their complaints in the New York-based 2nd Circuit Court of Appeals, which is overseeing the case. The two people said they could face unwarranted speculation and embarrassment if the court makes public records from the suit, in which Virginia Giuffre, an alleged Epstein victim, accused longtime Epstein friend Ghislaine Maxwell of engaging in sex trafficking by facilitating his sexual encounters with teenage girls. Maxwell has denied the charges."
Unless they are victims of the alleged crimes, name them.
ITEM 5
:
Fox News reported
, "Rep. Jesus Garcia and the former acting Immigration and Customs Enforcement (ICE) director, Thomas Homan, got into a testy exchange Friday during a House hearing. In it, Garcia, the Illinois Democrat, asked the ex-ICE chief if he didn't care about migrant children under his watch 'because the children don't look like children that are around you.'
"Homan spent much of his testimony before a House Oversight Committee hearing on child separation arguing with Democratic lawmakers who've accused Border Patrol agents of mistreating migrant detainees.
"'Have you ever held a deceased child in your arms?' Garcia asked Homan.
"'First of all, your comments are disgusting....and yes I have held a 5-year-old boy in my arms and said a prayer for him knowing what his last 30 minutes was like,' Homan replied.
"'For you to sit there and insult my integrity and my love for my country and for children ... that's why this whole thing needs to be fixed. And you're the member of Congress. Fix it,' Homan added."
Fix the problem? How absurd. Then what would Garcia have to complain about?
ITEM 6
:
Jonathan Blitzer reported
, "Early next week, according to a D.H.S. official, the Trump Administration is expected to announce a major immigration deal, known as a safe-third-country agreement, with Guatemala."
Illegal aliens seeking asylum would be sent to Guatemala while they await a decision.
Blitzer wrote, "From the start of the Trump Presidency, Administration officials have been fixated on a safe-third-country policy with Mexico — a similar accord already exists with Canada — since it would allow the U.S. government to shift the burden of handling asylum claims farther south."
Congressman Garcia said we mistreat illegal aliens. This is the solution.
ITEM 7
:
Fox News reported
, "The Trump administration is asking the Supreme Court to lift an injunction imposed by a lower court that blocks the administration from using $2.5 billion in military funds to construct a wall on the U.S.-Mexico border.
"The filing went to Justice Elena Kagan, who has given environmental groups who brought the original lawsuit until 4 p.m. July 19 to respond with their own brief.
"Kagan will also likely ask all her colleagues to weigh in, but it's unclear when an order will be issued.
"Earlier this month, a divided three-judge panel of the 9th U.S. Circuit Court of Appeals in San Francisco agreed with a lower court ruling that prevented the government from tapping Defense Department counterdrug money to build high-priority sections of the planned wall in Arizona, California, and New Mexico."
The money is supposed to counter drugs crossing the border. How is a wall not part of such a plan?
ITEM 8
:
Politico reported
, "Protesters disrupted Joe Biden's first campaign event Friday at the start of his weekend swing through New Hampshire.
"Frustrated by immigration policy under the Obama administration, a dozen activists led by national immigration group Movimiento Cosecha derailed Biden's post-speech meet-and-greet with chants and signs, and called on Biden to apologize for mass deportations that occurred during his time as Barack Obama's vice president.
"Biden has come under fire for the 3 million deportations that occurred under the Obama administration, and Movimiento Cosecha recently held another protest at the former vice president's campaign headquarters in Philadelphia."
They waited five years to complain.
Five years.
12 clowns (
payasas
) do not a majority make.
ITEM 9
:
Fox News reported
, "Governor Bill Lee has signed a proclamation for Saturday to be observed as Nathan Bedford Forrest Day in Tennessee, in accordance with a previously signed state law.
"The day honors Forrest, a Confederate general and a former grand wizard of the early Ku Klux Klan.
"Nathan Bedford Forrest Day is among six separate days of special observation included in the law, which includes two others pertaining to the Confederacy.
"Robert E. Lee Day (Jan. 18) and Confederate Decoration Day, also known as Confederate Memorial Day and the birthday of Confederate President Jefferson Davis (June 3) are also recognized in accordance with the state law."
Democrats are fake outraged over this. Forrest was a Democrat. The KKK was the Antifa arm of the party in the South.
In 2006, Obama campaigned for the Exalted Cyclops Bobby Byrd.
I don't want to hear about it from Democrats.
ITEM 10
: Republican Senator Ted Cruz tweeted, "This is WRONG. Nathan Bedford Forrest was a Confederate general and a delegate to the 1868 Democratic Convention. He was also a slave trader and the 1st Grand Wizard of the KKK. Tennessee should not have an official day (tomorrow) honoring him. Change the law."
I thank him for speaking out. Change the law. Make it
Michael Donald Day
.
ITEM 11
:
The Wall Street Journal reported
, "During a meeting with Angela Merkel, Vice President Mike Pence praised Richard Grenell, the blunt-spoken U.S. ambassador to Germany, eliciting a characteristically dry comment from the chancellor.
"Turning to Mr. Grenell, Ms. Merkel said his style 'took getting used to,' according to participants of the February meeting in Munich.
"She encapsulated the sentiments of Berlin's political class, which has been struggling to come to terms with Mr. Grenell's unorthodox diplomacy since he arrived last year, delivering to Berlin a shock similar to President Trump's own disruption of establishment Washington."
Unlike Sir Kim Darroch, he has not called Merkel inept or incompetent in cables. He has simply been a blunt and tough negotiator. Among his accomplishments were getting Germany to keep its word to NATO on military funding, getting German companies to honor sanctions against Iran, and getting the Germans to finally accept a Nazi war criminal we wanted to deport.
I like how our foreign policy experts keep getting everything wrong, while amateurs like President Trump and Grenell succeed.
ITEM 12
:
Cole Carnick reported
, "'We're holding a gun to our own heads,' said Sen. John Cornyn in June. He was talking about President Trump's threat to impose tariffs in order to force Mexico to crack down on illegal immigration into the United States. Many congressmen agreed, fearing, as establishment figures are prone to do, that Trump was risking the whole economy for some nebulous border demand.
"A month later, it seems Trump's tariff gambit has worked. After Mexican officials agreed to crack down on illegal immigration to avoid US-imposed tariffs, the Department of Homeland Security reports that border apprehensions dropped from 144,278 in May to 104,344 in June — a 28 percent decrease.
"Some have attributed the drop to warmer weather, not the 20,000 Mexican National Guardsmen sent to the country's borders with the US and Guatemala. It couldn't possibly be that Trump's plan worked, surely not."
20,000?
Mexico has more men protecting our border than we do.
ITEM 13
:
Agence France-Presse reported
, "Serena Williams delivered a stinging rebuke to fellow tennis legend Billie Jean King who said she should focus on tennis and stop behaving like a celebrity and fighting for equality."
Williams said, "The day I stop fighting for equality and for people that look like you and me will be the day I'm in my grave."
Hahaha.
Don't you love it when a liberal gets put in her place?
ITEM 14
:
Quote of the Day from a certain president who speaks with an outerborough accent
, "Do you ever notice antifa's never there when we have a biker's rally?"
That's my president.