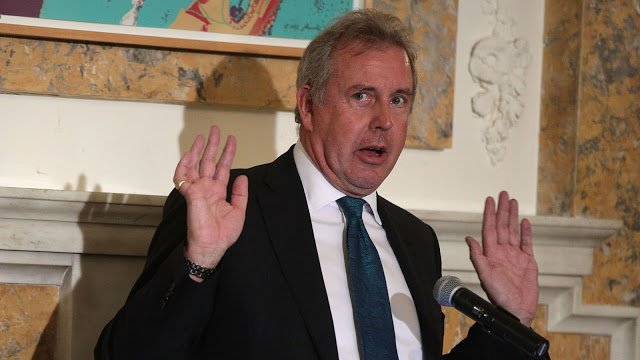 Ambassador Sir Kim Darroch surrendered to President Donald John Trump. This is Britain's biggest diplomatic blunder since the Munich Agreement with Hitler.
ITEM 1
:
Evi L. Bloggerlady reported
, "Kim Darroch's memos and reports on Trump were not 'candid' but showed a deep animosity to the Trump Administration. Yes you want your diplomatic staff and ambassadors to be objective, but Darroch was hostile in those memos."
The best part of waking up is Trumpenfreude in your cup.
ITEM 2
:
The Hill reported
, "President Trump on Wednesday signed an executive order that he says would improve the lives of patients with kidney disease while lowering health care costs.
"The order instructs federal agencies to pursue strategies that will diagnose kidney disease sooner, make treatments less expensive and encourage more people to donate healthy kidneys.
"'This action will dramatically improve prevention and treatment of this life threatening illness while making life better and longer,' Trump said at a signing ceremony Wednesday, surrounded by patients.
"A key part of the plan would shake up a multi-billion dollar industry, run by two dialysis companies, that favors expensive treatment in health centers instead of home-based services that can be easier for patients."
An Obama judge in Hawaii immediately declared it unconstitutional.
Just kidding. Seriously, he just did more to improve health care in America than Obama ever did.
ITEM 3
:
John Carney reported
, "The number of unfilled manufacturing jobs in the U.S. continued to climb higher in May, suggesting the sector maintains a robust appetite for workers even amid rising trade tensions and a sharp slowdown in hiring for the month.
"There were a seasonally adjusted 509,000 unfilled manufacturing jobs at the end of May, up from 496,000 the previous month, the Labor Department said Tuesday.
"That sets a new record for this series, besting the prior record of 501,000 set in August and November of 2018. Prior to the election of Donald Trump, open jobs in manufacturing had not exceeded 400,000 since March of 2001. May marks the 17th consecutive month above 400,000."
Having wiped out Obama the Incompetent's legacy, President Trump moves on to correct Dubya's few mistakes.
Bill is on deck.
ITEM 4
:
David Catron reported
, "Tuesday afternoon, the Fifth Circuit Court of Appeals heard oral arguments in Texas v. Azar and aggressively interrogated attorneys defending Obamacare's individual mandate. They seemed deeply skeptical that the mandate can survive constitutional muster unless the lawyers representing Democratic attorneys general in 21 states and the Democrat-controlled House of Representatives can produce more convincing arguments than they have thus far put forward. This may well endanger the entire health-care law. The general atmosphere during Tuesday's hearing suggested that, if the individual mandate falls, Obamacare's entire creaking edifice must go down with it.
"This was the reasoning used by U.S. District Judge Reed O'Connor when he struck down the law last December. He ruled that the individual mandate had been rendered unconstitutional when its "tax-penalty" was eliminated by Congress and that the mandate was inseverable from the rest of the statute. O'Connor further held that this combination of factors required him to invalidate Obamacare in its entirety. This decision was greeted with indignation by the law's apologists in the Democratic Party, the news media, and academia. And this reaction was as nothing compared to the outrage that greeted the Trump administration's decision not to appeal O'Connor's ruling."
The mandate was a multi-billion-dollar gift to insurance companies, the very people Obama demonized. Believing a Democrat is like trusting a hungry polar bear not to eat you.
ITEM 5
: President Trump tweeted, "Word just out that I won a big part of the Deep State and Democrat induced Witch Hunt. Unanimous decision in my favor from The United States Court of Appeals For The Fourth Circuit on the ridiculous Emoluments Case. I don't make money, but lose a fortune for the honor of serving and doing a great job as your President (including accepting Zero salary!)."
I said this all along, beginning in "
Trump the Press
."
He made a fortune and then became president. Democrats become president and then collect a fortune.
ITEM 6
:
Tom Elliot reported
Alexandria Ocasio-Cortez complained of her workload. She said, "I was assigned to some of the busiest committees and four subcommittees. So my hands are full. And sometimes I wonder if they're trying to keep me busy."
Sometimes they just write themselves.
ITEM 7
:
Politico reported a senior Biden adviser said
, "I think it is true that what you're seeing it is a more assertive time in the campaign. He's not going to sit back and let people distort his record, nor is he going to let people define the terms of engagement."
"Coming out of the debates, something the campaign felt strongly about is, we needed to be assertive on what his record was, both in terms of moving forward but to also demonstrate to the political world at large that we weren't going to take that sort of thing without a response.
"We went out and tried to, best we can — especially with a slick and slippery person — try to pin Kamala Harris down on her own record."
In politics, slick and slippery get you elected. I'll call the waahmbulance for Low Energy Jeb! -- I mean Joe.
ITEM 8
:
John Nolte reported
, "The same New York Times campaigning to take away everyone's air conditioning has a 6,250 ton cooling system in its own building, reports FrontpageMag.
"Oh, and a cool million dollars of it was taxpayer subsidized."
The million was a grant from the New York State Energy Research and Development Authority.
Here in Poca, West Virginia, the high yesterday was 93 with a feels-like temperature of 76 because I am not fool enough to leave the AC in the late afternoon. Mom may have raised a fool but it wasn't me.
Newspapers do more harm to the environment by destroying trees for newsprint, using toxic ink and using so much energy to run their printing plants. That does not include the carbon footprint from delivering newspapers.
ITEM 9
:
Paul Bedard reported
, "This week's Liberal Media Scream features journalist Carl Bernstein of Watergate fame calling for a deep dive on why people support President Trump.
"On CNN's Reliable Sources, Bernstein accused Trump of bringing a 'cold civil war almost to the point of ignition' by promoting "undemocratic notions and authoritarian notions."
"And he urged an exploration of why people support him 'no matter what he does, no matter how outrageous seemingly his conduct is.' He urged the media to do 'some real reporting' by making 'our table bigger in terms of our reportorial landscape.'"
What does this relic from the 1970s know about "real reporting"? From Watergate to the Russian Dossier, he has faithfully regurgitated every Deep State talking point about Republican presidents.
ITEM 10
:
Sean Moran reported
, "House Oversight and Reform Committee Democrats tweeted, and then deleted, a picture Tuesday of an Obama-era migrant detention center to attack Republicans ahead of a Wednesday hearing on President Donald Trump's policies of 'putting migrant kids in cages.'
"On Tuesday, the House Reform and Oversight Committee Democrats used a picture from 2014, during the Obama administration, in a tweet to attack Republicans and President Donald Trump ahead of their Wednesday hearing on alleged "inhumane treatment at the border."
"The House Oversight and Reform Committee has since deleted the tweet."
Democrats are for putting kids in cages. Obama did.
Maybe Jeffrey Epstein too.
ITEM 11
:
Trending Views reported
, "Hollywood celeb John Voight cleans rain off seats for Gold Star families."
Not before TV cameras.
Not for accolades.
He just did it because the seats were wet and the parents suffered enough.
ITEM 12
:
Blazing Cat Fur reported
, "Google's Algorithm Shows Donald Trump In Image Search Of Bill Clinton And Sex Criminal Jeffrey Epstein."
Verified
.
It is election interference and our government should fight it.
ITEM 13
: A headline in the New York Times said, "A Dramatic Drop in Migrant Arrivals on the Border: What's Happening?"
The subheadline said, "A migrant shelter in San Diego that only a month ago was crowded with new arrivals was nearly empty this week amid a sharp downturn in migrant apprehensions on the southern border."
Paragraph 6 solved the mystery. It read, "The Mexican city of Tijuana across the border, meanwhile, is still full of migrants — many of them turned back at the border under the Trump administration's 'remain in Mexico' program."
Tariffs work.