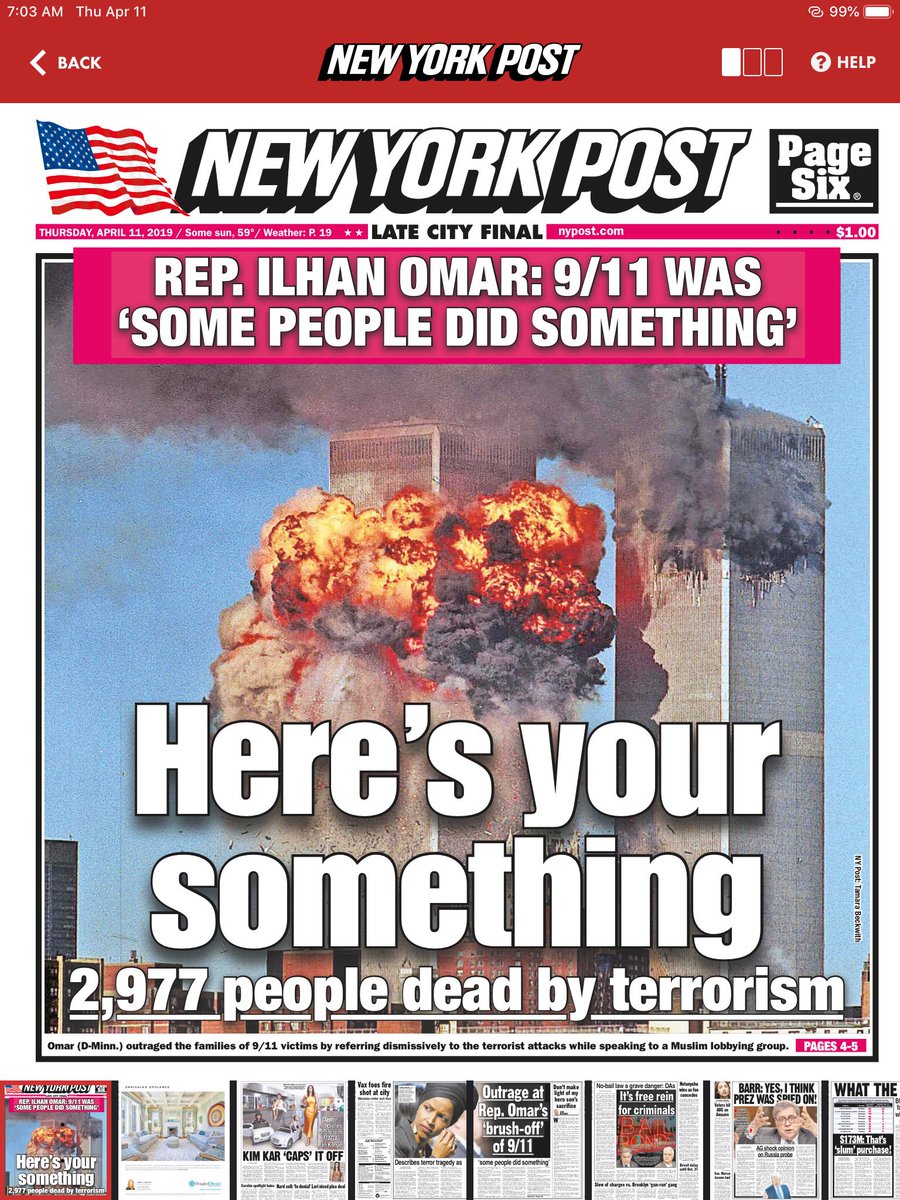 The very stable genius did it again on Sunday. President Donald John Trump took on Ilhan Omar. This was a brilliant move so obvious that I gave away his motive in the headline.
The press and concern trolls at Red State wrung their hands. They think that because of her race, religion and sex, Omar is unassailable.
But the deplorables no longer care. Decades of liberals calling us worse names have rendered the labels of racist, sexist and Islamophobic meaningless.
President Trump tweeted, "So interesting to see 'Progressive' Democrat Congresswomen, who originally came from countries whose governments are a complete and total catastrophe, the worst, most corrupt and inept anywhere in the world (if they even have a functioning government at all), now loudly and viciously telling the people of the United States, the greatest and most powerful Nation on earth, how our government is to be run.
"Why don't they go back and help fix the totally broken and crime infested places from which they came. Then come back and show us how it is done. These places need your help badly, you can't leave fast enough. I'm sure that Nancy Pelosi would be very happy to quickly work out free travel arrangements!"
He did not mention anyone's race or religion.
He said go back, but he followed it up with, "Then come back and show us how it is done."
The press cherry-picked the text for scary quotes.
President Trump does not care. He tweeted again this morning, saying, "If Democrats want to unite around the foul language and racist hatred spewed from the mouths and actions of these very unpopular and unrepresentative Congresswomen, it will be interesting to see how it plays out. I can tell you that they have made Israel feel abandoned by the U.S.
"When will the Radical Left Congresswomen apologize to our Country, the people of Israel and even to the Office of the President, for the foul language they have used, and the terrible things they have said. So many people are angry at them and their horrible and disgusting actions!"
The president knows the fools of the Fourth Estate are dishonest, disliked, and distrusted.
The same is true for Omar. Donald Trump wants her to be the face of the Democrat Party. That would be disastrous for Democrats.
Axios reported that an internal poll showed Omar has a favorable rating of 9% among swing voters. She is in the middle of an internecine battle in the Democrat Party.
Donald Trump just forced Democrats to rally behind Representative 9%.
She is worse than Nancy Pelosi because of Omar's disrespect of 9/11. The fight with Pelosi is political. The one with the Somali ingrate is personal.
President Trump sees 10 Electoral College votes in the Land of Lakes.
He lost Minnesota by 45,000 votes. It is a state Republicans have not carried in 47 years. They want it now.
The Star-Tribune reported
, "Days after President Donald Trump officially announced his 2020 re-election bid, Minnesota Republican Party Chairwoman Jennifer Carnahan attended a picnic on the White House lawn. As they posed for a selfie, the state GOP leader thanked the president for making three visits to the state since taking office.
"'I told him, 'We appreciate you coming and we hope to see you here at least as many times before the election next year,'' Carnahan said.
"The president's response: 'I will be there.'
"Minnesotans have picked the Democratic nominee for the White House in every election since 1972. Trump, who lost the state by just 1.5 percentage points in 2016, believes he can end that streak. With 15 months to go until the general election, the GOP is doubling down on efforts to turn Minnesota red, putting national campaign staff on the ground and hosting a series of training sessions to mobilize Republican voters."
Republicans provide the ground game. President Trump whips up the crowd.
The midterm election gave Minnesota Democrats big wins. They took all six statewide races.
But the 2018 election also gave Republicans Ilhan Omar.
President Trump knows what to do. He is using Omar to show America just who Democrats really are.
They hate it.
His question is valid. Why doesn't she go back to the land of her birth and help out? She is supposed to be this big bleeding heart liberal. Somalis in Somalia need the help. The ones in Minnesota are doing fine.
And they may vote Republican next year.