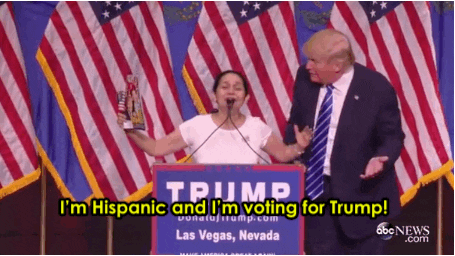 Karen Tumulty of the Washington Post attended the League of United Latin American Citizens convention in Milwaukee and had a Salena Zito moment. Tumulty discovered immigration is a loser issue for Democrats.
In 2016, Zito was a Pittsburgh newspaper columnist who attended some Donald Trump rallies and talked with his supporters and discovered he could win.
Tumulty stumbled upon the disconnect between the official line among Hispanic activists reality.
While the group did a publicity stunt of delivering dolls in cages to the local office of Republican Senator Ron Johnson, conventioneers had other concerns for the four presidential candidates who showed up to pander.
Tumulty wrote, "Former housing and urban development secretary Julián Castro was quizzed about the high cost of college tuition. Sen. Elizabeth Warren (Mass.) promised that if she were elected, mental illness would get the same coverage as other medical problems. Sen. Bernie Sanders (I-Vt.) was challenged to explain how he would persuade a broad swath of the electorate to support his proposal to eliminate private health insurance. And Beto O'Rourke was asked to explain how he would reinvigorate the middle class.
"None of this was a surprise to O'Rourke, who is a former congressman from El Paso, a city that is nearly 80% Hispanic. 'Immigration is obviously not the only issue, nor should it be the defining issue,' he said after the session. 'I've learned that every single issue is important to the Latino community.'"
That is a nice spin but given an opportunity to ask the next president of the United States one question, they asked about college tuition, mental illness, Medicare for All, and what a billionaire's son-in-law would do for the middle class.
Democrats are playing immigration wrong.
Tumulty wrote, "More unexpected was an undercurrent of unease here that the Democratic Party, in its revulsion over Trump's harsh policies and obnoxious rhetoric, is positioning itself too far to the left on immigration."
By too far left she means toxic.
She went among the masses -- OK, just the Hispanic activists -- and found little interest in illegal aliens. Or more accurately, a realization that it is a loser issue for Democrats. One activist told her that even mentioning illegal immigration plays into Trump's hands because it exposes their open borders advocacy.
This was her Salena Zito moment. .
However, Tumulty ignored her discovery.
She ended her column, "Trump has ceded the moral ground on immigration, and though he surely did not intend to, has also awakened the nation's awareness of the forces of desperation that drive so many to risk so much to come to this country.
"But Latino voters want — and deserve — to hear more from the candidates than they have thus far. Not just about how to solve the crisis at the border, but how to make life better for everyone who is already here."
Yes, they are so concerned about the crisis that they don't talk about it.
Where is that eyeroll emoji?