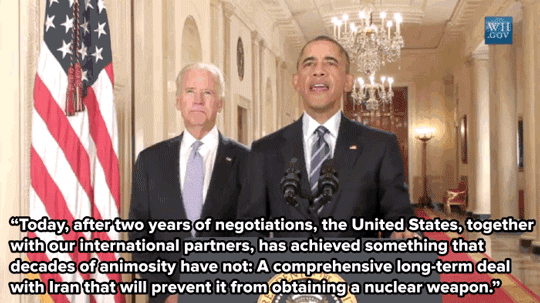 Obama made a deal with Iran. He would send them $170 billion, they would slow down their development of nuclear bombs. European nations and others also signed on to that deal.
Today, Iran bragged about breaking that deal.
NBC reported
, "Iran has breached the limit on the amount of enriched uranium it is allowed to hold, in violation of the nuclear deal it signed with the U.S. and other world powers in 2015, state-run IRNA reported Monday."
To be sure, President Donald John Trump backed out of the deal which was never ratified by the Senate, making it an agreement between Obama and Iran.
But all those other countries still had a deal with Iran.
Iran flipped them the bird, and bragged about it today.
Evie Fordham reported
, "Iran breached its agreement to keep its stockpile of low-enriched uranium to about 660 pounds but has not accumulated enough to create a nuclear weapon, reported The New York Times. Its report is based on a story from the Iranian Fars news agency that cited an informed source.
"It is unclear whether Iran is using the reported breach as a bargaining chip with the European countries still signed onto the 2015 deal. They are "scrambling" to salvage the agreement, reported the Times."
What is Europe going to do about it?
Meanwhile, Obama and his cronies are dismissing President Trump's efforts to get Kim Jong Un to throw his nuclear weapons down -- nukes built under Obama who did nothing to try and stop Kim.
As I said yesterday, Obama has a peace prize, while President Trump prizes peace.