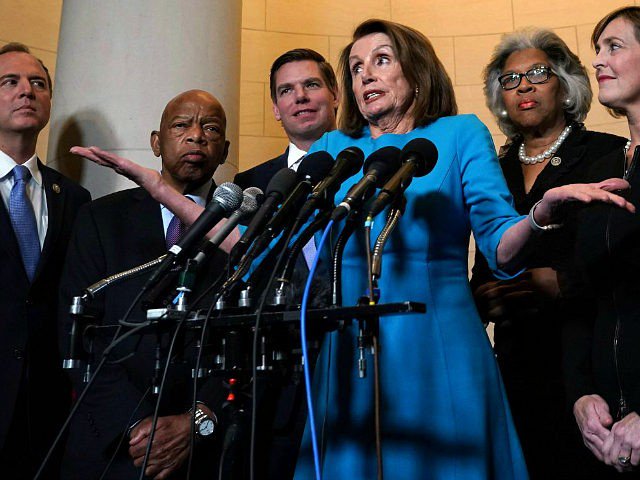 Politico reported that Democrats banned talk about climate change at their presidential debates.
That's odd.
Alexandria Ocasio-Cortez said, "Millennials and people, you know, Gen Z and all these folks that will come after us are looking up and we're like: The world is going to end in 12 years if we don't address climate change and your biggest issue is how are we gonna pay for it? This is the war — this is our World War II."
Elizabeth Warren said, "America has faced huge challenges before, WWII and putting a man on the moon. This environmental catastrophe bearing down on us may be the biggest challenge yet."
Wow, this is bigger than a world war or landing the man on the moon.
But Democrats won't talk about it.
Politico said
, "Washington Gov. Jay Inslee said Wednesday the Democratic National Committee informed him it will not dedicate one of its presidential primary debates to the issue of climate change.
"The decision comes despite a furious push from progressive and environmental advocates for a climate change debate, as well as strong support across the Democratic ideological spectrum. At least half a dozen Democratic candidates, including Sens. Elizabeth Warren (D-Mass.), Bernie Sanders (I-Vt.), Kirsten Gillibrand (D-N.Y.), Michael Bennet (D-Colo.) and former Obama cabinet official Julián Castro, have backed the idea.
"Inslee, who led the push among presidential candidates and has made climate change the centerpiece of his campaign, called the decision 'deeply disappointing' and out of step with Democratic primary voters. He also said the organization threatened not to invite him to future debates if he participated in any other climate change debate."
There is a reason for this.
Americans are not falling for the Fake Science.
The Pew Research Center found the public is not falling for this sky-is-falling nonsense.
50 years of lying about over-population, global cooling, and global warming have turned the public off.
Democrats don't want to remind the electorate of their role in promoting this Junk Science.
Pew Research reported
, "U.S. adults are more likely to say that 'made-up news/info' is a big problem than they are to identify climate change, racism, terrorism, or sexism as such, according to a study out from the Pew Research Center Wednesday: Fifty percent of those surveyed said made-up news (the artist formerly known as 'fake news') is a 'very big problem' in the United States. By comparison, 46 percent called climate change a 'very big problem'; 40 percent said the same about racism; 34 percent said the same about terrorism."
That is why Democrats want to change the subject.