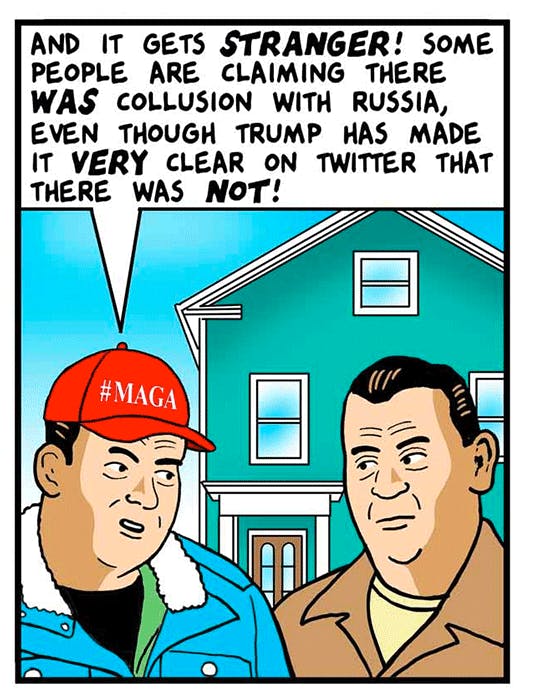 On December 18, 2018, cartoonist Dan Perkins under his Tom Tomorrow pseudonym mocked supporters of President Donald John Trump for living in an echo chamber.
This backfired because it is Perkins who is isolated from reality.
My favorite panel was the one where the supporter said, "And it gets stranger! Some people are claiming there was collusion with Russia, even though Trump has made it very clear on Twitter that there was not!"
Three months later, the Mueller Report came out.
No collusion.
Who is the bumpkin now?
The Russian collusion conspiracy was as crazy as believing 9/11 was a CIA plot. What sort of person would believe Donald Trump -- or anyone -- hired hookers to whiz in a bed the Obamas had slept in?
But that was what the Beltway Bozos believed.
Obama used that BS story to get a judge to let him spy on The Donald. Now nearly four years later, he is in southern France trying to get foreign officials to get their stories straight for when the Bill Barr investigation hits the fan.
And now we know Obama used NATO allies to do some of his dirty work in spying on a political foe. That's the scandal that the Beltway Bozos in the press refuse to report.
Meanwhile, the 2020 race is over according to the Beltway Bozos. The polls show him way behind every Democrat. Nobody likes him.
Politico reported
, "Even with a better-financed and well-ordered campaign, Trump has found the developing 2020 landscape to be tough. State investigators are still probing his past business ventures and financial history. Court rulings have delivered devastating setbacks for his agenda. And House Speaker Nancy Pelosi has encouraged congressional Democrats to do everything short of impeachment to hold his administration accountable.
"On top of all that, the outburst-prone president has struggled to boost his approval rating above 42 percent — where it hovers — and could encounter difficulty billing himself as an outsider while occupying the center of the swamp."
As Doctor Smith said, we are doomed. Doomed!
It is 2016 all over again, isn't it?