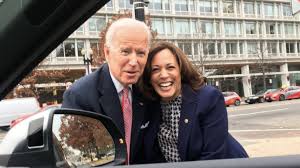 Kamala Harris threw Sloppy Joe Biden's presidential hopes under the school bus on Thursday -- all because His Creepiness tried to zing Our President Donald John Trump.
At a fundraiser in New York for his presidential campaign on June 18, Biden told the fat-cat millionaires that when he joined the Senate in 1973 it still had 21 Democrat segregationists in it.
Indeed, they gave Democrats a substantial majority. So much for the myth that they all flipped Republican upon passage of the 1964 Civil Rights Act.
Biden praised them. He told the people who can make or break a candidate, "At least there was some civility. We got things done. We didn't agree on much of anything. We got things done. We got it finished.
"But today, you look at the other side and you're the enemy. Not the opposition, the enemy. We don't talk to each other anymore."
Ah, the good old days when klansman Bobby Byrd ran the Senate. There were no black senators once Democrats got rid of Republican Senator Edward Brooke in the 1978 election. It was civil. Civil. Civil!
Biden thought by bringing this up, he got a dig in on President Trump, but it backfired. Senator Cory Booker rightly demanded an apology.
Sloppy Joe said, "Apologize for what? Cory should apologize. He knows better. Not a racist bone in my body. I've been involved in civil rights my whole career."
Actually not. He pushed for a ban on school busing for integration purposes.
In the presidential debate on Thursday, Senator Kamala Harris brought up Biden's call to ban busing for integration. She talked about a little black girl being among those who integrated elementary schools in Berkeley, California, by bus in the 1970s.
The high school and junior highs already were integrated.
She told him, "I was that little girl."
Now Biden is just bidding his time. He's been Jeb!-ed.
CNBC reported
, "Former Vice President Joe Biden lost one of his top fundraisers after controversial comments regarding his work with past segregationists and his flip-flop on repealing the Hyde Amendment, CNBC has learned.
"Tom McInerney, a veteran San Francisco based lawyer, informed Biden's team on June 20 that he can no longer help him raise campaign cash to compete in the 2020 presidential election."
His actual words were, "I had actually let the campaign know I'd pulled back my support of Biden for now. I don't think he did well [Thursday] night."
Segregationists Herman Talmadge and James O. Eastland may be dead, but they are ending Biden's campaign.
We all knew Biden would eventually self-immolate. I thank him for the Trumpenfreude this morning because he did himself in trying to get the president.
One more thing about the debate. Yes, Harris planned her answer. So what? She was on that bus that Biden and his buddies wanted to stop more than 40 years ago. She earned that payback.