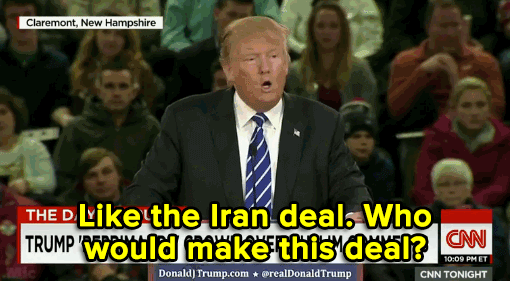 After God, the biggest influence on Donald John Trump's presidency is Sun Tzu, a Chinese general who died more than 2,500 years ago.
He wrote a book, "The Art of War," that Donald Trump read when he was the captain of his class at the New York Military Academy, which was then an all-boys high school.
He applied those principles to business and had a successful career that took him from being a millionaire to being a billionaire to being a billion in the hole to being a billionaire again.
Now he is applying those lessons learned in a half-century of running his family's business to running the Free World.
The foundation, however, remains "The Art of War."
President Trump is the commander in chief of the largest and most deadly military ever on Earth, but he uses it sparingly.
He truly believes Sun Tzu's observation that "The supreme art of war is to subdue the enemy without fighting."
(This is also quoted as "For to win one hundred victories in one hundred battles is not the acme of skill. To subdue the enemy without fighting is the acme of skill.")
Donald Trump may be the most reluctant president to go to war since President Eisenhower, who had seen two world wars and wanted no part of a third one.
President Trump is trying to subdue without firing a shot the surviving members of the Axis of Evil: Iran and North Korea.
With the latter he uses diplomacy. Every president since Truman tried to use force against North Korea. That did not work for 12 presidents. He decided to try something different. The experts freaked.
But a strategy of a friendly relationship with Kim Jong Un backed by economic sanctions is working. His paternalistic approach to Kim is a nod to Sun Tzu's advice, "Regard your soldiers as your children, and they will follow you into the deepest valleys; look on them as your own beloved sons, and they will stand by you even unto death."
With Iran, a different approach emerged. He still relies on economic sanctions but he eschews the personal diplomacy with the mullahs.
He can't. The Obama administration is publicly and brazenly undermining any attempts at negotiation. John Kerry is open about meeting with the mullahs to encourage their defiance of America. The enemy of Kerry's enemy is Kerry's friend.
President Trump sidestepped Iran's attempt to provoke war when it downed an American unmanned spy aircraft.
The president made it clear that he could have attacked Iran but he also said the loss of 150 Iranian lives was "not proportionate to shooting down an unmanned drone. I am in no hurry, our Military is rebuilt, new, and ready to go, by far the best in the world. Sanctions are biting and more added last night. Iran can NEVER have Nuclear Weapons, not against the USA, and not against the WORLD!"
That was eight days ago.
Now the results are in.
Business Insider reported
, "Iran downed a $130 million US drone. Trump's sanctions are probably costing Iran $120 million a day."
The story said, "For the US, losing a drone is costly and destabilizing but not really a big deal for a country with a $718 billion annual defense budget. In Iran, the currency has crashed, and the country has become gripped by protests and strikes. And it has felt a crackdown on the financial freedom for all of its citizens.
"While many Iranians, particularly the powerful hard-liners close to Ayatollah Ali Khamenei, the country's supreme leader, blame the US for the financial woes, ordinary Iranians have a more mixed view of the topic."
President Trump's goal is regime change. America cannot impose change; it must come from within Iran. We can help trigger that change.
The Associated Press reported, "Inflation is over 37%, according to government statistics. More than 3 million people, or 12% of working-age citizens, are unemployed. That rate doubles for educated youth."
The president is willing to meet with the mullahs, just as he met with Kim and will meet with him again.
This is a patient president who is not pressed to show results because his supporters will not defect. We ain't budging. One reason is the rabid and continual attacks on him in the press.
Iran is used to dealing with politicians as presidents (Reagan being the exception). They think they can roll him like they rolled Obama, or just wait him out.
But they overlook Sun Tzu, who said, "Victorious warriors win first and then go to war, while defeated warriors go to war first and then seek to win."
President Trump took his time -- more than two years -- to confront Iran. That tells intelligent people all they need to know. He already has won.
Now Iran is paying $120 million a day for a $130 million drone.
UPDATE: Comments are a privilege not extended to people who call me names.