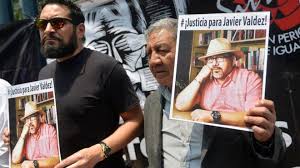 Mexican reporter Norma Sarabia became the seventh journalist killed in Mexico so far this year.
Meanwhile, American journalists are up in arms because he tweeted something mean after they reported Fake News again.
Gee, we all make mistakes, they say.
The Guardian reported
, "Norma Sarabia, a 46-year-old journalist who had reportedly received threats for denouncing police corruption, was gunned down on Tuesday night as she returned home in Huimanguillo, a city in the south-eastern state of Tabasco.
"'She was such a hard worker … she always liked to get to the news first,' one close friend, Laurencio Palma, told the news website Animal Político.
"Mexico's national human rights commission said Sarabia was the 149th Mexican journalist to be killed since 2000, making it one of the most dangerous countries on earth to be a journalist."
Her blood is on the hands of American potheads. meth heads, and other users of illegal drugs. They supply the money that pays off the judges and pays the hitmen.
Many American publications support legalizing pot and decriminalizing other drug use. They do not seem concerned about the murder of their colleagues by those who supply America drugs.
But the Orange Man said something mean about the continual errors by American journalists.
First Amendment. Waaaaaaaaaah.