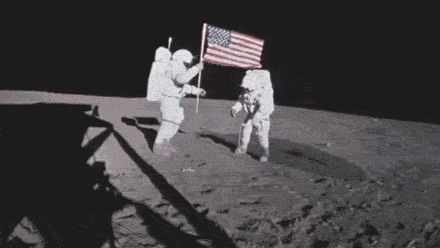 This summer's 50th anniversary of America landing a man on the moon depresses me because we so quickly gave up on space.
We should have been to Mars, Venus and one of Jupiter's moons by now.
Instead, Democrats pulled the plug on manned space exploration. They said the money could be better spent here on Earth fixing our problems.
They were wrong.
After running up the national debt by $20 trillion (only 15% of federal spending is on the military) the problems are still there.
If we had spent the $20 trillion on space exploration we would have earned $35 million for every dollar spent.
RT reported
, "Whether it was the Big Bang, Midas or God himself, we don't really need to unlock the mystery of the origins of gold when we've already identified an asteroid worth $700 quintillion in precious heavy metals.
"If anything launches this metals mining space race, it will be this asteroid Psyche 16, taking up residence between Mars and Jupiter and carrying around enough heavy metals to net every single person on the planet close to a trillion dollars.
"The massive quantities of gold, iron and nickel contained in this asteroid are mind-blowing. The discovery has been made. Now, it's a question of proving it up.
"NASA plans to do just that, beginning in 2022."
$700 quintillion?
We could have paid off the national debt 35 million times over because $700 quintillion is 35 million times larger than $20 trillion.
We were penny wise, $35 million foolish.
Instead of waiting until 2022 when the Chinese could beat us there, we would have already mined the asteroid.
Democrats wanted us to give up on space because we might succeed in making America great again, which would eliminate poverty. And without the poor to exploit, there is no winning for Democrats. This is why they want to import them through Mexico.
Let us mine that asteroid.
As for private space exploration, no thanks. I have seen what these billionaires do with social media.