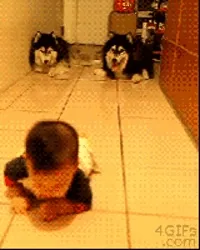 "Don't look back. Something might be gaining on you."
-- Satchel Paige
Here is the news with my views.
ITEM 1:
Reuters reported
, "China on Friday threatened to unveil an unprecedented hit list of 'unreliable' foreign firms, groups and individuals who harm the interests of Chinese companies as a slate of retaliatory tariffs on imported U.S. goods was set to kick in at midnight.
"The commerce ministry did not single out any country or company, but the threat could further heighten tensions after Washington this month put Huawei on a blacklist that effectively blocks U.S. firms from doing business with the Chinese telecoms equipment giant."
Red China makes a profit of $1 billion a day doing business with the United States, in large part because it bought off American presidents and the Chamber of Commerce.
We are not engaged in free trade because Red China is a communist country that uses slave labor. We should never have let it enter the World Trade Organization.
Real Americans should have no sympathy for those "American" companies hit by this. They sold us out.
And remember, tariffs are a voluntary tax. Buy American and avoid them.
ITEM 2:
The Washington Post reported
, "Amazon could face heightened antitrust scrutiny under a new agreement between U.S. regulators that puts it under closer watch by the Federal Trade Commission, three people familiar with the matter said.
"The move is the result of the FTC and the Department of Justice, the U.S. government's leading antitrust enforcement agencies, quietly divvying up competition oversight of two of the country's top tech companies, according to those people, who spoke on the condition of anonymity because the government's work is confidential. The Justice Department is set to have more jurisdiction over Google, The Washington Post reported on Friday, paving the way for a potential investigation of the search-and-advertising giant."
Jeff Bezos owns the Post. He is the founder and chief executive of Amazon. He bought the Post to get in the good graces of the Washington Establishment. On November 8, 2016, the American people pulled the rug from under him. Bigly.
ITEM 3:
The Hill reported
, "YouTube is investigating conservative commentator Steven Crowder after Vox host Carlos Maza accused him of harassment and making derogatory comments about his ethnicity and sexuality.
"YouTube responded to Maza's tweet thread detailing his allegations, saying that it was 'looking into it further.'"
That is not You Tube's job.
It is a public accommodation. Civil rights legislation makes it clear that such discrimination is illegal.
If Maza has a criminal problem with Crowder, let him take it to the police. He also could sue. You Tube should butt out.
Such abuse has deteriorated Google's support among conservatives, who are naturally against antitrust lawsuits except in extreme cases.
Google now must rely on support from the communists on the left to win this battle.
ITEM 4:
Fireams Policy Coallition reported
, "The Pennsylvania State Supreme Court issued a significant 53-page majority opinion in the criminal appeal of Commonwealth v. Hicks. Firearms Policy Coalition (FPC) and Firearms Policy Foundation (FPF) filed an important coalition amicus brief cited by the Court supporting Hicks in December of 2017, alongside Firearms Owners Against Crime (FOAC) and seven Members of Pennsylvania's General Assembly. The Court's decision, concurring opinions, and the FPC/FPF amicus brief can be viewed at
www.firearmspolicy.org/legal
.
"At issue was whether someone's carrying of a firearm could be used as reasonable suspicion of criminal conduct, and thus justification for police to conduct a stop-and-frisk of the gun owner. The court ruled in Hicks that such searches and seizures, in the absence of other evidence are completely unlawful."
The appellant is Michael J. Hicks, who had a concealed gun permit, who was caught on a surveillance camera showing off his gun in June 2014. Officers stopped and frisked him.
The Morning Call reported
, "after officers smelled alcoholic beverages on Hicks' breath, he was charged with drunken driving, among other misdemeanor offenses.
"Hicks, then 35 and living in Allentown, asked a Lehigh County judge to throw out the charges on grounds that the stop was illegal, but the judge found his arrest was justified. He was convicted of driving under the influence of a high rate of alcohol for a second offense and sentenced to 30 days to six months in jail."
Such a conviction would cost him his concealed gun permit. Justice was done. It took five years.
ITEM 5:
The Manchester Evening News reported
, "A would-be police officer whose application was rejected because he is white and heterosexual is finally being allowed to become a copper after a force accepted it had discriminated against him.
"Matthew Furlong, 25, from Frodsham, will join Cheshire Police, following in the footsteps of his detective father Liam, 52."
He applied for a job with the police in Cheshire, England, which is 97.3% white. He has a degree in particle physics and cosmology from Lancaster University
It's OK to be white. Really.
ITEM 6:
Boston radio talker Howie Carr wrote
, "Elizabeth Warren, the fake Indian, has an annoying yet revealing verbal tic – whenever she's about to tell a lie, she prefaces her whopper with the word 'So.'"
There is always a tell because despite their extensive training and years of practice, modern Democrats are just not that good at lying.
Warren went on black radio in New York City where Charlamagne tha God ate her up and spit her out.
Charlamagne said, "You had a lot of confusion back in the day, Ms. Warren. You thought you was Native American, you thought you was a Republican. When'd you get on the right track? You got to a fork in the road at some point?"
Charlamagne dismissed her as another Rachel Dolezal, the white woman who said she was black and got a gig as an NAACP chapter president.
John Kerry lied about Vietnam veterans and rode the lie to the Senate but it cost him the White House. That is Warren's trajectory. Democrats need to stop offering so-so candidates.
ITEM 7:
Kevin Poulsen of the Daily Beast reported
, "We Found The Guy Behind the Viral 'Drunk Pelosi' Video."
After naming and shaming the man, Poulsen wrote in Paragraph 6, "It's conceivable that someone else actually edited the clip. But a Facebook official, confirming a Daily Beast investigation, said the video was first posted on Politics WatchDog directly from Brooks' personal Facebook account."
As with CNN's doxxing of a man who "made" a video, this fellow merely uploaded something someone else made. But he cannot fight back, which is why Poulsen doxxed him. It's not journalism. It is cowardice.
The media attracts bullies like moths to a flame. One of the joys of Donald John Trump is that we have someone willing to shove these cowards right back till their seats hit the concrete.
ITEM 8:
Big League Politics reported
, "Big League Politics can confirm that several wealthy benefactors are attempting to contact Shawn Brooks, the user who uploaded the viral Nancy Pelosi meme in which she appeared even less coherent than usual, to help him sue Daily Beast, CNN, Facebook, and others involved in his recent doxxing as he announces his legal defense fund on GoFundMe.
"Brooks was doxxed by Daily Beast writer and former black hat hacker Kevin Poulsen after he uploaded the viral clip of House Speaker Nancy Pelosi appearing to stammer and slur her words more than usual.
"Poulsen apparently colluded with Facebook to dox Brooks, a story that was picked up and repeated by CNN.
"Reports initially indicated Brooks also created the viral meme, but Brooks denies this. Brooks also denied he is the user who posted the video to his Facebook pages, though Poulsen, quoting Facebook, claims Brooks used a sock puppet account to post it."
Keep an eye on this case. The First Amendment gives us the right to mock the Speaker of the House.
ITEM 9:
The New York Post reported
, "President Trump ripped conservative columnist Peggy Noonan in a tweet Sunday for suggesting that Congress censure him for attempting to obstruct special counsel Robert Mueller's investigation instead of trying to impeach him.
​
​"'Peggy Noonan, the simplistic writer for Trump Haters all, is stuck in the past glory of Reagan and has no idea what is happening with the Radical Left Democrats, or how vicious and desperate they are​,' Trump wrote in a posting. 'Mueller had to correct his ridiculous statement, Peggy never understood it!​'"
Conservative?
She ditched that tag to win a Pulitzer.
ITEM 10:
Fox News reported
, "Maybe it's John Bolton clutching a gun. Maybe it's Mike Pompeo setting down his binoculars to stare into the distance. Maybe it's the gators.
"But a newly unveiled painting meant to depict President Trump and his team navigating the Washington swamp has something for everyone.
"Utah-based artist Jon McNaughton touched off a social media frenzy as he shared his painting, 'Crossing the Swamp,' Tuesday on Twitter. The painting is a riff on the classic 'Washington Crossing the Delaware,' only it replaces George Washington's crew with members of the Trump administration."
Well, it beats Obama's out-in-the-weeds official portrait.
[UPDATE: Fox News doesn't like my links. I don't know why. Maybe I will stop linking it.]