Meanwhile, in Oregon, where the governor has sent the state police to arrest Republicans...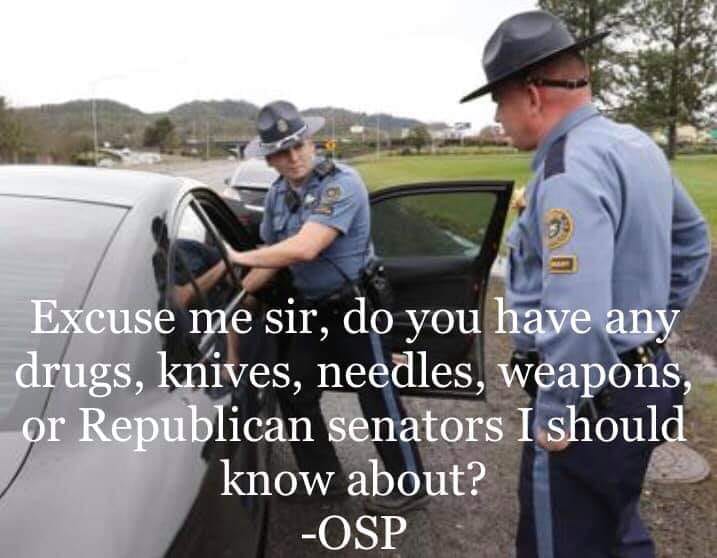 And Donald John Trump is still our president.
ITEM 1:
Reuters reported
, "A surge in India's oil imports from the United States outpaced growth in shipments from its traditional suppliers in the Middle East, after Washington imposed sanctions on Tehran in November, according to tanker arrival data obtained from sources.
"President Donald Trump's administration renewed sanctions against Iran last year over its nuclear program, although some buyers were allowed to continue taking limited volumes of Iranian oil under a six-month waiver.
"In May, the United States ended those exemptions and said countries that continued to buy Iranian oil would face sanctions, but India buyers had already begun shifting some of their sourcing away from the Middle East.
"India, the world's third-biggest oil importer, bought about 184,000 barrels per day of oil from the United States over November 2018 to May 2019, compared with about 40,000 barrels per day in the same period a year earlier, the tanker data obtained from shipping and industry sources showed."
Drill, baby, drill not only is good domestic policy but good for foreign policy. India hardly can side with Iran, can it?
ITEM 2:
Tristan Justice reported
, "The U.S. Holocaust Memorial Museum released a statement Monday rejecting comparisons between migrant detention centers in the United States and the events that took place in the early 20th century.
"'The United States Holocaust Memorial Museum unequivocally rejects efforts to create analogies between the Holocaust and other event, whether historical or contemporary,' the Museum stated. 'That position has repeatedly and unambiguously been made clear in the Museum's official statement on the matter – a statement that is reiterated and reaffirmed now.'"
Once again, Democrats downplay the awfulness of Hitler and Germany. By calling Republican presidents Hitler and their followers Nazis, Democrats have downgraded Hitler and Nazis to just someone we disagreed with.
Now Democrats want to downgrade the Holocaust's attempt to kill all Jews to a holding facility for deporting illegal aliens.
They want the world to forget. Judging by Alexandria Ocasio-Cortez's statements, the Democrat plan is working.
ITEM 3:
Hanna Trudo reported
, "A few weeks ago, a prominent black leader posed what seemed like a simple question to South Bend Mayor Pete Buttigieg during a private meeting: Who in the African-American community back home supports you?
"'He didn't name anybody,' the leader said in an interview with The Daily Beast. 'If he's got young black supporters, they do have names.'
"That leader, who requested anonymity to speak openly about a private meeting, was not only referring to young supporters but expressing a sentiment that was apparent in talks with several African-American lawmakers: that Buttigieg's interactions with the black community in recent weeks were naive and that the national perception of him as genuine and authentic was not always translating when it came to their concerns."
In the political tournament of victimhood, black politicians do not want black primacy challenged. California's Proposition 8's ban on gay marriage passed because of support from black voters and Hispanics. White people voted against it.
Democrats cannot win the presidency without the black vote. The gay mafia will have to find another pony to back.
ITEM 4:
Ellie Bufkin reported
, "Sen. Elizabeth Warren, D-Mass., reintroduced a bill on the campaign trail this week, which could mean $57 million in tax refunds for married LGBT couples.
"The Refund Equality Act, which was originally introduced in 2017, would allow LGBT couples who were married prior to the 2013 Supreme Court strike-down of the Defense of Marriage Act in U.S. v. Windsor to amend tax returns from the time that they were married. Prior to 2013, 10 states had legalized same-sex marriage, but were required to file their federal taxes as individuals.
"Following the 2013 Supreme Court's decision, married same sex couples from those 10 states were permitted to change their previous tax returns from individual to joint, which entitled them to some federal tax relief. However, the tax return amendments were only permitted for the previous three years. The Refund Equality Act would remove those time limits."
She wants the gay mafia money.
My guess is nothing will anger black Democrats more than a call for reparations for a competing group of victims.
ITEM 5:
Robby Soave reported
, "Sen. Bernie Sanders (I–Vt.) unveiled his latest policy proposal on Monday, and it comes with an eye-popping price tag: The democratic-socialist presidential candidate wants to erase all student debt and make college completely free—at a cost of $2.2 trillion over 10 years.
"'This is truly a revolutionary proposal,' said Sanders, according to The Washington Post. 'In a generation hard hit by the Wall Street crash of 2008, it forgives all student debt and ends the absurdity of sentencing an entire generation to a lifetime of debt for the 'crime' of getting a college education.'
"Sanders' plan is indeed revolutionary. It goes much further than his previous free-college plan, which eliminated tuition costs for only those making less than $125,000. It also goes much further than the debt-relief plan currently being touted by Sen. Elizabeth Warren (D–Mass.), which is means-tested and takes earnings into account. Under the Warren plan, those making less than $100,000 would receive up to $50,000 in loan forgiveness, while those making substantially more would receive less."
Democrats cannot win without peeling off some Trump supporters. This is not how you will win the votes of Trump supporters who worked their way through college and got usable degrees in engineering and science.
ITEM 6:
The Hill reported
, "President Trump, in an executive order issued Monday, directed the Department of Health and Human Services and other agencies to put out rules requiring hospitals disclose prices that reflect what patients and insurers actually pay for services.
"The rules aim to bring more transparency to a health care system where patients usually don't find out how much a procedure costs until they get the bill in the mail.
"This will 'go down as one of the most significant steps in the long history of American health care reform,' said Alex Azar, the secretary for the Department of Health and Human Services.
"The rules will also require health care providers and insurers to tell patients about the out-of-pocket costs they'll face before they receive health care services.
"Azar said the rules would drive down prices because it would empower patients to shop around for the best costs."
Third party payment drove profits (and prices) sky high in the medical industry. Most of it went to an ever expanding hospital bureaucracy. I trust this will reverse that trend, or at least stop it from growing.
ITEM 7:
Lexy Perez reported
, "Roseanne Barr is hitting the road with her friend and fellow comedian Andrew Dice Clay.
"Speaking about their upcoming comedic venture, Clay told Fox News that the 'Mr. and Mrs. America' tour was inspired by the national obsession with political discourse and the alleged policing of comedians' language.
"'She's a comic because she's wacky. I've known her since we were kids,' Clay told the news channel. 'When people ask about what she said, I say, 'She's a comic!' We got to stop policing comedians. This is America!'
"ABC canceled the Roseanne reboot in May 2018 following the 66-year-old actress' controversial tweet comparing Barack Obama's advisor Valerie Jarrett to both the Muslim Brotherhood and Planet of the Apes. Barr had blamed her remark on the sedative Ambien. ABC proceeded to launch a spinoff, The Conners, which ultimately killed off Barr's character from the original series."
One bad joke killed the network's top-rated TV show.
By the way, Clay's movie, "Ford Fairlane," was good.
I wish them luck on their tour but the 1990s called and I hit the ring mute button.
ITEM 8:
Alum Bokari reported
, "Undercover videos recorded by Project Veritas reveals that Google is determined to prevent the re-election of Donald Trump in 2020, and is altering its products with this aim in mind.
"The report includes undercover footage featuring a top Google executive, Jen Gennai, discussing how Google might prevent an electoral outcome like 2016 from happening again. Here's what Gennai says in the undercover video:
"'We all got screwed over in 2016, again it wasn't just us, it was, the people got screwed over, the news media got screwed over, like, everybody got screwed over so we're rapidly been like, happened there and how do we prevent it from happening again.
"'We're also training our algorithms, like, if 2016 happened again, would we have, would the outcome be different?
"Gennai also declares her opposition to Democrat presidential candidate Elizabeth Warren's proposal to break up Google. Why? Because, says Gennai, if Google is broken up it can't prevent another 'Trump situation.'"
The FCC needs to regulate social media and Google because of their anti-American censorship. The purpose of the government is to protect our God-given rights to life, liberty, and the pursuit of happiness. Free speech must be protected.
ITEM 9:
Matt Vasilogambros reported
, "People are leaving Illinois in droves. Republicans blame the state's high taxes and its unfunded pension liability, which tops $130 billion. Democrats believe it's the state's lack of investment in education and infrastructure."
Spending per student tops the national average by nearly $1,000. It ranks 13th in taxes. It ranks 2nd (only to New Jersey) in unfunded pensions per resident.
None of these easily researched facts were in the 2,000-word piece.
"Reporter."
ITEM 10:
Bloomberg News reported
, "Turkish opposition candidate Ekrem Imamoglu won the redo of the Istanbul mayor's race by a landslide on Sunday, in a stinging indictment of President Recep Tayyip Erdogan's economic policies and increasingly autocratic ways.
"According to state-run Anadolu news agency, Imamoglu of the CHP party won 54% of the vote, and the ruling AK Party's candidate, former Prime Minister Binali Yildirim captured 45%, with more than 95% of ballot boxes opened. AK Party had narrowly lost the March 31 election, and the broad margin this time for the political upstart telegraphed undeniably that voters are concerned about the crumbling of Turkey's democratic foundations and an economy reeling from a spike in consumer prices and unemployment."
Failure has consequences even for dictators.
ITEM 11:
Monica Showalter reported
, "Leftists, particularly in Bill De Blasio's New York, are always trying to shove people into public transportation. Never mind that the subways are full of robbers, gropers, stinkers, and pushers, never mind that the public buses are horrible to ride, crowded, jerky, slow, complete with atrocious customer service. (An exception, of course, is made for illegals, with drivers licenses now being issued to that crowd, the better to get their votes). But everyone else is expected to ride the bus.
"And sure enough, bus conditions are pretty horrible even as New York's bus service is now losing money.
"The problem? A quarter of the commuters crowding up and sometimes stinking up the bus aren't paying the fare."
Little crimes lead to big ones. Democrats know that; that is their goal.
ITEM 12:
The Associated Press reported
, "Chicago police on Monday released hundreds of files from the investigation into Jussie Smollett's claim he was attacked by two men, including releasing video footage for the first time of the Empire actor wearing a thin white rope wrapped around his neck that he told detectives was a noose."
Hundreds of files? They had hundreds of files? Chicago had more than 600 unsolved murders last year. How dare they have hundreds of files on some lying celebrity's hoax!
ITEM 13:
Brent Scher reported
, "A Democratic Congressional Campaign Committee official tapped last week to lead a new multimillion-dollar initiative to connect with 'people of color and younger Americans" deleted thousands of old tweets after the Washington Free Beacon reached out regarding many homophobic and racially insensitive posts.
"Tayhlor Coleman, a longtime staffer at the committee, was named the DCCC's first director of the cycle of engagement, a role DCCC chairwoman Rep. Cheri Bustos (D., Ill.) said would be a 'tremendous challenge.'"
Joe Biden said she has civility and they can work together on big things. Like getting him elected.
ITEM 14:
Mother Jones reported
, "Federal Judge Opens a Longshot Path to Striking Down Census Citizenship Question. The judge could reopen the case to determine whether the question was intended to discriminate against Hispanics."
Obama judge.
Mitch McConnell stopped the appointment of about 170 more of them. Like I said,
Cocaine Mitch saved the Republic
.